We have interviewed an experienced safari guide who comes up with 20 of her best travel tips on packing, photo equipment, and what you can expect to experience on the African savannah.
Interview with Anne from Afrika-safari.dk / Photo by Martin
Translated from Danish
---
Since our first safari in Tanzania we have received quite a few inquiries about how to prepare before going on safari? We recognize a lot of the questions. Going on safari is unlike any other type of trip we've ever been on and we clearly remember how we felt slightly challenged before departure, especially when it came to the packing list for our first safari.
"Does safari come with a dress code?"
That question in particular filled a lot. Would we be turned away at the entrance to the savanna if we were not wearing a 'safari suit' – which in our understanding meant a sand-coloured shirt with matching trousers and a canvas vest with an unmanageable number of pockets. In addition, binoculars around your neck and a pair of sturdy hiking boots on your feet.
Today we have been on safari in Tanzania, South Africa, and now also Kenya, and have become a little wiser (and madly in love with the continent). We now know you don't need to look like a safari-stylish Karen Blixen or carry gear to survive in the bush with Bear Grylls. On the other hand, we have found that there are some things that are indispensable – as well as completely unnecessary.
To help you – perhaps going on safari for the first time? – we did an interview with Anne. She is a Danish safari guide working at Kruger Nationalpark in South Africa with over 10 years of experience and knows everything you need to know. Here is her answers the most classic questions that often pop up when you go on safari.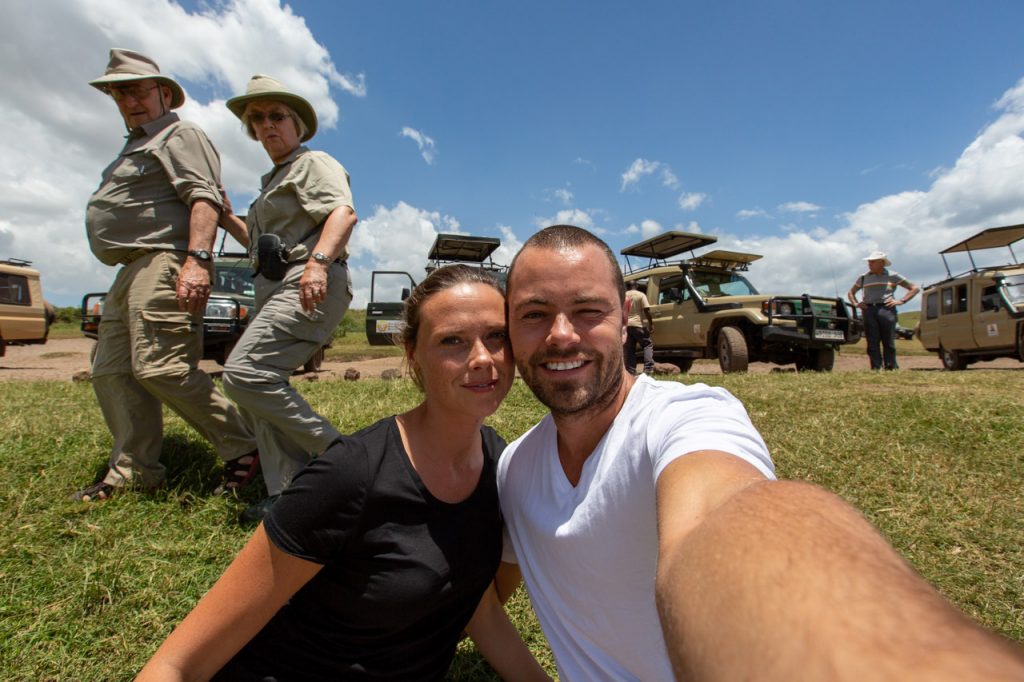 PACKING LIST
#1 – Should I buy a 'safari suit'?
No, it is absolutely not necessary to dress in beige/khaki-colored clothes and army gear from head to toe. Only if you are going on a bushwalk (safari on foot) in an area where you can meet The Big Five, it is a good idea to wear clothes in light natural colours. Otherwise, it almost doesn't matter what colours you wear. But leave the neon-colored clothes at home. Are you going to an area where there are tsetse flies, i.e. Serengeti and Tarangire National Park, you must avoid dark and strong colors (especially green and blue) as they attract the insect.
#2 – What should I pack?
Bring clothes so you can dress in layers, as temperatures fluctuate throughout the day. That's probably the best advice I can give. That's why a large, light scarf is also good to have with you, as it can both shield you from the hot sun in the middle of the day, warm you in the morning and at the end of the day, when it gets cool.
In general, light cotton clothes are good to bring. During the day it is comfortable to wear shorts and a T-shirt/top, but at the end of the day or on a bushwalk it is good to wear long trousers and a long-sleeved jersey/shirt to protect against mosquitoes and other insect bites. In addition, it is practical to bring a light rain jacket, windbreaker, or fleece jacket and a small rucksack.
After a safari day in the savannah, it can be nice to change into some other clothes. Please bring a nice set of clothes and shoes that you will feel comfortable in when you relax at the lodge and eat in the restaurant.
#3 – Which footwear is best?
On our tours in South Africa, you don't need to bring the big hiking boots. Bring a pair of trainers and a pair of sandals that fit well around the foot. Bring flip-flops for more casual times of the day. Ask your guide about what to expect from tomorrow's excursion.
#4 – Are binoculars necessary?
Yes, definitely! There are so many things to see, and unfortunately, the guides cannot guarantee that the animals will get close to the safari jeep every time. In addition, there are many beautiful birds, which you can enjoy the sight of much better through binoculars.
#5 – Should I wear a sun hat?
A cap, sun hat or similar is an absolute must for me and my Scandinavian skin. The sun can be really harsh, even on cloudy days. Therefore also remember sunscreen, sunglasses, and possibly a light scarf.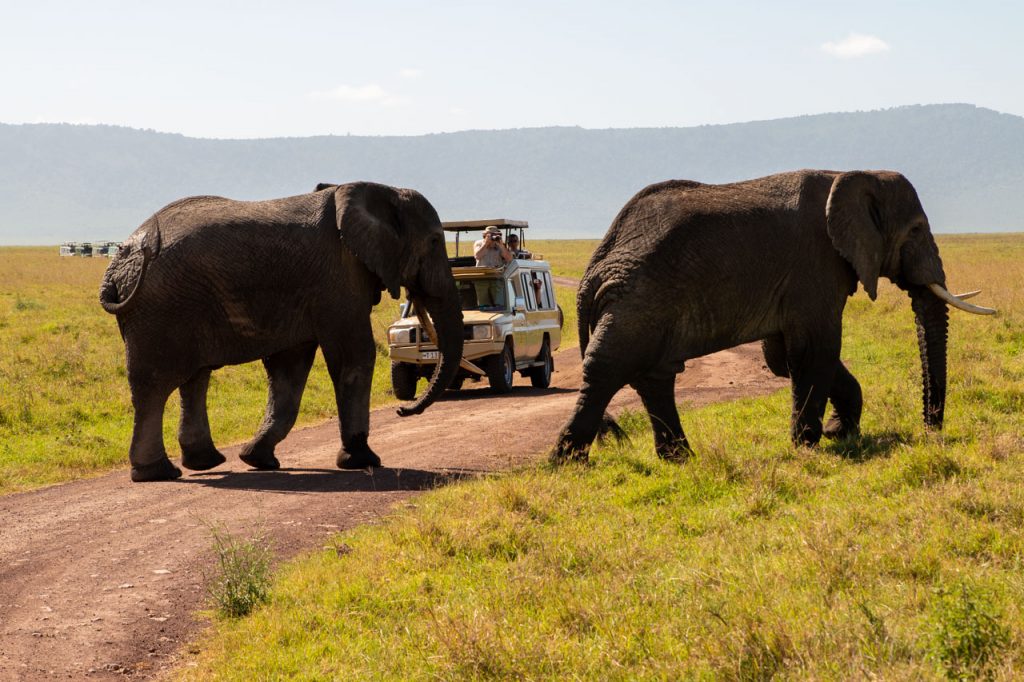 PHOTOGRAPHIC EQUIPMENT
#6 – What is the best camera for a safari?
It is not necessary to get an expensive SLR camera, but a camera with a good zoom is a good investment. Most newer digital cameras are also perfectly fine for safari.
If you don't want to buy one, I've met several, who have borrowed a camera from friends or family. In that case, however, a good tip is to spend some time familiarizing yourself with it in order to take pictures that match the quality of the camera. I've met a few guests who went home disappointed with blurry pictures, and that's a shame.
#7 – Can I use my iPhone?
If you take pictures with a smartphone or tablet, you should just be realistic with your expectations for the quality of the pictures. The pictures will perhaps be nice as memories from the safari trip, but unfortunately not like the ones in National Geographic. It requires both professional equipment and experience.
#8 – Do the animals get scared when I take pictures?
No, the animals are usually not bothered by you taking pictures but sounds and possibly flash can be disruptive. Feel free to talk to your guide about it on the safari trip. He or she will be the best to guide you in specific situations.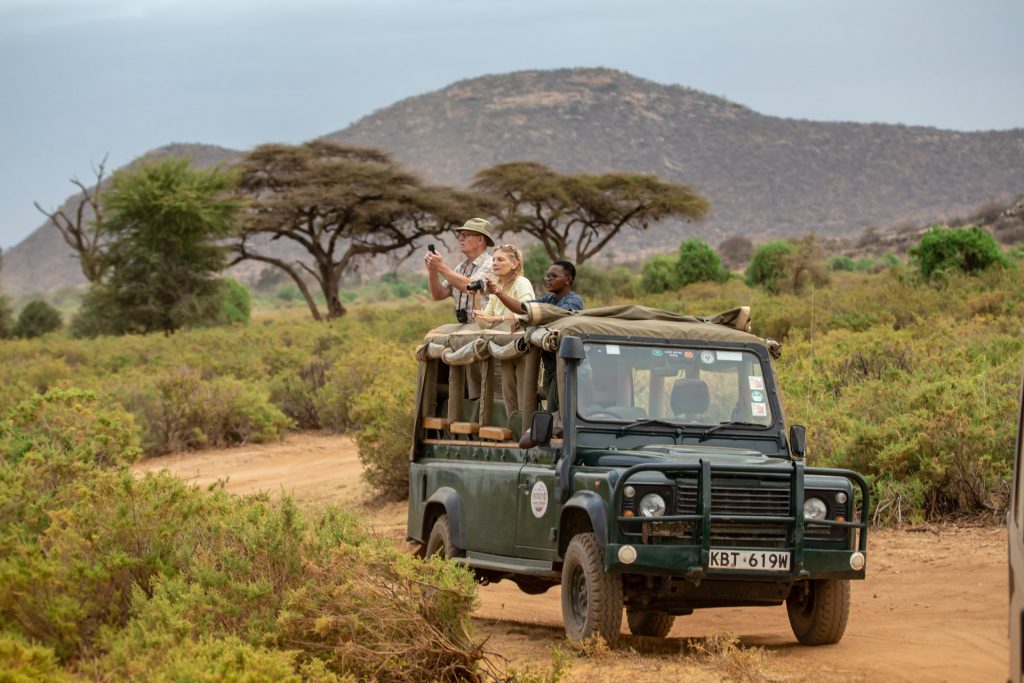 EXPERIENCES ON SAFARI
#9 – What is the probability of seeing The Big Five?
For some, it might be desirable if we could promise that they were guaranteed to see The Big Five. B​but then the experience of being on a real safari would not be the same. It would feel more like visiting a large Zoo.
What makes safari so fascinating is precisely the feeling of luck and the experience of the unexpected. Combined with the guide's sharp eyes, you are constantly on the edge of your seat and excited about what the next fantastic sight will be. The wild animals live in their natural environment, so you never know what you will see on a safari. The only guarantee is that the guides do everything they can to show the guests as many animals as possible.
#10 – How do the guides find the animals?
Spotting animals in the wild requires lots of experience and good eyes. The guides know the bush and the behaviour of the animals very well. They know how to read even the smallest and sometimes almost invisible traces that both the animals and nature give off. On a safari, the guides tell you what they are looking for, among other things, so you can also try to see if you can spot the animals. Both the big ones, but also the smaller and more camouflaged ones.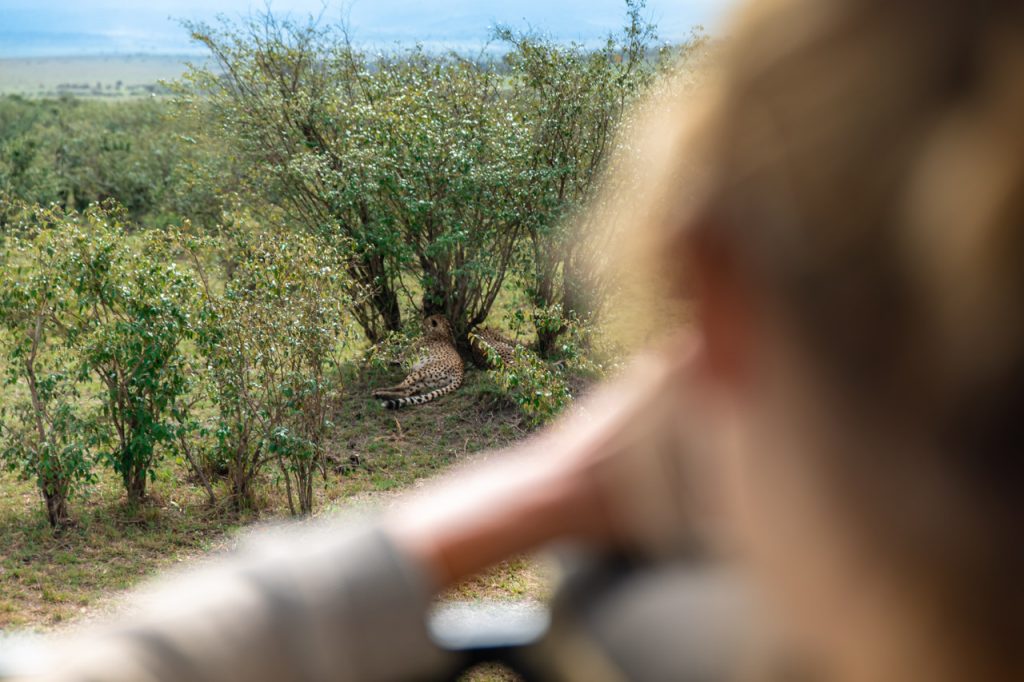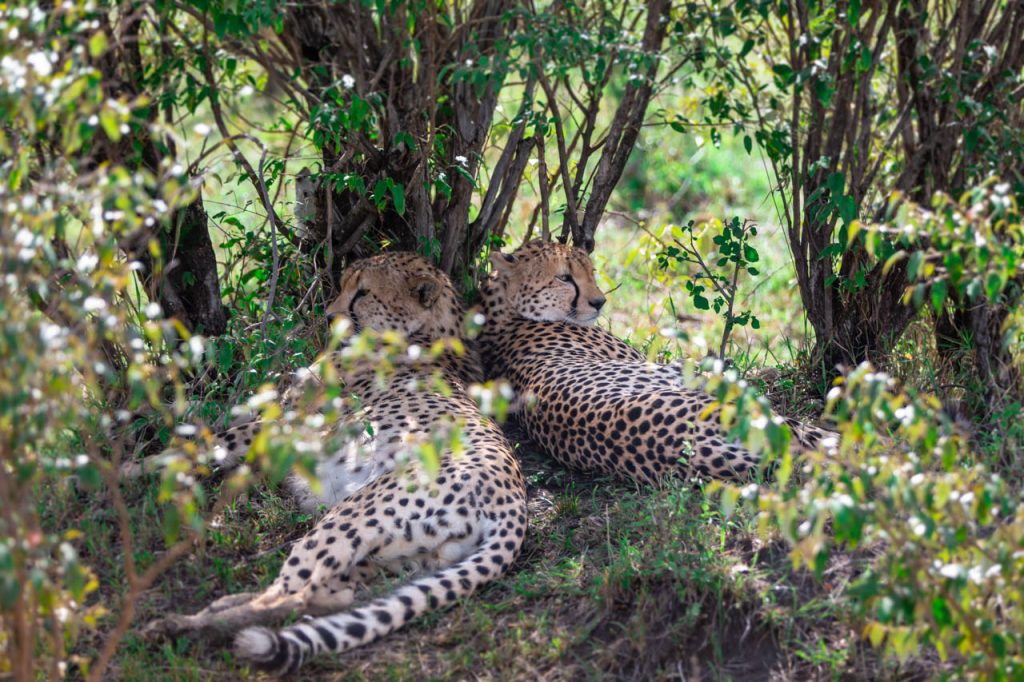 #11 – How close can I get to the animals?
Very close. Among other things, I have experienced an elephant that trumpeted into the car, and a rhinoceros that scratched its rear on the car's bumper. Getting so close is an absolute privilege, and the experience is only possible thanks to knowledgeable guides who know how to read the animals' signals.
The guides know when they can get closer, but also when the limit for the animals has been reached. In the end, however, it is entirely up to the animals how close we can get. It is important to respect the animals and their behaviour.
#12 – Will it be possible to see a 'kill'?
It is always possible to see a predator hunting, but it is rare to experience it. The animals hunt at all times of the day and anywhere in the park, so it's a matter of being in the right place at the right time. Some of our guests have, among other things, been lucky enough to see a leopard kill a warthog in broad daylight. However, it is a rare sight.
#13 – How is a safari jeep arranged?
There are different types of safari jeeps. It depends on which organizer you travel with, but especially on which country and area you travel in. In Tanzania and Kenya we drive in specially built and closed jeeps, with a roof that can be lifted so that the guests can stand up and look at the surroundings.
Here in the Kruger National Park in South Africa, we drive in semi-open safari jeeps. The car has a roof that protects against the hot sun, and doors that are made of strong canvas. But the car has no windows, which gives a fantastic feeling of being very close to the animals and nature.
And then there are some parks where you drive in completely open jeeps – without doors, windows, or roof. Many people recognize these vehicles from the TV programmes, where there is often a guide/tracker sitting on the front of the car.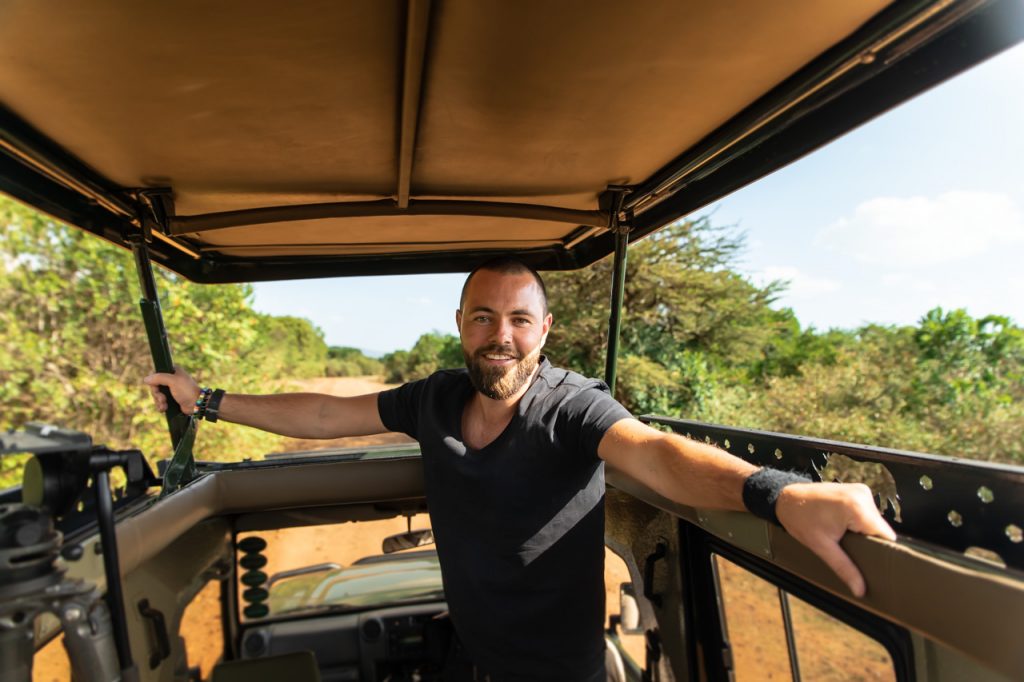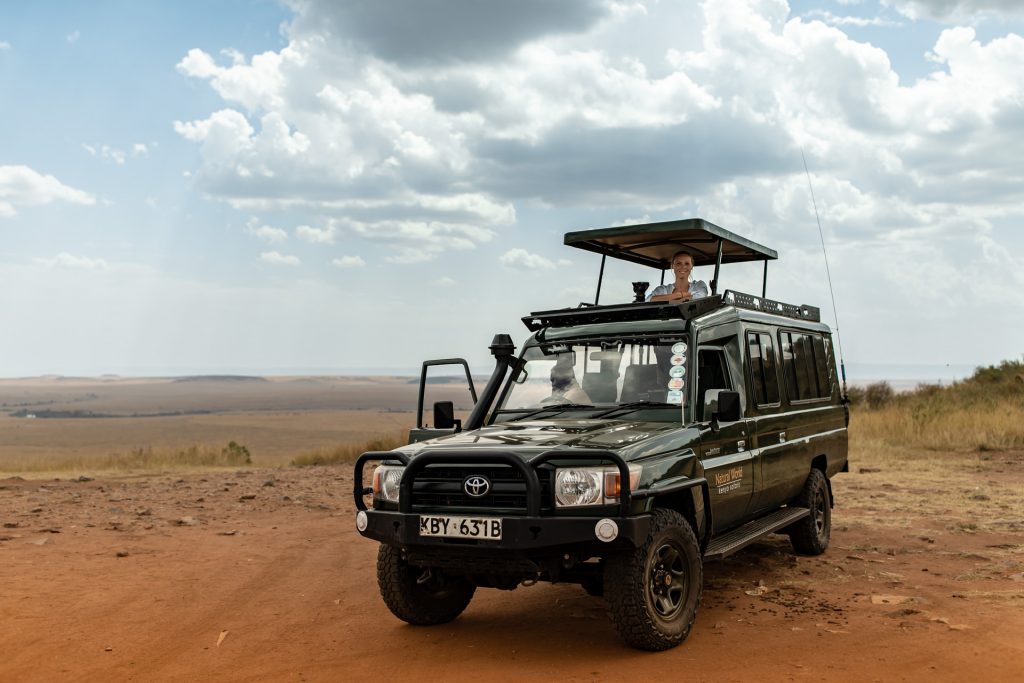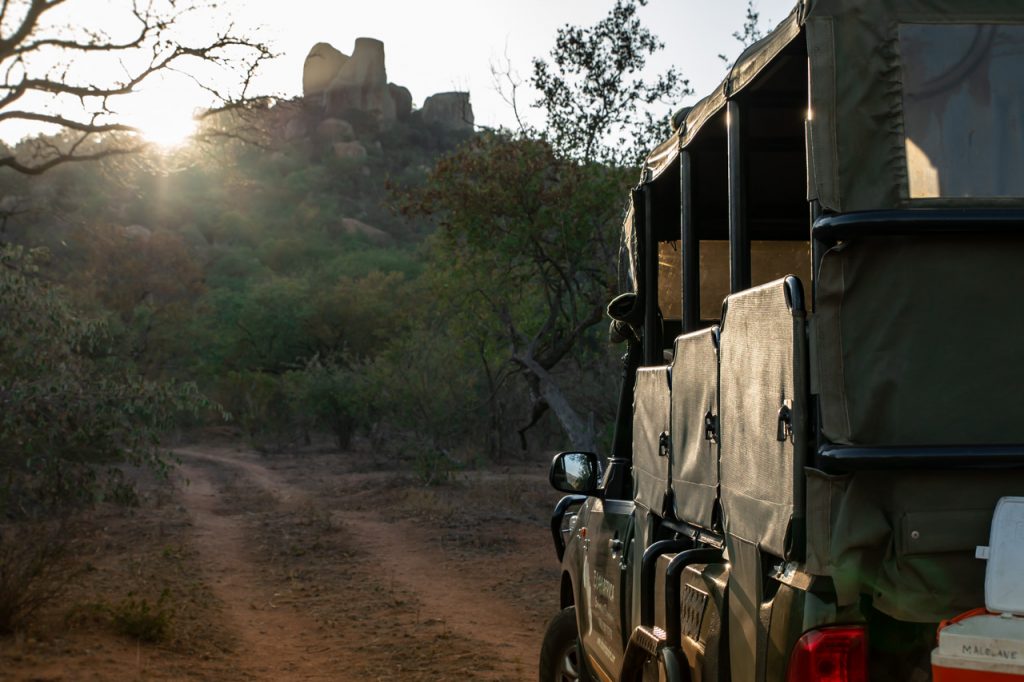 #14 – What is your greatest experience?
My list of greatest safari experiences has changed many times over the years. It is difficult to name just one. But hearing the lion's mighty roar resound throughout the car, so loud that you can feel it in your stomach, or having full eye contact with a leopard only a meter away, with the car's thin canvas as the only protection – these are experiences I will never forget.
In general, the greatest experiences for me are probably when you instinctively feel small and get a little scared, only to be able to breathe a sigh of relief afterwards and say: "Well, that was close". I'm not an adrenaline junkie, where it has to be dangerous before it's fun, it's not like that at all. But common to all my best experiences is when I can feel that all the senses are in use.
SECURITY
#15 – Is it dangerous to be on safari?
No, it is not dangerous to be on safari. As long as you listen to the guide's instructions and respect the surroundings, the animals and their boundaries. But you are almost always guaranteed to get a small adrenalin rush. Because they are undeniably wild animals that we meet, and that should never be forgotten. This is also why the skilled guides are so indispensable. They can read all signals from the animals – fear, aggressiveness or the like – and know how it is best to act in relation to the situation.
#16 – What is important to know?
First of all, listen to the guide. If he or she informs you that there is something you need to do, you must listen to it. In addition, it is important that you keep your arms inside the car and do not make noise or scream when you see an animal. The animals react quickly to exclamations or violent changes in the volume of our voices. If the animals are frightened by us or our voices, they usually run away. In the worst case they can attack the car, and neither of these is something we want.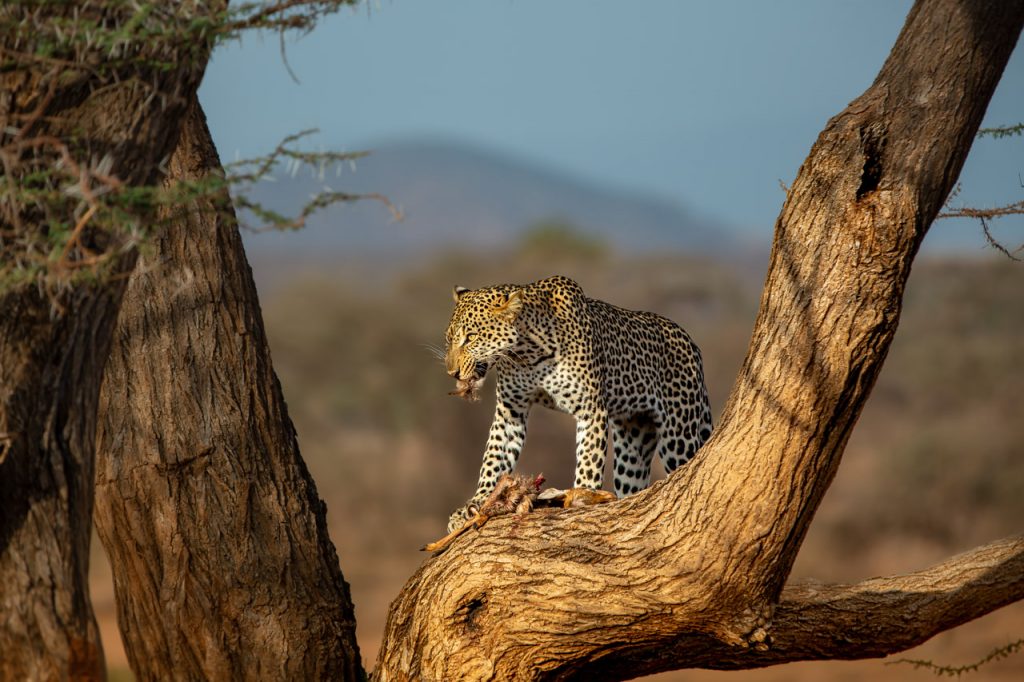 GOOD TO KNOW
#17 – Do I need to tip?
Tips are warmly received by everyone! The locals have low salaries – especially the guides, who have a long education behind them and work many hours a day for a relatively small salary. Therefore, they will be incredibly happy for an extra thank you in the form of notes. Coins are regarded as degrading.
#18 – Malaria and vaccinations
When you travel to Africa it is important that you consult your own doctor and get advice about diseases, vaccinations, and malaria for the specific area you are going to visit. Some vaccines must be given up to 2 weeks before departure, so remember to make an appointment well in advance. In addition, it is recommended that you protect yourself with mosquito spray, especially around dusk and in the evening, when the malaria mosquito is active. Therefore, it is also a good idea to always wear long trousers and a long-sleeved shirt when the sun goes down.
#19 – One last tip
Come with an open mind. Africans are nice and happy people, but they do things at their own pace. If you expect everything to take place at the usual European pace, you will be disappointed quite quickly …
#20 – How to speak safari?
If this is your first time on safari, you will probably come across some words that you may not have heard before. Here is a list of the most typical: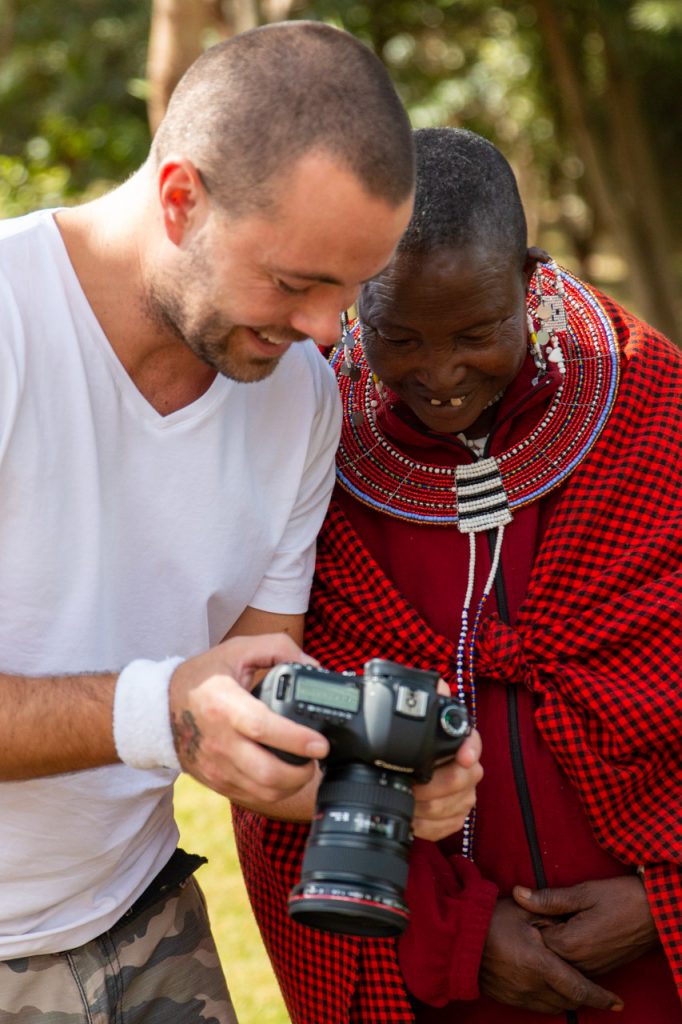 SAFARI – the word comes from the African language Swahili and means 'to travel'. Today, we especially associate the word with trips in Africa, where you either drive in specially built cars or go out into nature to experience the wild wildlife.
GAME DRIVE – is the English word for safari. You will often find that "Game" is used in conjunction with the words "Drive", "Walk" or "Cruise". Game drives are often run in the morning or late afternoon when the animals are most active.
NIGHT DRIVE – also called "Sunset Game Drive". Here you go on safari after dark, which creates a completely different experience than a safari in daylight. A large floodlight from the jeep is switched on so that you can see the animals' activity in the dark. If you are lucky, you will experience some of the animals that are active at night – for example, lions and leopards.
BUSHWALK – safari on foot. It is also called "Game Walk" or "Walking Safari". What you can see on a bushwalk can be different depending on the area you visit. Here, the guide will teach you to decode nature's signals by smelling, listening, scouting, and observing the surroundings like a real pathfinder. On the trips where there are predators and very large animals, you are accompanied by an armed guide.
THE BIG FIVE – the term is often written BIG5 and includes what in the old days were perceived as the five most dangerous and difficult animals to kill on the savannah: elephant, lion, rhinoceros, buffalo, and leopard. In hunting, the list has today been extended to "The Big Nine", which in addition to the big 5 also includes hippo, giraffe, cheetah and wild dog.
THE SMALL FIVE – is the humorous counterpart to "The Big Five". The list includes small animals that all share a name with the famous large animals: Lion ant, leopard tortoise, elephant shrew, rhinoceros beetle and buffalo weaver.
LODGE – is the same as a hotel, except that it is located in a safari area.
SAFARI CAMP – is a collection of tents pitched out in nature. The size and interior of the tents as well as the camp's facilities can vary, but usually the tents are made of strong canvas and the camp is equipped with all modern necessities.
BUSH – is a word that is used widely for natural areas; the savannah, the wilderness, the plains etc.
NATIONAL PARK – natural areas subject to the state and whose purpose is to protect the landscape, animals, plants, etc. People are not allowed to move freely here and exploitation of the area, e.g. hunting or agriculture, is prohibited.
GAME RESERVE – in the same way as the national parks, the purpose of the area is to protect nature, but local tribes can get dispensation to live and let their cattle graze here. For example, the Maasai have permission to be in Ngorongoro in Tanzania.