It is often a jigsaw puzzle to find the best place to stay. Especially in a big city like Ho Chi Minh City. Location, price and standard must unite in a higher trinity. That kind of divinity is not easy to find. But, hallelujah – we found the best area and hotel i HCMC.
---
When we started researching for a hotel in Ho Chi Minh City (HCMC), we found it rather difficult to find the most optimal hotel. One thing was that the supply of hotels was massive. Another thing was that we simply could not figure out which area was best to stay in?
A third thing that confused us were the two different names of the city. Was it called HCMC or Saigon? Was Saigon the center of HCMC? Or were there two different districts? In this regard we have written a separate blog post that only deals with the name mystery: The City with two names.
After we have visited the city, we have created a short guide to where we think it is best to stay, plus which hotels we can recommend. We hope that it will make it a little easier for you when you are looking for a place to stay in amazing Ho Chi Minh City!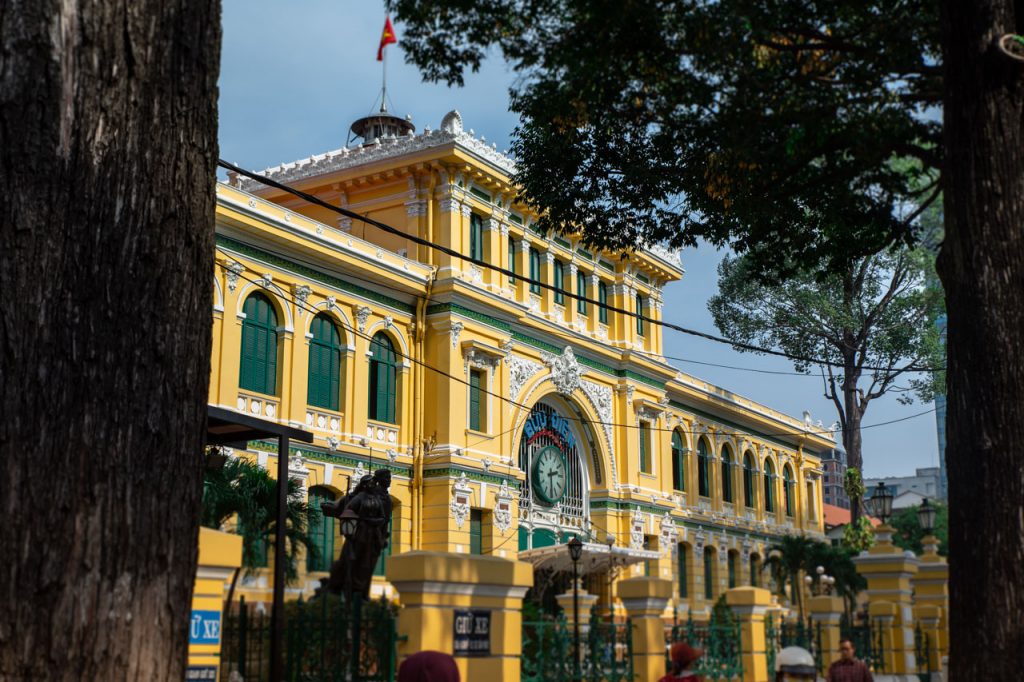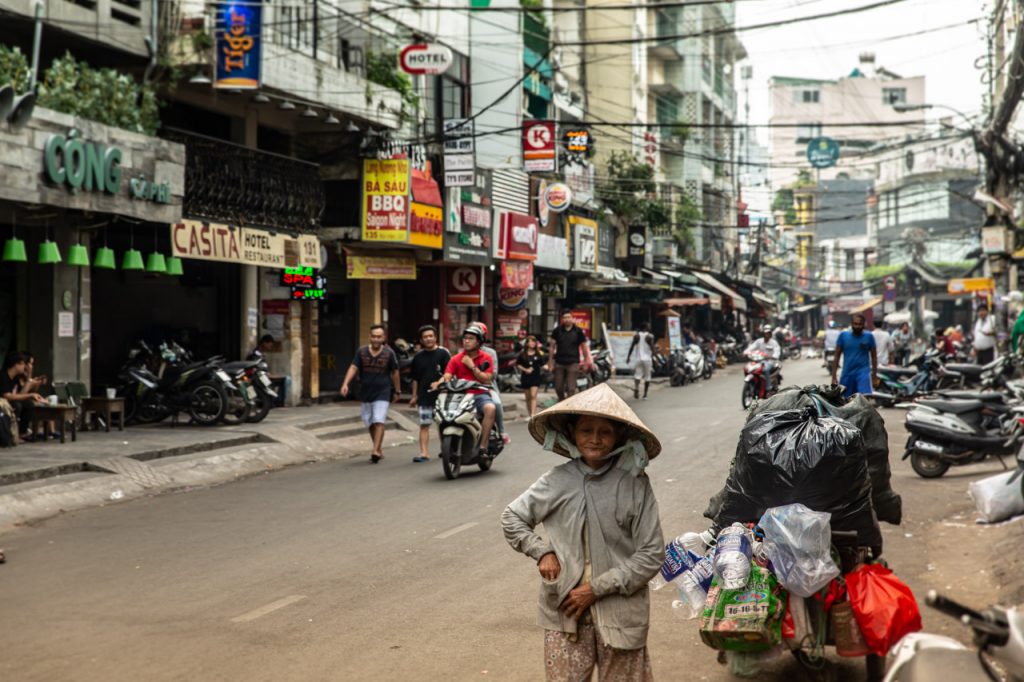 Best area to stay in HCMC
Ho Chi Minh City is divided into 24 districts. But the different locations on the city map are not exactly logical. For example, District 2 is half an hour's drive from District 1, which is surrounded by Districts 3, 10 and 4 as well as the Saigon River. District 1 is the old city center, also called Saigon or Downtown. And if you visit the city just for a few days, this is where you should be staying.
Our favorite District
District 1 is the commercial center with its vibrant city center. As well as hosting the most famous attractions within walking distance. Here are also shopping malls, trendy shops, coffee shops, restaurants and rooftop bars. It sounds like any other well-oiled big city, but the charming thing about Ho Chi Minh City is that it's all side by side with the traditional street life.
Everywhere you will find locals behind the pots in simmering street kitchens, where the food is served at small plastic tables and chairs. Other sells Vietnamese specialties – such as sandwiches, snails and colored meatballs on a stick – from a converted trolley, bicycle or motorcycle. And around the many alleys and doorways, locals sit and drink their beloved black and sweet coffee while watching life, which mostly passes by on a motorcycle.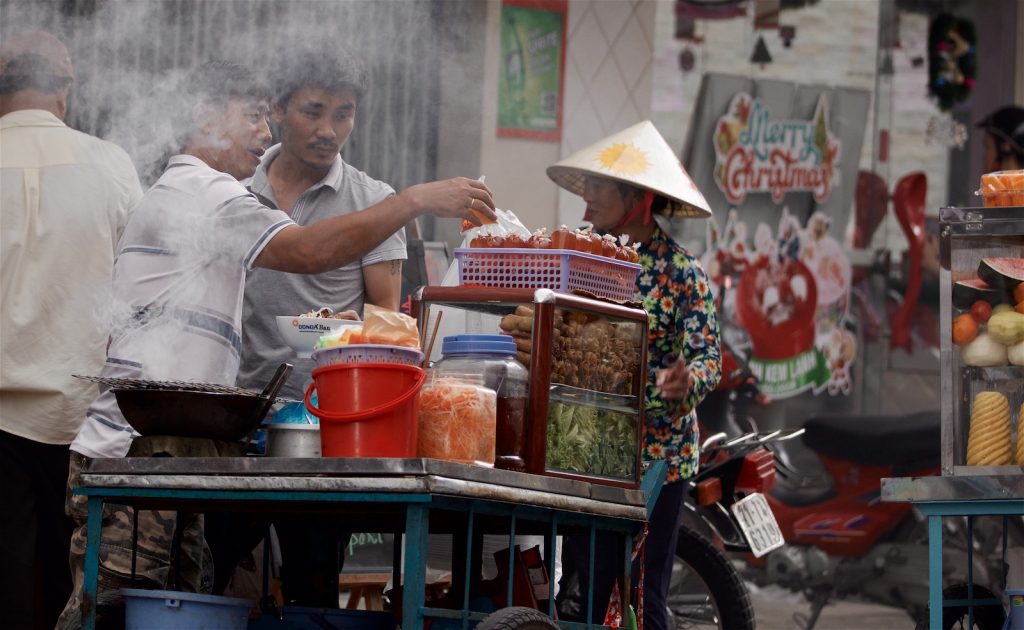 Our favorite hotel
If you ask us, we found the city's best hotel: Liberty Central Saigon Citypoint Hotel. Besides the name (five words that we often failed to remember or say in the right order) we do understand why the hotel is the best-reviewed 4-star hotel in Ho Chi Minh City.
The hotel is perfectly located in District 1. It is located on the corner of Le Loi and Pasteur Street and is thus within walking distance of everything. It takes 5 minutes to walk to Ben Thahn Market, 10 minutes to the Presidential Palace and 15 minutes to the War Museum.
If you choose a room with city view, you can look directly down at the People's Committee House, where the Nguyen Hue pedestrian street begins. Therefore, it only takes a few minutes to walk to the main shopping centers located around Le Loi, Dong Khoi and Le Thanh Ton Street.
City view from the sky bar
If you need a break from the vibrant life of the streets you can find peace and refreshment at the top of the hotel on the 19th floor. Here you will find the hotel's pool and rooftop bar, which has a mesmerizing view. From here you can see more of the city's iconic buildings, skyscrapers and the Saigon River – and probably trace some of the route you walked around the streets, from a bird's eye view.
The service is top notch, the decor is stylish, and the rooms are modern and comfortable. It was here that we slept the very best on the whole trip, without comparison. The hotel is also rather new, so everything looks really nice and well maintained. In addition, the airport is only 7 km from the hotel, so the journey time is approx. 25-30 minutes (max 45 minutes, depending on traffic).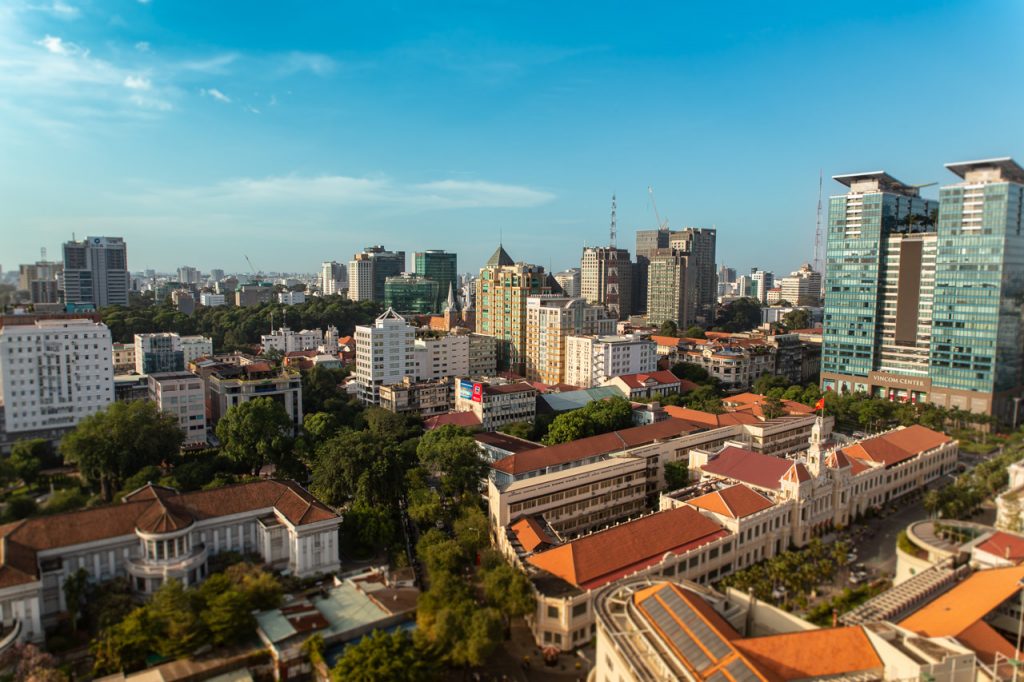 Another recommendable hotel
Liberty Central Saigon Citypoint Hotel is part of a hotel chain that has more hotels in Ho Chi Minh City. All of the hotels is all called something with Liberty.
We stayed for a couple of nights at the sister hotel, Liberty Central Saigon Center Hotel, which we can also warmly recommend. It is just around the corner from the Citypoint Hotel and is a great option as a more affordable 4-star hotel.
In general, this area where these two hotels are located is quite brilliant. So if you are looking for a slightly cheaper hotel, our best tip is to narrow down the search for hotels that are located around the People's Committee House. Here you live in the heart of Ho Chi Minh City.