We fell in love with Madrid and its buzzing local charm, historical grandeur, stylish atmosphere, and fantastic food. Here we share our favorite places and experiences, food markets and restaurants – and a couple of insider tips to the Spanish capital.
---
Admitted! We traveled to Madrid primarily to embark on the Spanish cuisine and had no major expectations of experiences in the city. Because when you read about European cities that are perfect for a weekend trip, the Spanish capital is rarely mentioned. Now that we're back home, we wonder how that can be? If you ask us, Madrid has been shamefully overlooked.
Madrid vs. Barcelona?
In search of answers, I came across a travel article where the writer wondered how it could be that far more people traveled to Barcelona than to Madrid? As Madrid to him was far preferable. The explanation was that many years ago Barcelona saw economic opportunities in branding itself as a tourist destination. The madrileños, on the other hand, did not think it necessary to resort to advertising. They thought it was obvious that Madrid was the coolest city.
Thus, Madrid has moved under the radar of mass tourism in Spain. But that might actually be one of the city's biggest advantages. Madrid is an authentic experience. It is a cool city. This is where the Spanish live and breathe. And we fell head over heels for the city. Strolling around the narrow medieval streets observing Spanish life unfold, without hordes of other tourists was a very genuine experience.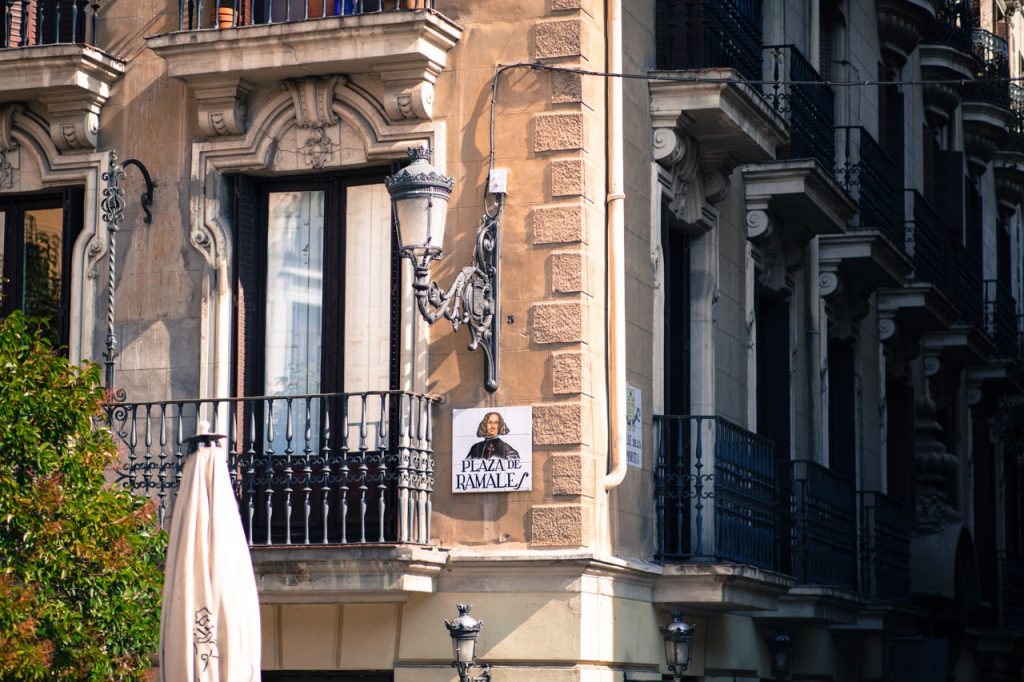 WHAT TO SEE IN MADRID
In addition to being a mecca for those who love food, Europe's third-largest city offers many experiences. Madrid was generous with far more great attractions than we had expected.
#1 – The Royal Palace
The Palacio Real is quite possibly Madrid's best-known attraction. The castle is Western Europe's largest castle, and although you only see a fraction of the 3.000 rooms, the tour takes you through some of the most impressive ones. The word "decorative" gets a new level of luxurious comfort. Bring a visual audio guide with you to get stories about the abundance of details – and also check out the weapons collection, it's very impressive.
#2 – The green heart of Madrid
New York has Central Park and Madrid has Parque del Retiro. The idyllic park is a favorite place for Madrilenians to hang out. It is easy to find your own peaceful spot in the greenery but make your way past the elegant glass building 'Palacio de Cristal' and the lake 'Estanque', where you can rent a rowing boat or eat ice cream at a small café. The park has several entrances – our favourite was the Felipe IV gate, where you are welcomed by artistically cut pine trees.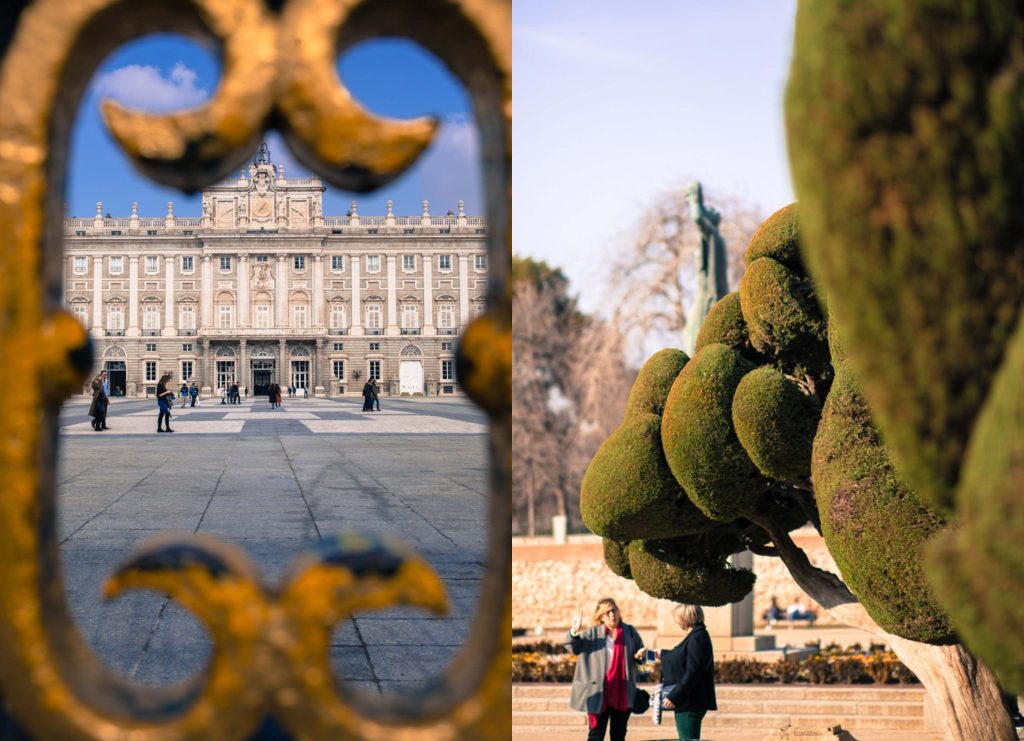 #3 – City walk
One of our (absolute!) favourite things to do was to wander around aimlessly. Madrid is a beautiful metropolis and a large part of the city's grand old heart is well-preserved. It consists of charming pedestrian streets, narrow streets, and car-free squares, making it a pedestrian-friendly experience. It is so pleasant to explore the network of medieval streets and take coffee breaks in a pocket of sunshine in the atmospheric squares. Below we have listed some of our favourite neighborhoods – and if you are curious to know more about the city, you should go on one of the many free city walks that start from the Plaza Mayor.
#4 – Plaza Mayor
At the end of every street in Madrid is a square. At least that's how it seems when you stroll around, and the grandest of its kind is the Plaza Mayor. Since the 16th century, the square has been the focal point of the city and a kind of rectangular Colosseum, which has set the stage for king coronations, bullfights, folk festivals, and rolling heads at executions. Although the plaza is touristy and flanked by restaurants, the square made an impression on us. Have a cup of coffee but save your appetite for better eateries.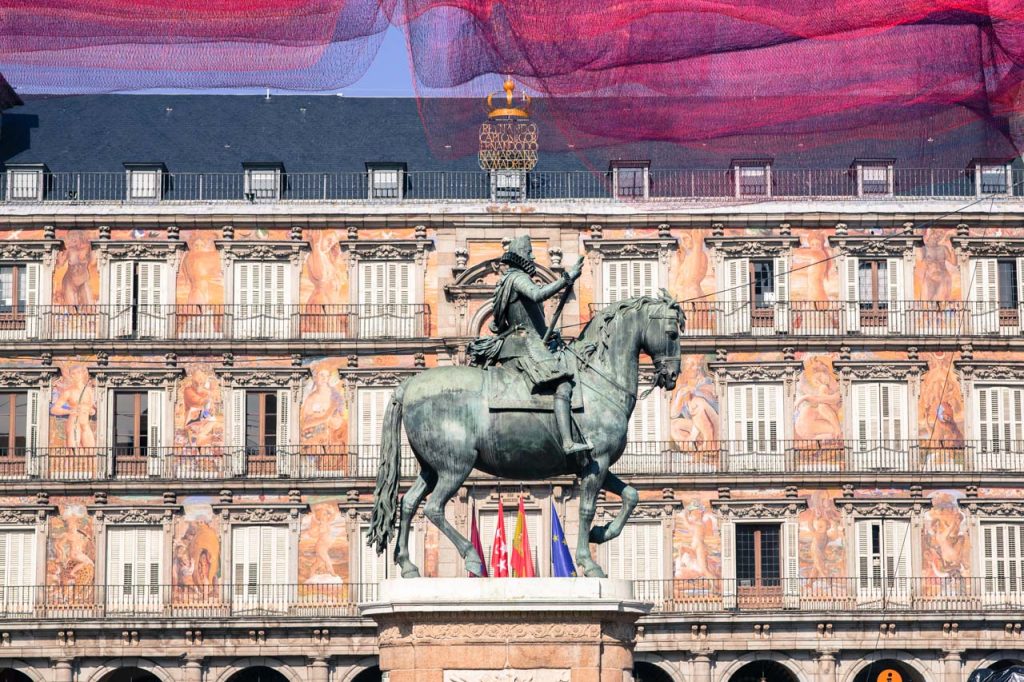 #5 –The city museum
Besides feeling that we owed it to Madrid to correct our ignorance (as the city has been unjustifiably below our radar), we always find it interesting to dive into history to get a feeling of how a place came to be. And Madrid carries many exciting and thought-provoking anecdotes about the kings, citizens, and life in the middle of Spain, which the Museo de la Historia brilliantly unfolds. Entrance is free, so if you have an hour and are in the Chueca neighborhood, the museum is worth a visit.
#6 – The best flea market
El Rastro is a huge open-air market, which every Sunday fills the streets with lots of people and approx. 3.500 stalls selling everything from interiors, clothes, handicrafts, and souvenirs from the East. It's one of the coolest and biggest markets we've experienced but be prepared for a snail's pace in the crowd. The flea market is one of Madrid's favourite Sunday rituals, and immediately it feels as if the whole city is gathered here. // La Latina neighborhood: The market takes place in Plaza de Cascorro, Calle de la Ribera de Curtidores, and the surrounding side streets.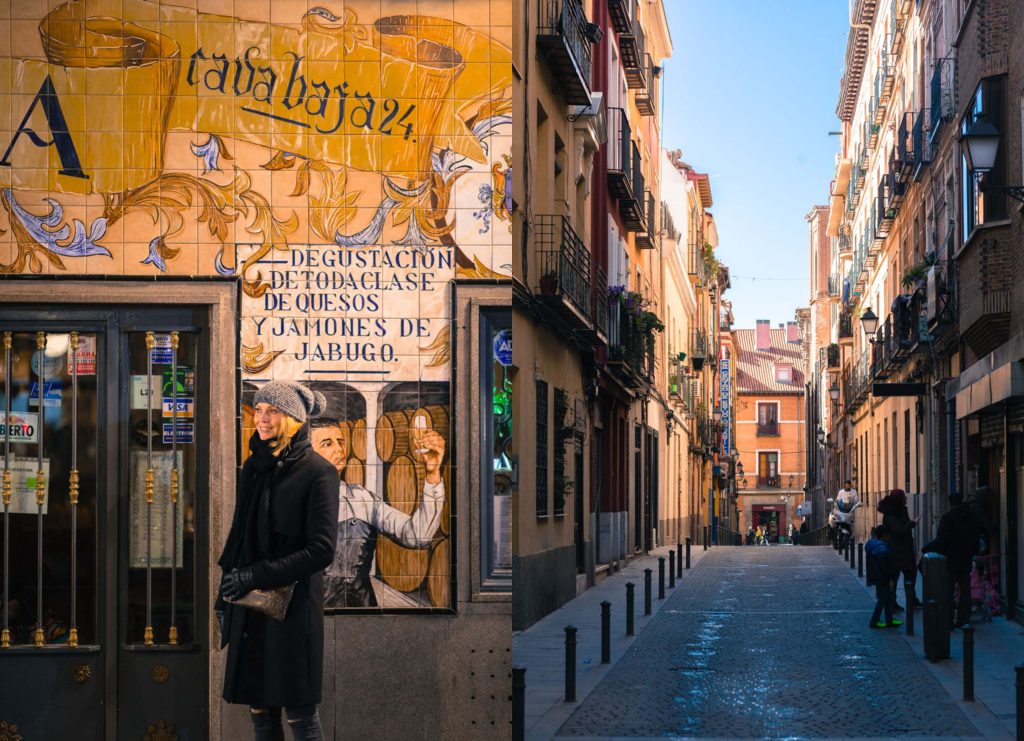 Three things we have to see next time …
#7 – Worldclass art
Madrid is home to three of Europe's most famous art museums: Prado, Thüssen, and Reina Sofia. Here you can experience classics such as Goya, Velázquez, and Rembrandt at Prado, plus masterpieces by Picasso, Dalí, and Miró at Reina Sofia. The museums are conveniently close to each other in the city's so-called 'golden triangle'. When we visited Madrid, the spring sun was shining for the first time. So, we stumbled across another world-class piece of art: a sun-drenched cafe table and jug of sangria. The museums are on the list for our next visit.
#8 – At home with a Marquis
When we heard about the Museo de Cerralbo our curiosity was awakened. The museum is a lavish property and a private home that the 17th Marquis of Cerralbo (1824-1922) donated to the state before his death on the condition that everything would be left as it was. Today it is a peak into a bygone era and a life lived. Besides being among the creative and political elite, the Marquis was also an archaeologist, so his voluminous collection must be quite unique. Unfortunately, we didn't make it past ourselves, but the tip has herewith been passed on.
#9 – Famous flamenco
Flamenco is one of Spain's best-known cultural traditions, and several people recommended us to see a show as well. But that weekend we were more in the mood for a tapas crawl. Now we regret it because it is supposed to be a great experience – and you can combine a show with a tapas dinner. It's a win-win. So, if you get flamenco fever in Madrid, then Casa Patas should be among the city's best and most authentic.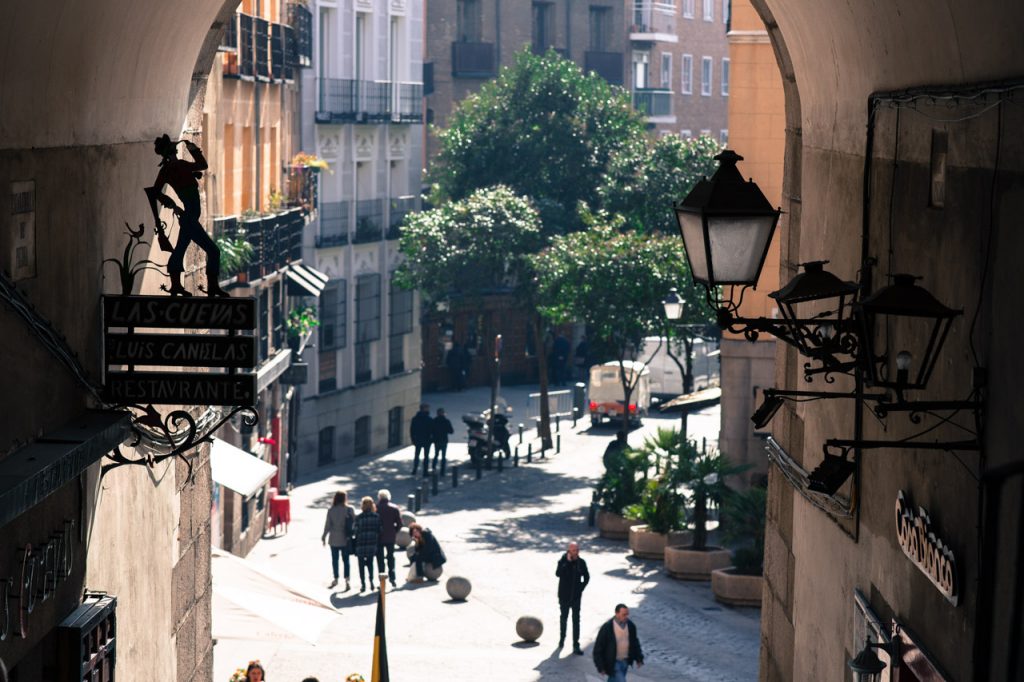 PLEASANT NEIGHBORHOODS
AND STREETS FULL OF ATMOSPHERE
Here we have collected the neighborhoods ('barrios') and a handful of streets that we especially liked in Madrid. The city's compact center is easy to explore on foot, so take the time to get lost and walk the many narrow labyrinthine streets.
Chueca & Malasaña
We spent most of our time in the two charming neighboring barrios north of the grand boulevard Gran Via and separated by the pleasant pedestrian street Calle de Fuencarral. Some travel guides describe the cultural diversity of the neighborhoods – Chueca is a rainbow neighborhood and Malasaña the home turf of the students. To us, they flowed together and reminded us of a Spanish version of Nørrebro and Vesterbro (two districts in Copenhagen).
Both consist of a network of narrow streets and buildings with French balconies. Here it exudes a hip, creative, and festive atmosphere with the many small fashion stores, design shops, cafés, cocktail bars, and restaurants. In the morning the streets are almost deserted, in the afternoon commercial life flourishes, and in the evening the many restaurants and bars spread a festive feel.
We often ended up in Chueca in the evening, and during the day we enjoyed zig-zagging around the side streets of Calle de Fuencarral and Calle de Hortaleza. In Malasaña, it was pleasant to experience life in the street Calle del Pez and the streets around the Plaza del Dos de Mayo.
La Latina
The old bohemian neighborhood of La Latina is home to two of Madrid's most recommended experiences: The Sunday flea market El Rastro and the tapas street Calle de la Cava Baja. The neighborhood has a charming village feel and is often referred to as a traditional neighborhood in Madrid. There are narrow streets, many tapas bars, and plenty of life in the squares.
We loved both the market and the tapas street, but unfortunately didn't get to experience much more. It's definitely a neighborhood we'd like to explore more next time. Especially the streets around Plaza de Cascorro, Calle de la Ribera, and Calle de los Embajadores seemed really cozy.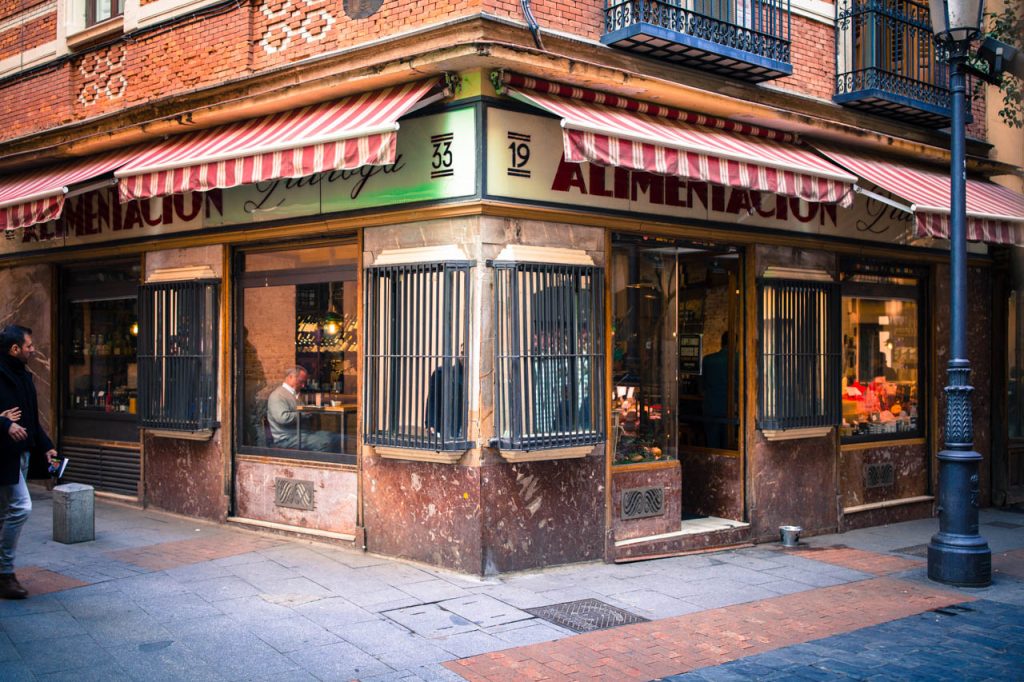 Las Letras & Huertas
We often ended up swinging past Las Letras when looking for a café table in the sun. Here sits the charming square Plaza Santa Ana, which has several restaurants with outdoor seating and buzzes pleasantly with local life. If you prefer a cocktail with a sky view, the lounge bar on the roof of the fancy hotel ME Reina Victoria should be worth a visit and open to all guests in the evening.
Throughout history, the neighborhood has been a gathering place for artists, actors, and writers, e.g. Spanish Cervantes and American Hemmingway, who were regulars at the traditional beer and tapas bar Cerveceria Alemana in Plaza Santa Ana. In general, Las Letras is known to be a party district with many restaurants, bars, music venues, and nightclubs, making the neighborhood a popular place to go.
We especially liked the hilly pedestrian street Calle de Las Huertas, which runs from the small square Plaza del Angel, next to Santa Ana, and down to the Prado art museum and the botanical garden. The street's history dates back to Madrid's founding in the 16th century and is adorned with quotes from some of Spain's greatest writers engraved into the pavement. There were several taverns here that looked really cozy.
The old city center
The streets around the two large squares Plaza Mayor and Puerta del Sol, plus the wide boulevard Gran Via, form the center of Madrid. There are lots of crowds and traffic here. With that said, Madrid is one of the most pedestrian-friendly and peaceful cities we have experienced. A large part of the center consists of pedestrian streets, cozy squares, and the narrow streets of the medieval city limit heavy traffic.
Gran Via is Madrid's most beautiful thoroughfare. The six-lane boulevard resembles a combination of Broadway and Fifth Avenue in New York. Several recommended us to visit the department store El Corte Inglés, which has a food market and several eateries on the ninth floor, where you have a nice view of Gran Via.
Puerta del Sol is known to be the heart of the city, where the madrileños meet on New Year's Eve to count down and celebrate the new year. Here, the local tourists flock to take a selfie in front of the statue of the bear and the strawberry tree, which are Madrid's landmarks. Plaza Mayor was our favorite and is described above.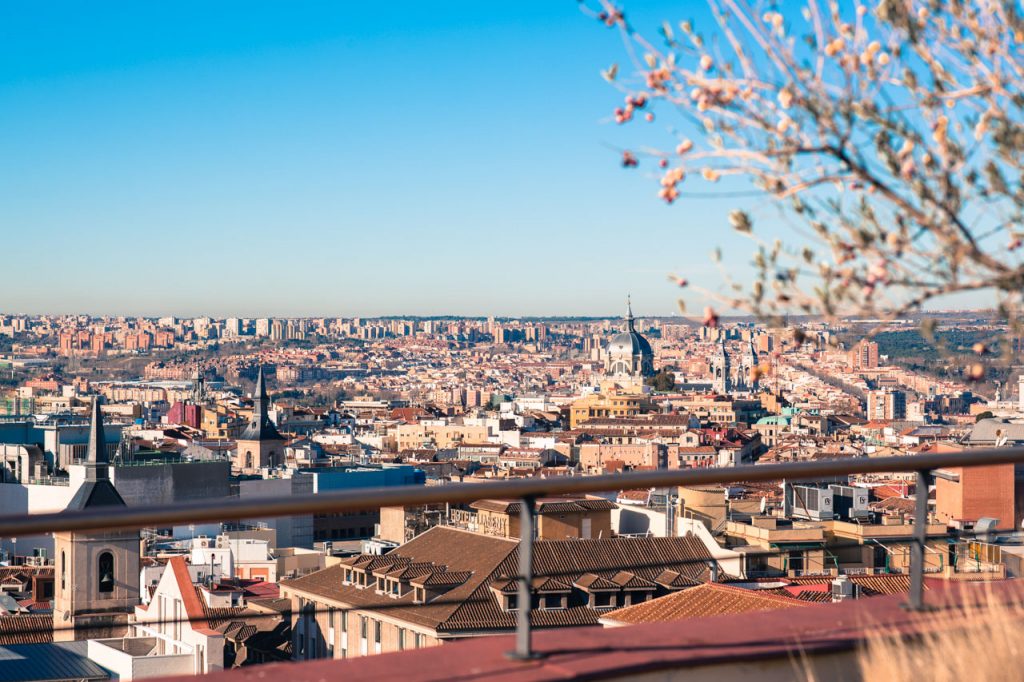 BEST PLACES TO EAT IN MADRID
Madrid is full of bustling food markets and restaurants, which offer the best of Spanish cuisine. Here we have collected a handful of our favorites – and insider tips for a couple of places that we ourselves didn't find time to visit.
Reading through travel guides to Madrid it very quickly becomes apparent that the Spanish capital is a mecca of excellent tapas. In particular, the many Spanish food markets seem to be sacred halls of traditional eating. If you ask us, tapas are a brilliant invention. And the story behind the Spanish snack is both slightly mythical and quite funny.
It is believed that tapas originated in the Middle Ages when bread or air-dried ham was used as a lid ('tapa') to prevent flies and other filth from falling into the glass between sips of wine. Another funny story says that tapas originated when King Alfonso the 10th ordered all bodegas to serve solid food with every jug of wine that was poured to prevent people from getting too drunk.
One thing is certain: Tapas is a serious matter in Spain, and in Madrid, Spanish dining is presented at a high level. Our notebook was therefore stuffed with names of local delicacies and good tapas bars, as well as other well-reviewed eateries. Unfortunately, we were only in Madrid for the weekend and just managed to try out a fraction of the many. Therefore, wee have collected the most recommendable ones below, along with some of the tips we received from locals. Buen provecho!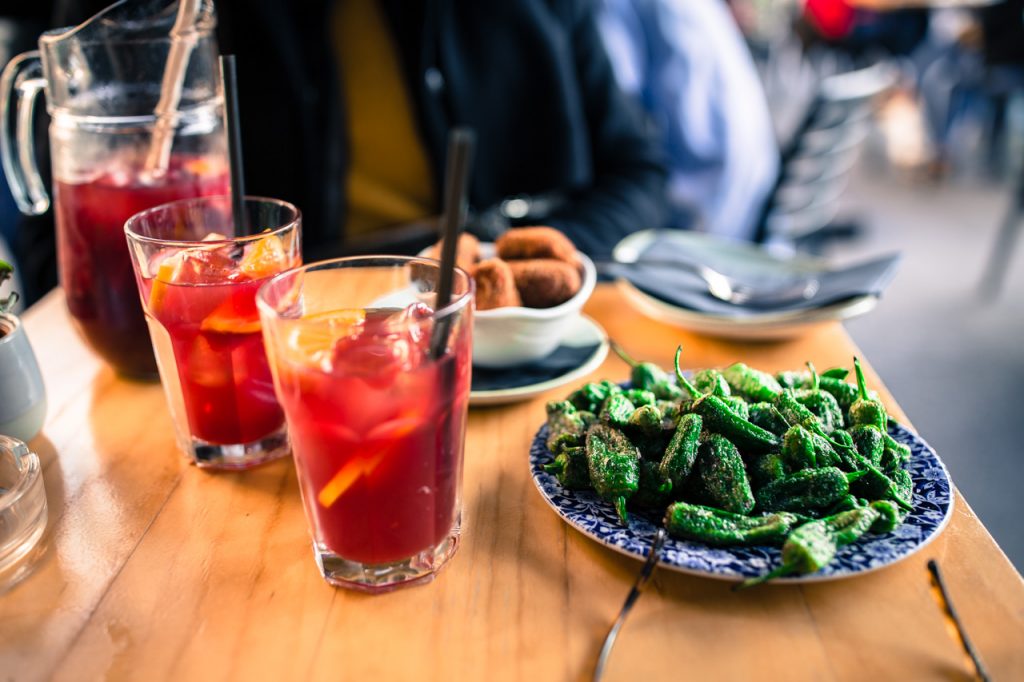 FOOD MARKETS
The city's most famous
Located next to Plaza Mayor, Mercado de San Miguel is one of the city's oldest and by far the most famous among food markets. The building was renovated in 2009 and consists of glass and cast iron that elegantly frames over 35 delicious food stalls. It is an experience to let your eyes board the stalls' divine treats and eat your way through a 'mix yourself' menu. The only drawback is that it's packed with people. So, a great advice is to join the feast on weekdays or at odd times during the weekend. // Plaza de San Miguel.
Our favourite
Our favourite food market was Mercado San Antón, located in the cozy Chueca neighborhood. From the outside, the big brick block looks boring, but inside the food is a feast. The market is more modern than traditional ones and consists primarily of stands selling raw materials and specialties. On the top floor there are small eateries, and on the roof a large terrace with a restaurant and lounge bar. We speak from experience when we say that their G&Ts taste exceptionally well below the blue sky of Madrid and with charming view over the city's rooftops. // Calle Augusto Figueroa, 24.
The unique one
We sadly didn't make it past Platea Madrid, which several people had recommended as a must-visit. It is a former cinema and department store, which a few years ago was converted into a 6000 km2 gourmet market with everything from Michelin restaurants to delicatessens and tapas stalls. In addition, there is also a concert hall and nightclub – so all in all it sounds like a festive place to visit. // Calle de Goya 5-7.
Shop a lunch break
Our hotel was located a few minute's walk from the Mercado de San Ildefonso in Malasaña, but funnily enough, we never made it past. Located on the popular shopping street Calle de Fuencarral, the food market is rumored to have a hip metropolitan style and be among the locals' favourite meeting places. Immediately, the place sounds a bit like Copenhagen Street Food and is an obvious place to catch a break while shopping. // Calle de Fuencarral 57.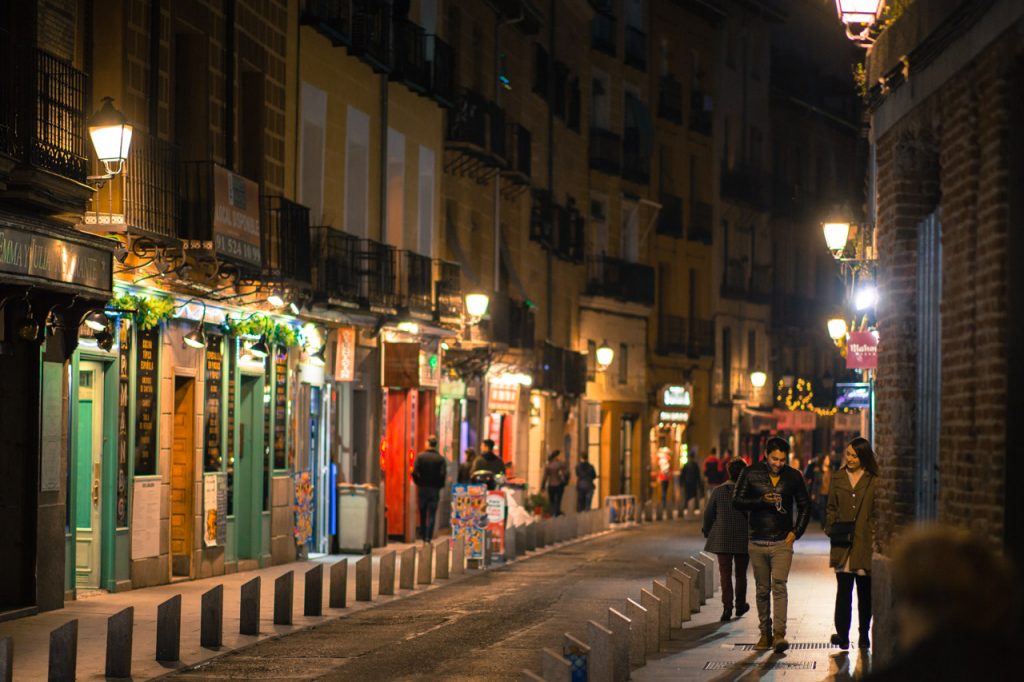 RESTAURANTS
Eat with the locals
Madrid's circadian rhythm begins a few hours later than ours. You can have breakfast from around 10 am, lunch from 2.30 pm, and dinner is served no earlier than 9.30 pm – if you want to eat with the locals, of course. If you feel like a festive evening in the city, the streets don't really get busy until after midnight. In addition, it is good to know that, according to tradition, some stores have a siesta between 2 and 5 pm. Plus, if you are in Madrid for the weekend, and you have specific restaurants you would like to experience, book a table well in advance.
The Tapas street Cava Baja
Our favourite Spanish dining experience was not one specific tapas bar, but a whole street of tapas bars that are side by side. The famous tapas street Cava Baja in the bohemian neighborhood of La Latina is an atmospheric experience. The small, crooked buildings have colorful facades decorated with hand-painted tiles, rustic wooden signs, old-fashioned street lamps, and cast-iron balconies. Two of the most famous tapas bars are Tempranillo and Casa Lucio.
Raw and sophisticated
One of Martin's friends, who is a regular visitor of Madrid's best restaurants, recommended Cannibal Raw Bar to us. A sophisticated and stylishly decorated restaurant with dim lighting, black and white tiled floor, and raw plastered brick walls. The menu consists primarily of shellfish, fish, and meat, and is based on raw and marinated dishes such as ceviche, tartar, and carpaccio. It was simple, but really tasty – and they make a killer cocktail.
Heavenly fusion
Our greatest taste experience was at the small restaurant Kuoco 360. The room is simply furnished, but the service is good and the food nothing short of heavenly. The dishes combine the best ingredients and flavors from Asian, Peruvian, and Spanish cuisine. Every bite vibrates on the tongue! Try their ceviche as a starter and the Iberian ham for the main course. Geez, we're drooling at the thought.
Cocktails with a sky view
We admit that we are fans of ending a good dinner with a cocktail – or several. In recent years, more and more lounge bars have appeared on rooftops around Madrid. Unfortunately, we only made it past one, the one at the top of the San Antón food market. Next time we will try two others that were highly recommended: The roof terrace at the Círculo de Bellas Artes cultural center and the sky bar at the ME Reina Victoria hotel.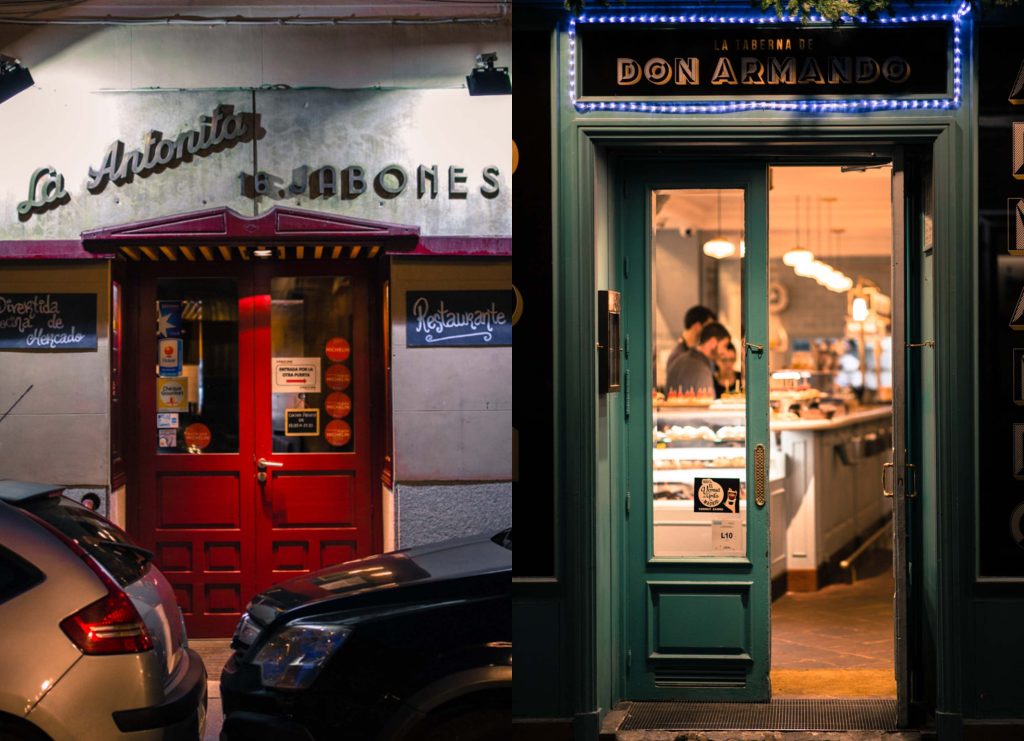 Recommendations we're going to try next time …
The classics
Whenever we consulted travel guides or asked friends and acquaintances for tips on restaurants in Madrid, the same two appeared remarkably often on the list. Namely La Bola and Sobrino de Botín. La Bola is known for its classic Madrid stews and Sobrino de Botín for being the world's oldest restaurant founded in 1725. We didn't get to eat here ourselves, but the many recommendations made us curious.
Michelin in Madrid
For many years, Madrid was known for having a peasant kitchen, but today there are new additions to the traditionel dishes. Madrid has an internationally recognized food festival, Madrid Fusion, and several Michelin restaurants, with the three-star DiverXO being the most famous. If you are looking for a gourmet experience out of the ordinary, but for a slightly cheaper price, we have been recommended El Club Allard.
Seafood galore
If you like seafood, we have been recommended the authentic Galician fish restaurant Marisqueria Ribeira Miño, where the dishes are cheap and the fish fresh. In particular, the two-person dish Marisquada (with enough seafood for four) should be a hit. Also try their pulpo and pimientos de padrón, and the Galician white wine Albariño comes highly recommended.
The best wine in town
According to locals, Lavinia is the city's best and largest liquor store, which has expanded the first floor into a restaurant. In addition to the wine having to be excellent, the food had to be as well. The restaurant does not have a wine list, but instead you can buy a wine from the shop and get advice from the well-trained wine staff.
WHERE TO STAY
The old center
Madrid has many beautiful neighborhoods (called 'barrios'). For us, it was perfect to stay in the city center, Centro. The old town is like a blob in the middle of the city and consists of a multitude of narrow pedestrian streets, wide boulevards, historic buildings, and large squares. If you choose to live in Centro – around the city's main thoroughfare Gran Via or the two large squares Plaza Mayor and Plaza de la Puerto del Sol – Madrid is literally at your feet. From here it takes approx. 5-10-15 minutes to walk around to most things.
Our hotel
We stayed at Hotel Praktik Metropol – a charming 3-star boutique hotel with a roof terrace with a great view over the city roofs. The hotel has a convenient location between the two metro stations Gran Via and Sol. From here we were within walking distance to most things – good places to eat, famous attractions, and cozy neighborhoods. We can highly recommend the hotel.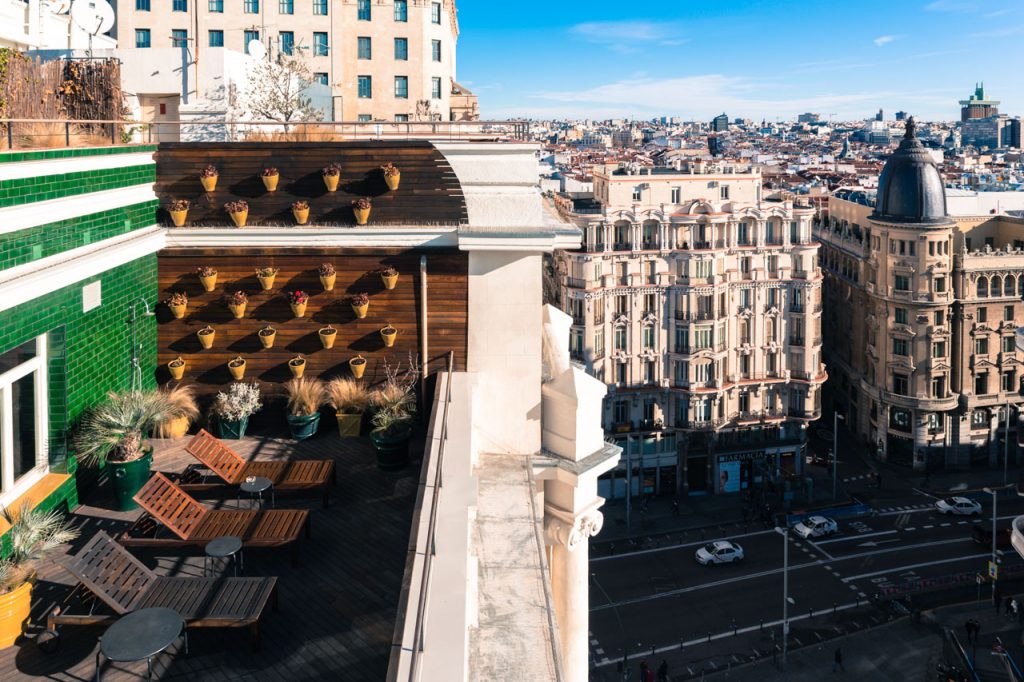 TRANSPORT
To/from the airport
There are several transport options when you need to get to and from the airport. The fastest and easiest is to take a taxi. It takes approx. 15-20 minutes to reach the center and all taxis to/from the airport have a fixed price of 30 Euro. Alternatively, you can book an Uber, which costs around 22 Euro.
A cheaper solution is to take the train, Cercanías. The train costs approx. 1.85 Euro and is thus slightly cheaper than the metro, which costs approx. 5 Euros. However, the train does not stop in as many places as the metro. If you take the metro (which is actually Europe's second largest after London), just be aware that you may have to change metro lines a few times. So, there are advantages and disadvantages to both modes of transport.
Madrid's Tourist Office has made a nice overview of the different transport options, which you can see HERE.