Although Palawan and El Nido is on everyone's lips when the talk evolves travelling to the most beautiful islands in the Philippines it can be hard to figure out where to stay? Here we share which areas and accommodations we can recommend.
---
The rumor of Palawan as a paradise island has slowly matured to a common fact. Not least because all prominent travel magazines such as Condé Nast Traveler and Travel & Leisure have nominated the island to be among the most beautiful in the world.
However, some describe Palawan as an undiscovered paradise. Hmmm … We would categorize that as a slight exaggeration or classic tourist brochure rhetoric. Let it be said: the travellers has now reached the island of the Philippines that inspired Alex Garland to write the famous travel book "The Beach".
However, it is still quite demanding to reach the best area of Palawan, which probably have limited the flow of tourists. Therefore you can still experience desolate and unspoiled sandy beaches that will haunt all your dreams of bounty beaches for the rest of your life. Just a polite warning.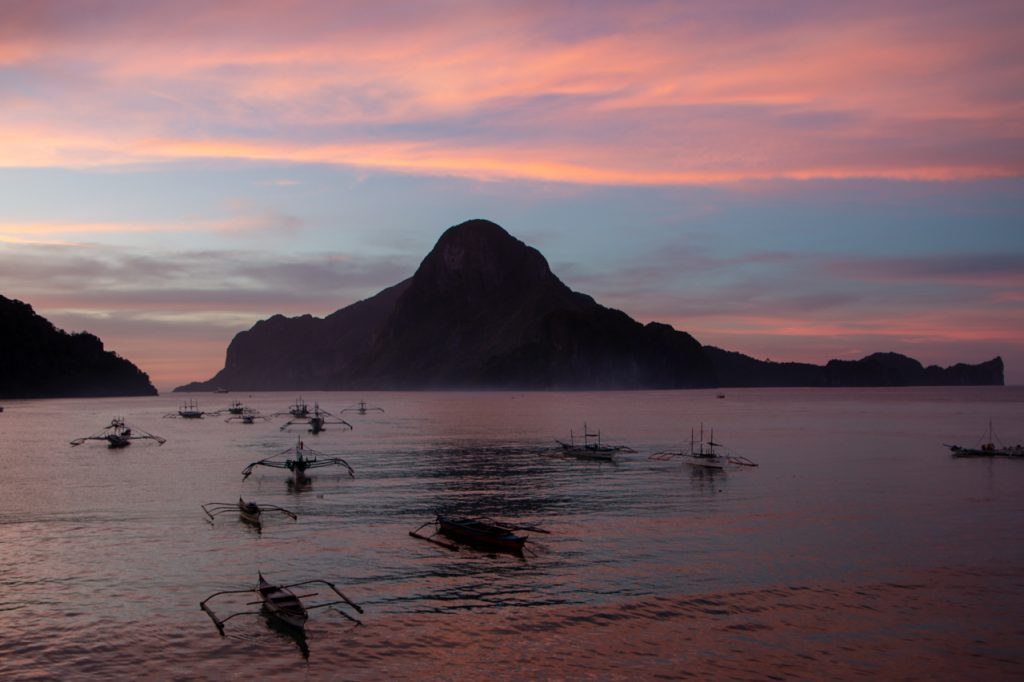 El Nido – a gateway to the paradise islands
The most commonly mentioned place when visiting Palawan is El Nido. When we first started our research it was hard to figure out if it was a city, a beach, an airport, or a larger area with several small islands. Now we know that El Nido is one of nearly 1.500 municipalities and a slice of the northern part of the island of Palawan. In addition El Nido is also the name of a town by the beach and the starting point for experiencing Palawan's main attraction: The Archipelago of Bacuit.
Bacuit Archipelago consists of 45 islands. With sharp limestone cliffs rising through gin-clear waters the Archipelago create an enthralling horizon at the northwestern coast of Palawan. At the foot of the towering cliffs, chalk white and palm-clad sandy beaches adorn and surely represent any dream of bounty islands. And that's exactly where you're going if you want to experience what, in recent years, has placed the Philippines at the top of the list of the world's most beautiful places.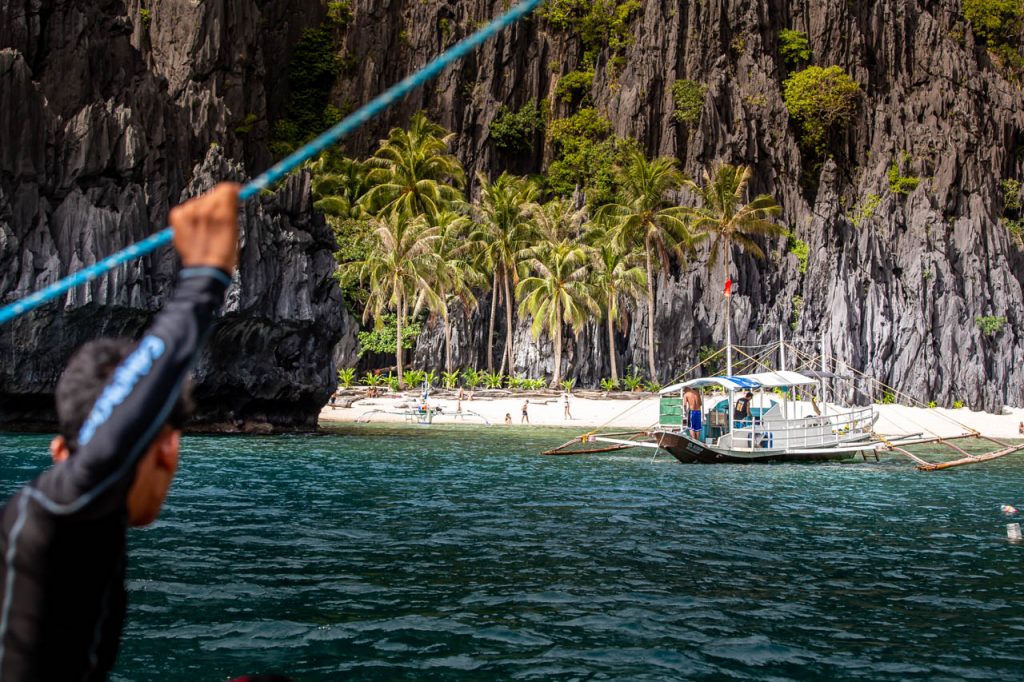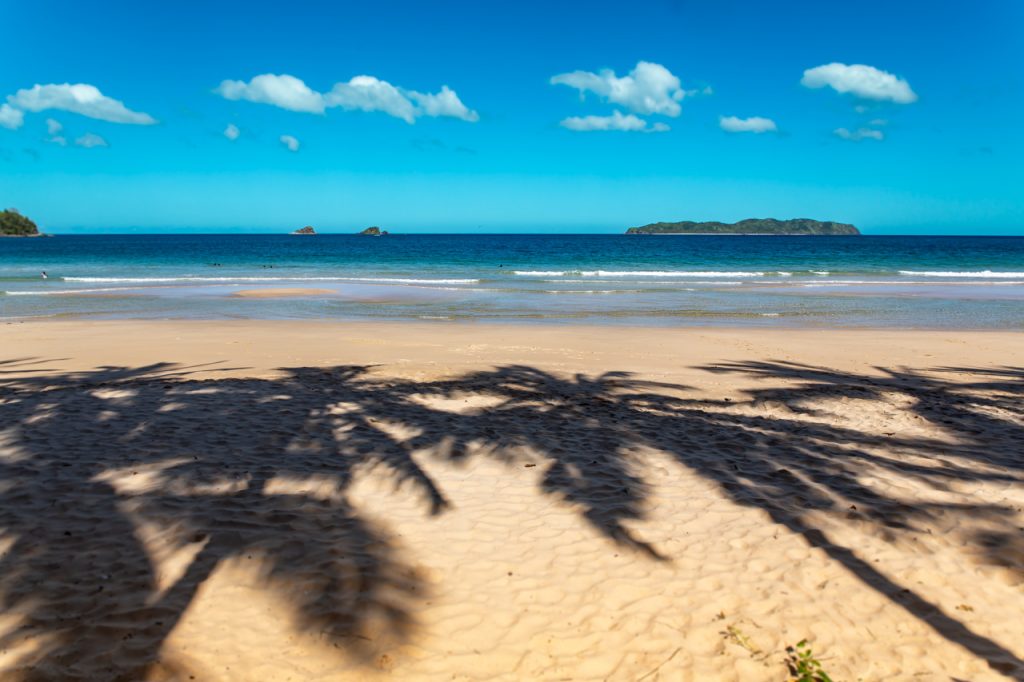 Where to stay
Northern Palawan is no longer a secluded destination reserved for backpackers. Therefore, there are a lot of accommodations for all types of travellers. From backpack budget to honeymoon luxury. Here we have described six places in and around El Nido, which we can recommend based on different criteria.
#1 – Bacuit Island
Matinloc Resort and El Nido Resorts, with four different resorts, are each placed alone on one of the small islands of Bacuit. They meet all the luxurious dreams of staying on a deserted paradise island. But the dream doesn't come cheap. The advantage of staying on the islands is that you are in the beautiful waters of Bacuit and can easily discover the surrounding islands, lagoons, and unspoiled beaches.
If you prefer to be at sea and experience the islands from a boat, then you should book a cabin on one of the Tao Philippines boats. We have heard from others who have sailed around the archipelago and it sounds like an experience you'll never forget. It is clearly on our must do list next time!
#2 – El Nido Town
The town of El Nido is located on the beach and is the commercial starting point for experiencing the Bacuit Islands. This is where you will find most hotels, hostels, and bungalows as well as various shops, tour operators, restaurants, and bars. The town consists of small, narrow, and densely populated streets and can quickly feel crowded when the noisy tricycles twist around all the flip-flop wearing tourists.
El Nido is for those who want to be close to restaurants, night life, shopping, and the harbor itself, from which all excursions to the Bacuit Islands start. Here you also can rent mountain bikes, scooters, and kayaks. In addition, you will find the area's only ATM – which, however, rarely works – close to the City Hall. The beach itself is not worth a visit as the water is slightly murky and filled with sharp rocks and boats.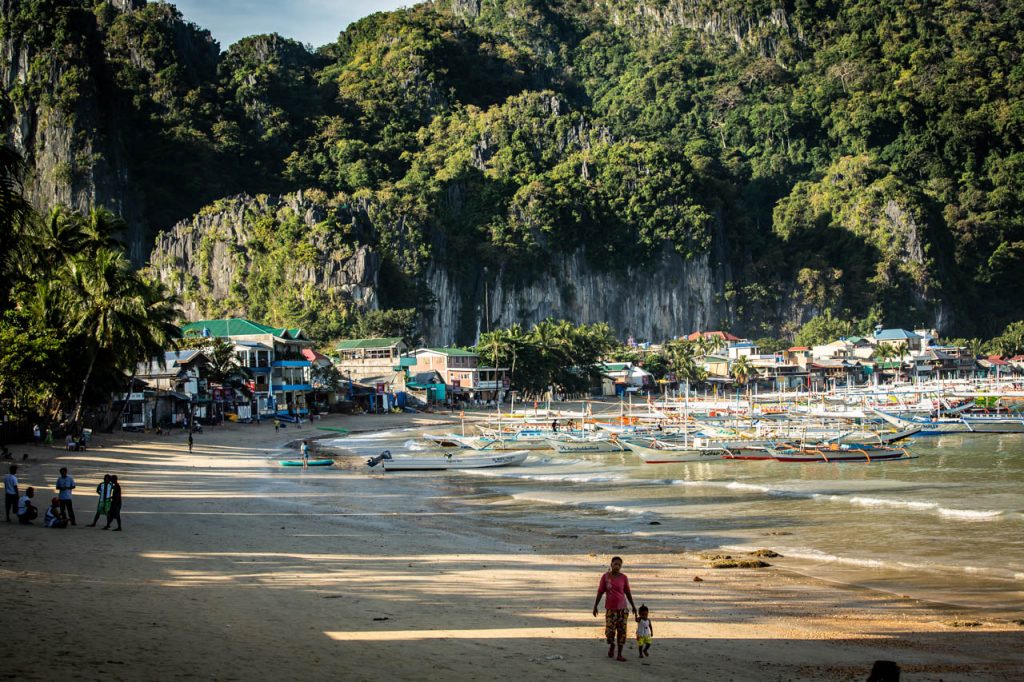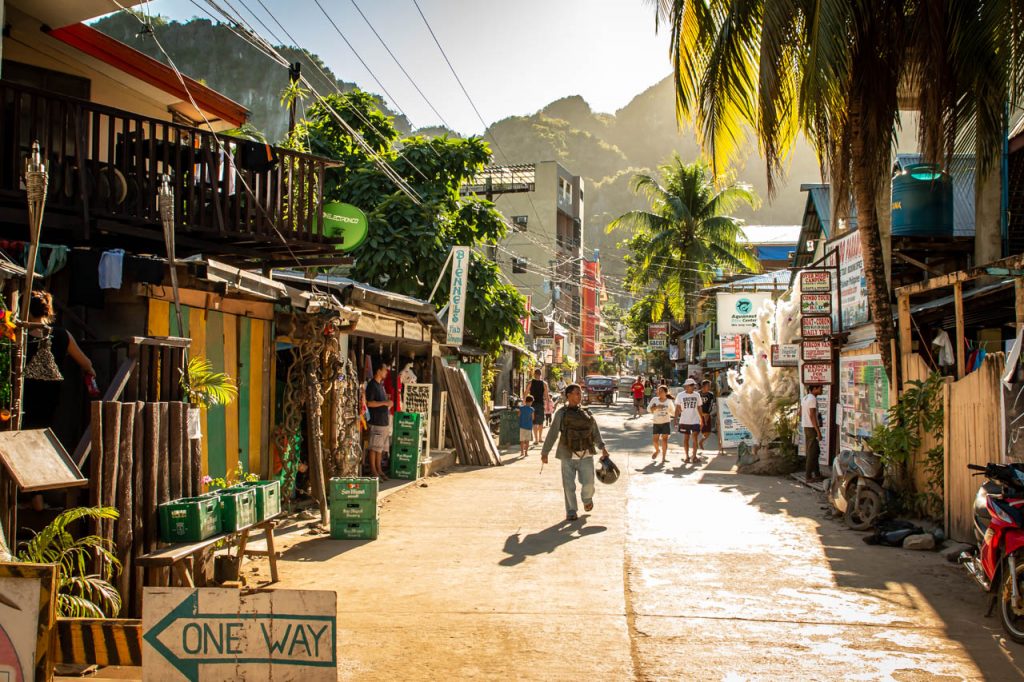 #3 – Corong Corong
Corong Corong beach is located at a small village about 1.5 kilometers south of El Nido town on the other side of a small mountain. Most resorts and bungalows are next to the beach itself where you will find a relaxed atmosphere. Also a few restaurants and beach bars resides here, which offer a beautiful sunset overlooking the Bacuit Islands.
We would definitely recommend staying here if you like us prefer to be close to the buzz of El Nido but choose to live in more natural and peaceful surroundings. You can easily reach El Nido by scooter or tricycle. The trip takes about 5-10 minutes and costs around 100 PHP (2016).
The best place to stay at Corong-Corong is at Mahogany Beach Resort, which features a range of stylish and spacious bungalows and villas as well as a beautiful pool. The neighbor is the Last Frontier Beach Resort, which has some slightly smaller, but really nice bungalows, all of which have a view of the beach.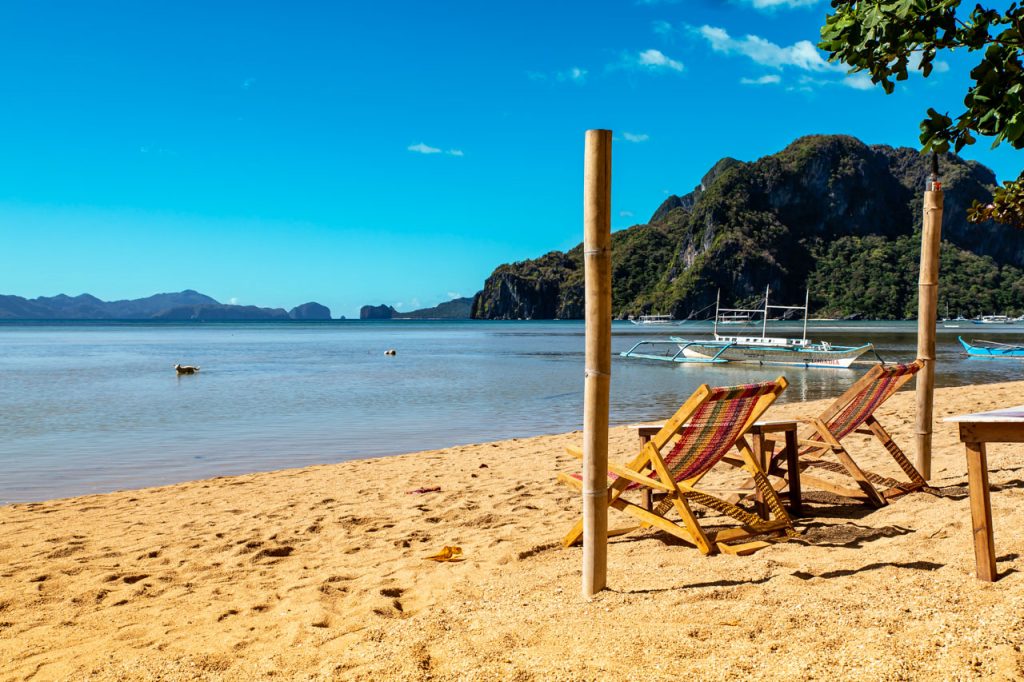 #4 – Marimegmeg and Las Cabanas
A few kilometers south of El Nido city and Corong Corong is the beach of Marimegmeg. It is the best looking beach within a few kilometers of El Nido town. Many people therefore go here to hang out on the beach for a day. If you rent a tricycle from El Nido town the trip costs approx. 150 PHP (2016) and takes 10-15 minutes. There are a couple of backpacker bungalows as well as restaurants and small beach bars, but personally we would recommend moving a bit further down the beach to Las Cabanas. To both swim and stay.
Las Cabanas Beach Resort is located on a small coast area and has a beautiful 180-degree view of the Bacuit Island. The resort has two types of bungalows. Some with ocean views and some surrounded by a nice garden. The place has a good restaurant with a large menu that can satisfy everyone's desires. There is ample space between all the cabins, which gives a particularly peaceful atmosphere.
We enjoyed hanging out here when we went for long walks along the coast. You should also take the time to stroll down the beach from Las Cabanas and towards the luxury resort of Dolarog. Especially if you are fond of pristine sandy beaches and palm trees and would like to feel like Robinson Crusoe for a day.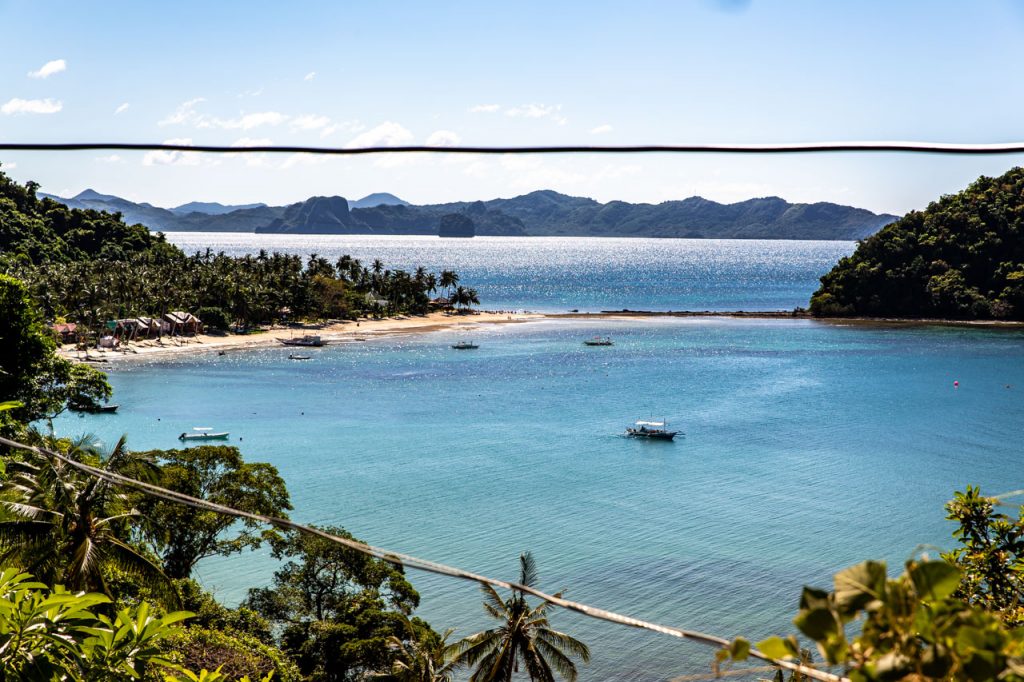 #5 – Caalan Beach
Just north of El Nido town the neighbouring beach of Caalan resides. Walking distance of approx. 5-10 minutes along a small gravel road along the water. It is a pleasant walk to an area that is far more green and peaceful than El Nido. Here are a couple of bungalows and resorts resides. For example Cadlao Resort, which is El Nido's most expensive and also includes the finest restaurant of the town.
#6 – Nacpan Beach
You can't walk around in El Nido for a long before a tricycle driver asks if you want to go to Nacpan Beach? And believe me – you'd like to! But if possible, we would recommend renting a scooter and drive the 30-45 minute trip on your own. It's a beautiful excursion through Palawans lush jungle, small charming villages, and past elongated rice fields.
Nacpan Beach is located approx. 20 kilometers north of El Nido. The beach is a few kilometers long, the sand is powder-soft, and the water is absolutely crystal clear. Some tourists go here to swim and to see the area where Nacpan and Caitang Beach meet each other and form a narrow beach with water on both sides. But if you have time to spend we can recommend a barefoot adventure up the beach.
If you like the serenity of Nacpan's exotic beauty and peaceful surroundings, you should book an overnight at Jack's Place. Here you can get a primitive but nice bungalow with a view directly to the beach. Alternatively just enjoy a cold beer in one of their hammocks, tucked in between the palm trees on the beach. It's nothing less than heaven, if you ask us.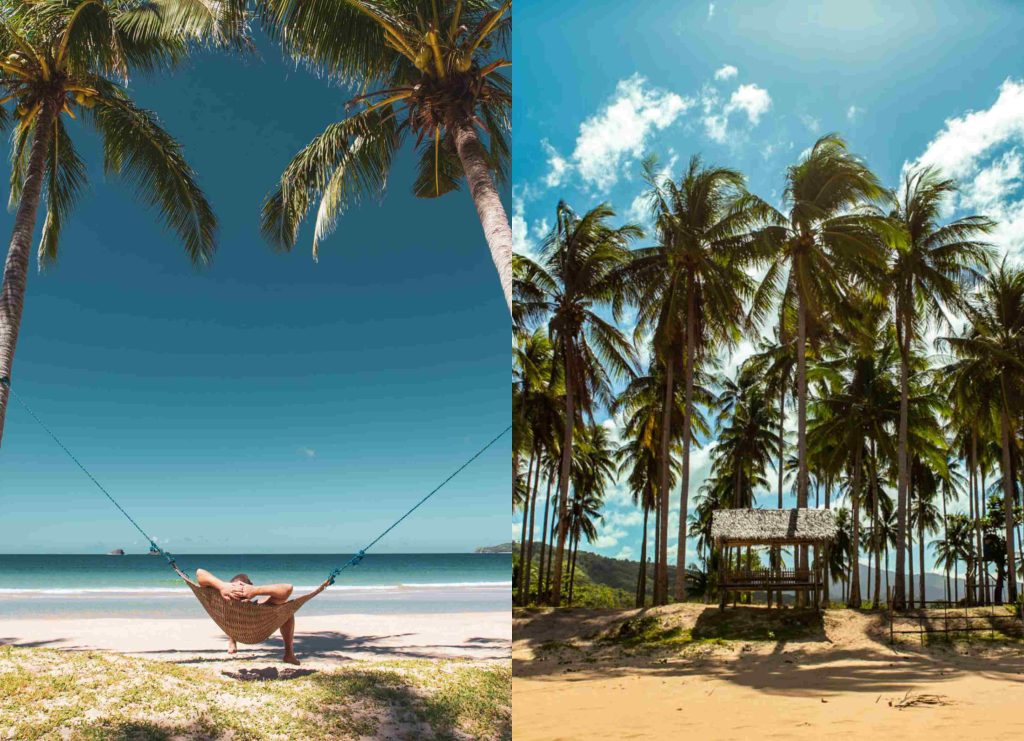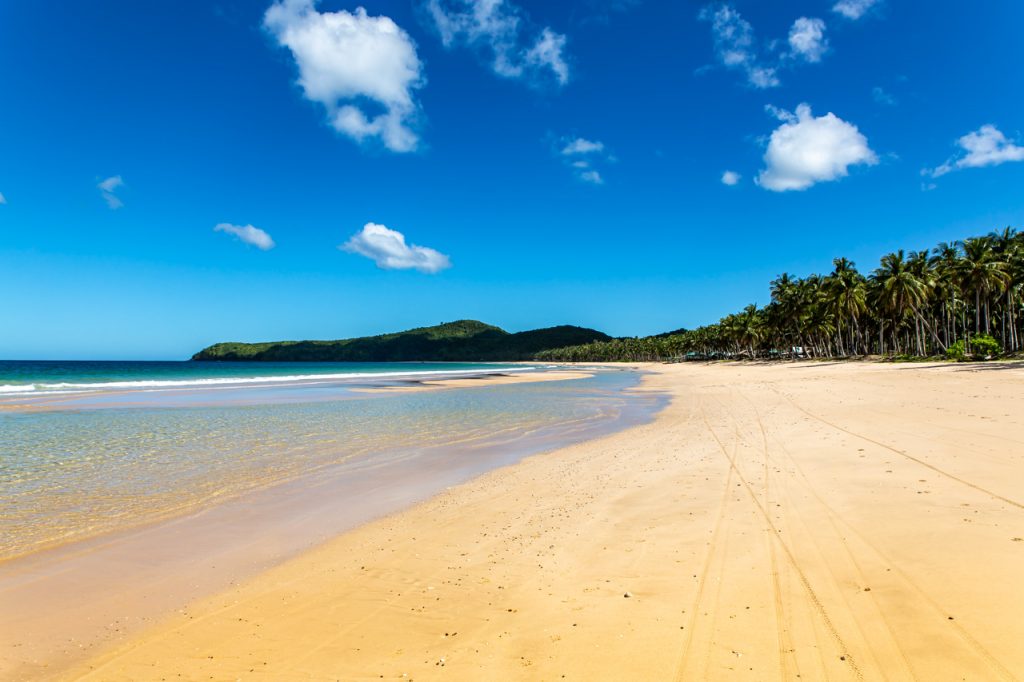 Good to know before travelling
Be sure to have enough cash for El Nido. For there is only one ATM located in El Nido town – and this is often out of function or emptied by cash. There are neither banks nor ATM's anywhere close by.
Useful links