As a visitor on Lembongan it is impossible to not notice that cockfight is a very popular tradition on the island. It covers the island like a soundtrack of crazy cocks and is very a popular topic of conversation among the locals. We were invited to a ceremoni where we experienced the ancient spectator sport.
---
The spectacle of crazy cocks and yells from the crowd is exuberant when we arrive at a covered arena, located next to the largest temple in the city of Jungutbatu. It's difficult to see what is happening inside the ring as the air is packed with raised hands waving the local currency. We guess the first fight of the day is about to start.
Nyoman – one of the staff at Twin Island Villas where we live – has invited us to joine him on his weekly day off. A day he always spent on his big passion: Cockfight.
BLOODY COCKFIGHT
"Mette! Martin!" We suddenly hear someone calling our name and see Nyoman's face light up in the crowd. He eagerly signals us and makes room on the bench where he is sitting. Our new seat have a direct view of two men preparing the cocks for battle. Strapping a ten centimeter long knife blade on the left leg of the cock.
It looks grotesque, but to our left Nyoman expresses nothing but excitement. "The bird dies after a few minutes" – he explains when he discovers our anxious facial expressions. To him cockfight is downright the same as fishing and hunting.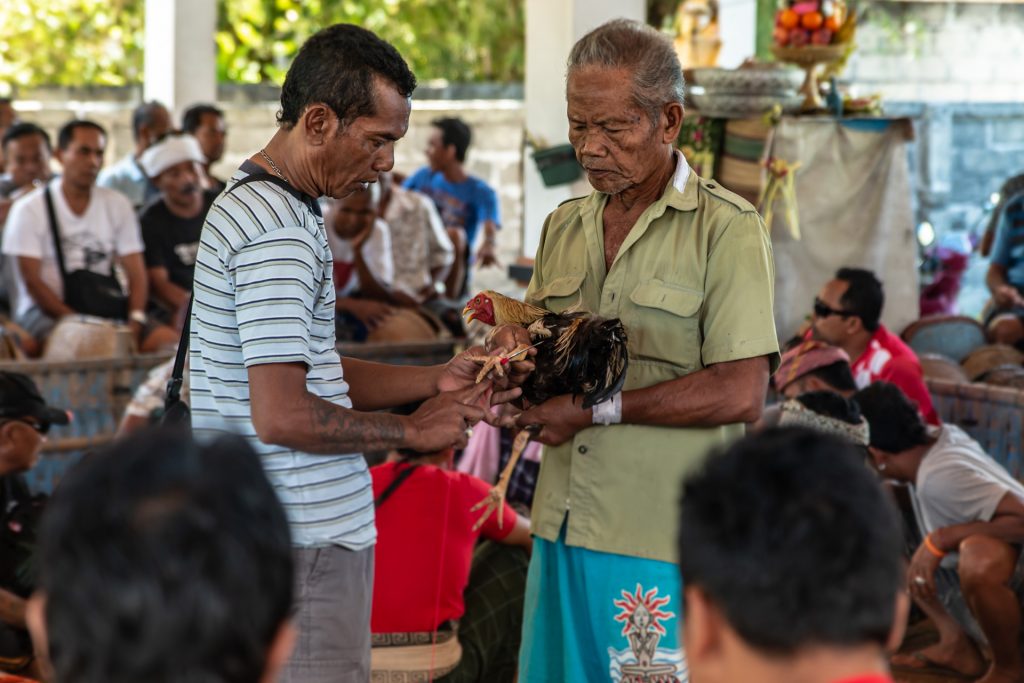 Actually cockfights have been illegal in Indonesia since 1981 and are considered to be gambling. But the phenomenon is so popular that the authorities often look the other way. Today's imminent cockfight is part of a full moon ritual and is therefore allowed as the fighting is considered a religious ceremony. The blood of the cocks is a sacrifice that will calm the evil spirits.
Inside the ring two cocks attack each other. They jump into the air with flapping wings while attempting to plunge the mounted knife into each other. Flying feathers are filling the area. The audience shouts. The birds are trying to catch their breath. Shouts exhausted. The atmosphere is at a boiling point.
The spectacle is both repulsive and fascinating. And a few seconds later it's all over. One bird drops to the dirt. Blood spilling from its beak. "Chicken soup", Nyoman replies when we ask about its further destiny? The winner gets the dead bird, the money and – most importantly: The glory.
Read about our experiences on Lembongan in the travel article: "A paradise island next to Bali"