Before traveling to Vietnam we had never tried staying at a homestay before. This is our story about an overnight stay with a married couple in Vietnam that put all our preconceptions about homestays to shame.
---
Our host is clearly moved as the conversation drifts from the present to the past. Mr. Thai has otherwise been one big smile and full of funny antics since we arrived a few hours earlier at his homestay in the Mekong province of Ben Tre. But now, when he begins to talk about glimpses from his childhood a shadow slides across his smiling face.
He was just a little boy when the Vietnam War ended. Although it has been over 40 years since he experienced the worst nightmare of his life, he is still touched when he – as one of the few Vietnamese we have met on our tour – talks about his memories from the war.
His job was to hide from the American soldiers in the lush Mekong Delta and run back to warn the Viet Cong when the enemy came. His father was part of the guerrillas and hid in the Cu Chi tunnels, making it impossible for the Americans to find them.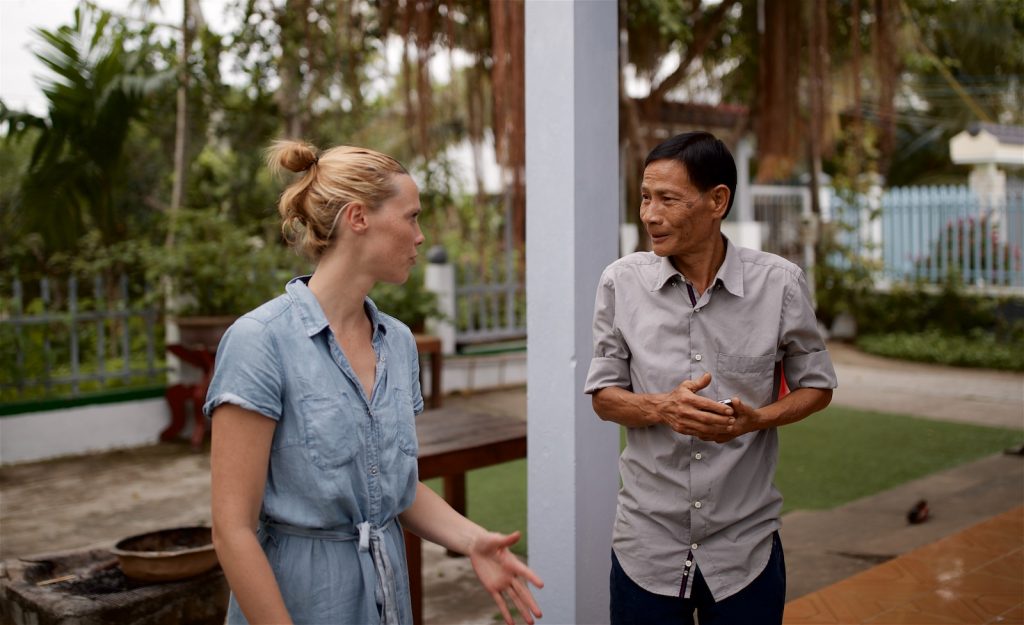 Dark memories
During the war the tunnels were a strategic hiding place for the Viet Cong. Today, they are a famous tourist attraction located northwest of the center of Ho Chi Minh City. The underground passages were in some places dug down to a depth of 12 meters, divided into 3 floors, and were a total of 250 km long. Everything from hospital rooms, kitchens, sleeping quarters, and ammunition stores were found here. Over 45.000 Vietnamese are believed to have lost their lives in the tunnels during the war.
One of them was Mr. Thai's father.
Mr. Thai goes quiet. He looks at his fingers fumbling with a green leaf. A little later he looks up and hands me a finger ring folded from the leaf and a small pink flower. His smile is back, and this time it reaches all the way to the eyes: "Smiling is medicine", he laughs in his slightly hoarse voice and pats Martin jovially on the shoulder. We both smile back, but the knot in my stomach grows.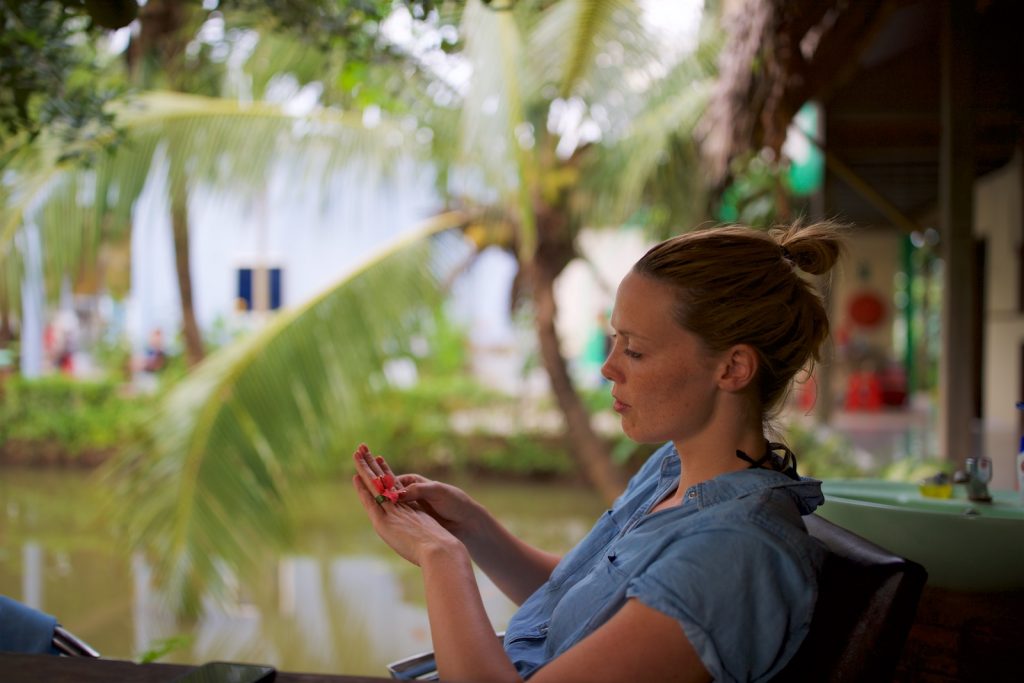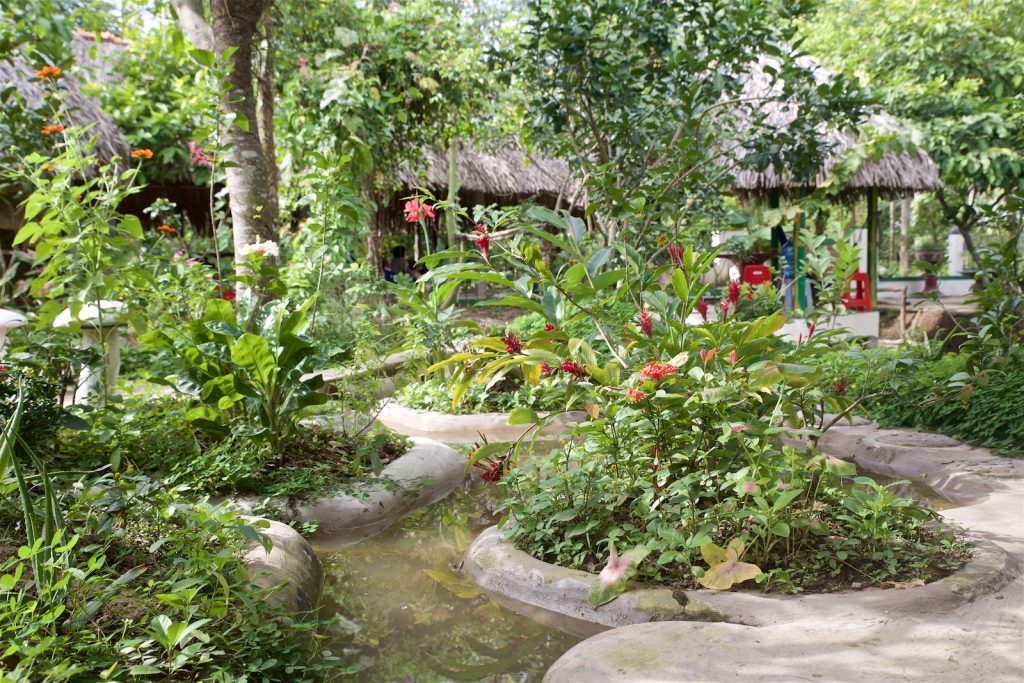 Far from a hotel
We are sitting on a small plateau in his blooming garden. The silence and the smell of soil reveal that we are no longer in the city. He inherited the land from his father, who lived by growing various crops, and the peaceful surroundings have an almost meditative effect. Both on Mr. Thai himself, his family, and the guests he welcomes inside his home:
"This is not a hotel. My home is your home"
… he says with an authoritative expression when we ask how many guests he can accommodate. It is clear that he takes pride in running this homestay with his heart. At first he had only one room, but over the years he has built four rooms and a small bungalow, next to his own house, which he rents out to travelers.
Our room is dark and spartanly furnished with a fan, mosquito net over the bed, and a small toilet and bath with cold water. It's primitive, but we miss nothing. It is all too pleasant to rest in the hammocks in the garden and enjoy the homely peace. Such respite is worth its weight in gold when you are constantly on the move and bombarded with new impressions – and the Vietnamese traffic.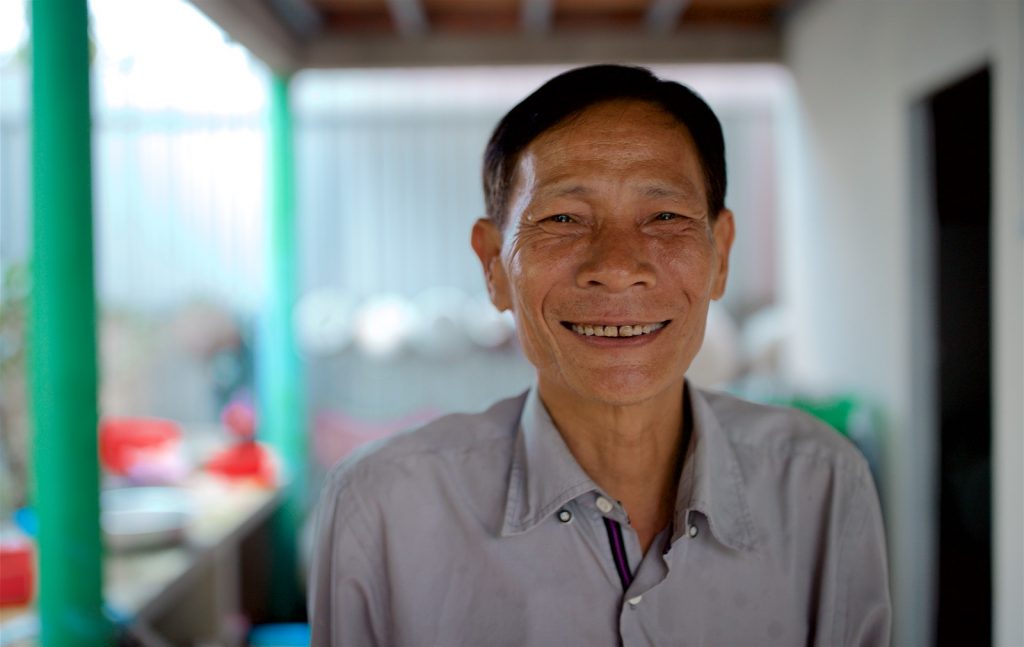 Malaria and love
Before Mr. Thai opened his homestay, he worked for 25 years as a motorcycle guide. He was happy with the job, he learned English by talking to the tourists, and got to see most of the mighty Mekong Delta. But he missed his wife.
"I had malaria after the war", that's how Mr. Thai began a tale that turns out to be the finest love story about his wife. For three years he was in the hospital and was seriously ill. He was thin, debilitated, and the future looked bleak. Yet this woman came every single day to take care of him.
"That is love!"
… he concludes with a warm smile, assuring us that the wisest thing he ever did was to marry his wife. Today she helps with their homestay, cleans, and cooks. And Martin and I are certainly not the only ones who are happy about that.
Her cooking transforms even simple things into an Asian umami bomb and is a welcome topic of conversation as we chat with the other guests – two Israeli guys touring Asia, plus a French family on Christmas vacation in Vietnam. Everyone agrees that she cooks with love!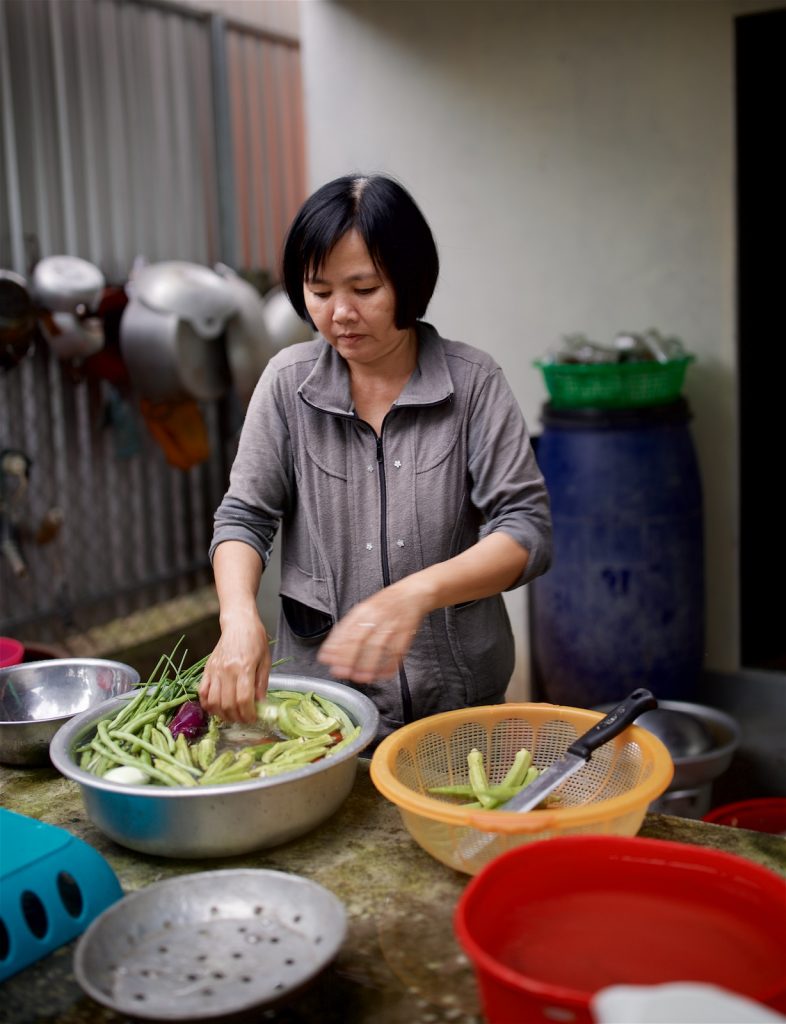 In the hunt for fireflies
We have dozed off in the hammocks as the sun's last rays color the sky with pale peach colors and orange streaks. Along with the twilight, the fresh scent of evening mist creeps in.
"It's time to go!", Mr. Thai calls from the other side of the large fish pond in the middle of the garden. Here the French's two little boys were allowed to catch the fish for our dinner a little earlier in the day. Next to Mr. Thai his son trips energetically. So even though the little guy can't speak a single word of English, it's clear that we must hurry if we're going to catch fireflies with him.
Mr. Thai's son jumps knowingly and at a brisk pace out of a narrow dirt road with small stones and puddles. The rest of us try to keep up and have to use our phones to illuminate the surface we are stepping on.
After we've been walking for a few minutes, he stops thoughtfully. He pulls up his T-shirt and moves with tentative steps down a slope and into a stream that runs alongside the road. The water is as black as coffee here in the evening darkness, and it is clearly deep. The boy has only taken a few steps, but the water is already up to his waist.
I shudder a little at the thought of all the reptiles, leeches, and snakes that probably live in the water. The boy reaches for a low-hanging branch of a tree and suddenly starts waving his arms. "Argh, are we sure he's, ok?", I ask Martin in a tone that reveals my inner chicken. But before he can answer, tiny candles light up on the tree, one by one.
Several small fireflies begin to blink and create nature's own answer to a small illuminated Christmas tree. Even though the flies use their butts to light up, there is now something particularly fine about their trembling glow in the twilight.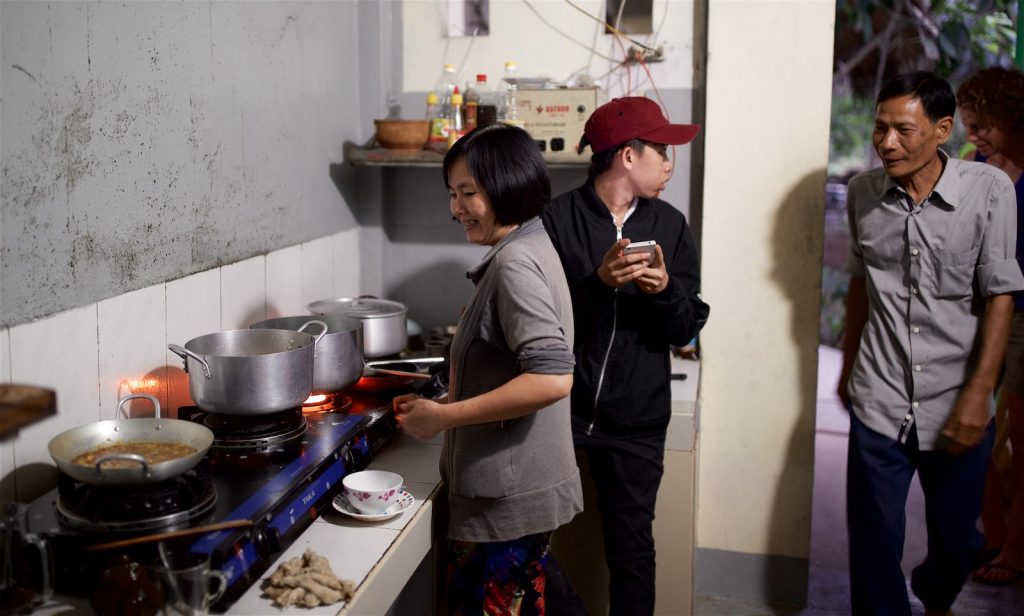 Homestay, sweet homestay
When we jump on our motorbike the next day to start the next stage of our Mekong adventure, it leaves a little stab in the stomach. Simply because it feels a bit sad to wave goodbye to the hospitable Mr. Thai and his family.
In fact, it threw us a bit back how much we liked staying there. Because if I have to be completely honest, we have always avoided staying in homestays. Somewhere in our brains, we have grown the preconception that it must be like living with a distant relative we have never met – and it is not always fun to have to sit on the bench at the kitchen table at mealtimes, to be forced to small talk, and conform to the house's (peculiar) rules.
When we travel, we enjoy being free and away from the things that remind us of everyday life. And when you live in a homestay, you become part of a home and a family. We also felt that we stayed with Mr. Thai and his family – but contrary to our prejudices, the stay was an enriching and not limiting experience. For a while, we didn't feel like tourists, but like guests.
Have you tried staying at a homestay?