Once Ilha Grande was inhabited by pirates, lepers, and criminals. Much has changed on the island, which today is a peaceful natural paradise. We visited the car-free island, which is an Eldorado of jungle trekking trails and golden sandy beaches – and lots of monkeys.
---
It's probably no surprise to anyone that we have a penchant for exotic tropical islands. The combination of the sun, the lush nature, and the turquoise blue water. The taste of sun-ripened fruit, cold cocktails on the beach, and the feeling of a laid-back atmosphere of island life. The collected merits have the same saliva-inducing effect on us as bare skin has on bloodthirsty mosquitoes. So, visiting Ilha Grande on our tour of Brazil, was an easy choice.
The little big island
Ilha Grande is three hours from Rio de Janeiro, and if you look at a map of Brazil, the island looks vanishingly small compared to South America's largest country. But in fact, Ilha Grande means 'The big island' and with its 193 km2, it is the largest island in the area. If you glance towards Denmark, the island is approx. twice as big as Amager.
And the Danish islands of Amager was the starting point of our journey to Ilha Grande. It took exactly 24 hours from the time we left our apartment to the time we arrived on the island. In hindsight, it might be the last time we endure such a long journey in one stretch. With three planes, a taxi, and a boat. But we forgot all about sore muscles and a ridiculous jet lag when we finally disembarked the boat at the pier of Ilha Grande. It was like joining a scene from "Treasure Island".
Pirate-like schooners swayed in the azure blue water on a backdrop of golden sandy beaches and green mountain landscapes. The mountain peaks beckoned up and down as if drawn by a child's hand. The most characteristic of them all, Pico do Papagaio, looking like the head of a parrot. It doesn't take many spoons of imagination to equal the layout of Ilha Grande to a treasure map.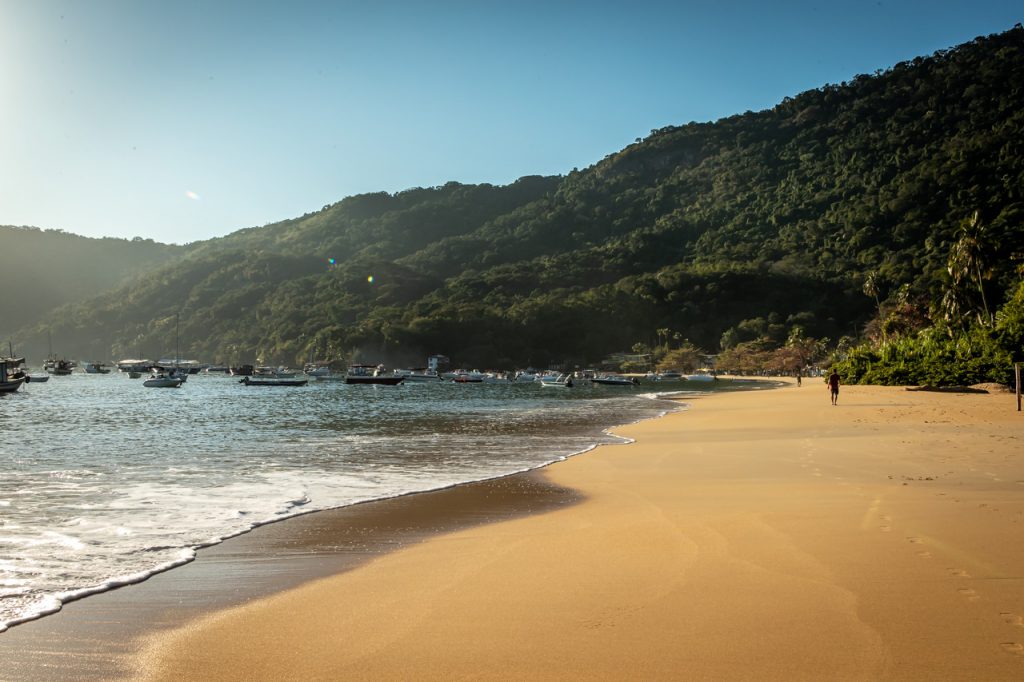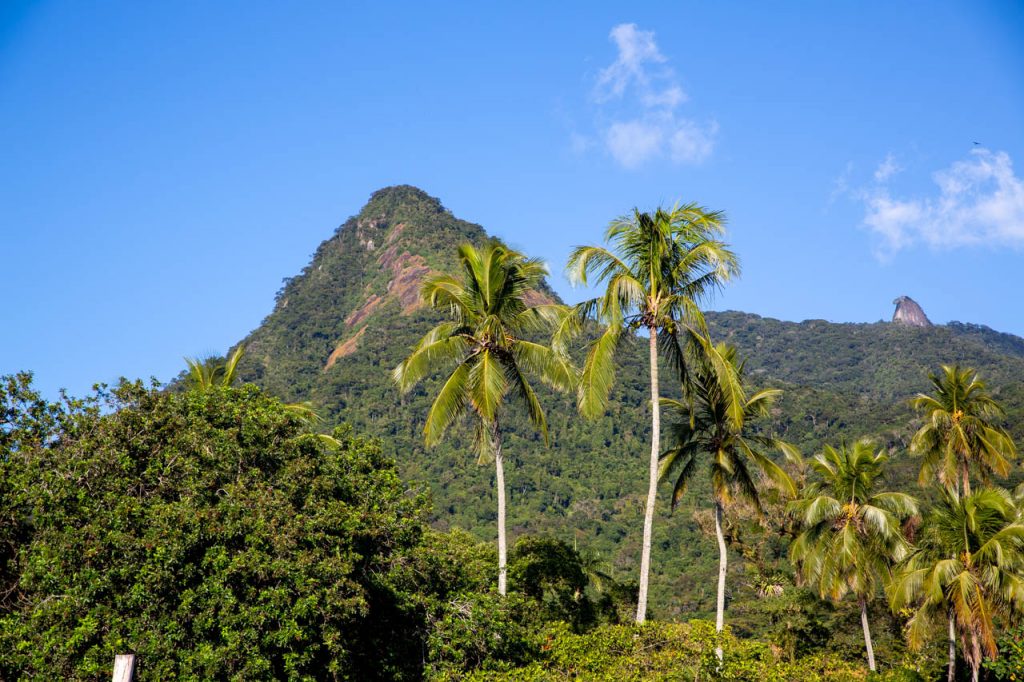 Hammock pace in the village
Like all other visitors, we arrived by boat to the small town of Vila do Abraão, which 20 years ago was a sleepy fishing village. With two telephones and three small pousadas (Brazil's answer to Bed & Breakfast). Today it has grown considerably and houses over 150 different accommodations as well as small souvenir shops, tour operators, and restaurants.
Now, it might sound like Abraão has grown into a bigger city, but the correct description is a small and charming village. The peaceful island atmosphere is still intact, even as the tourists flock. Life is lived in flip-flops and stress is a foreign word. There are no large hotels or resorts here, and the only way to get around the small roads is on foot or by bike. Heavy goods are transported with small tractors.
There are no cars on Ilha Grande. The only vehicles allowed are the island's police car, garbage truck, and school bus, which rumbles over the mountain to the other side of Ilha Grande every day. On the island's only dirt road, which connects Abraão and the old prison town by the beautiful beach of Dois Rois.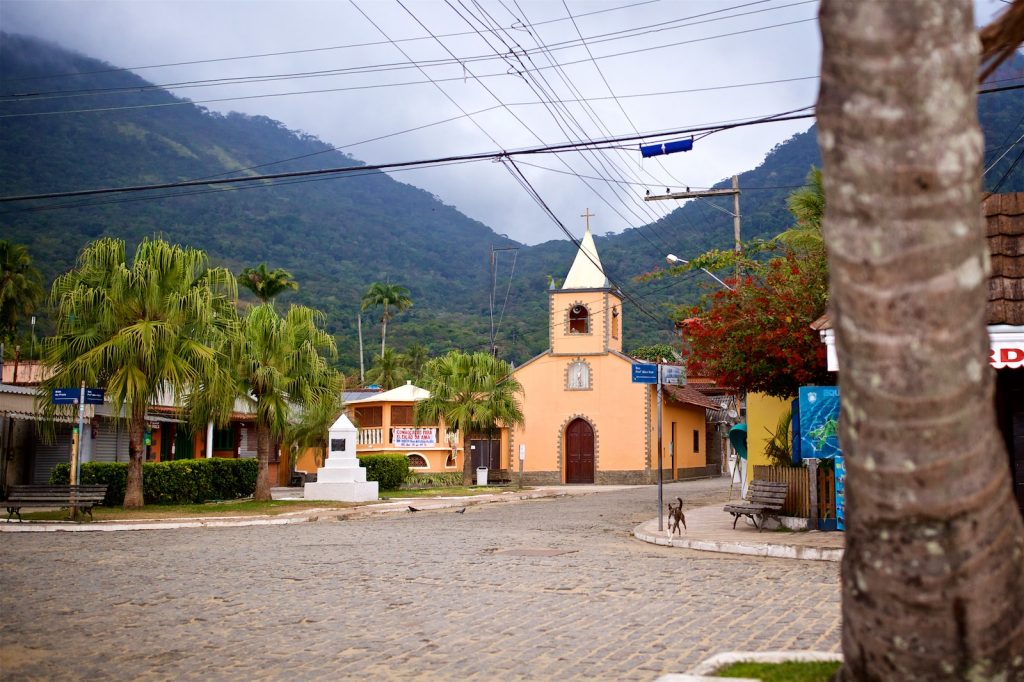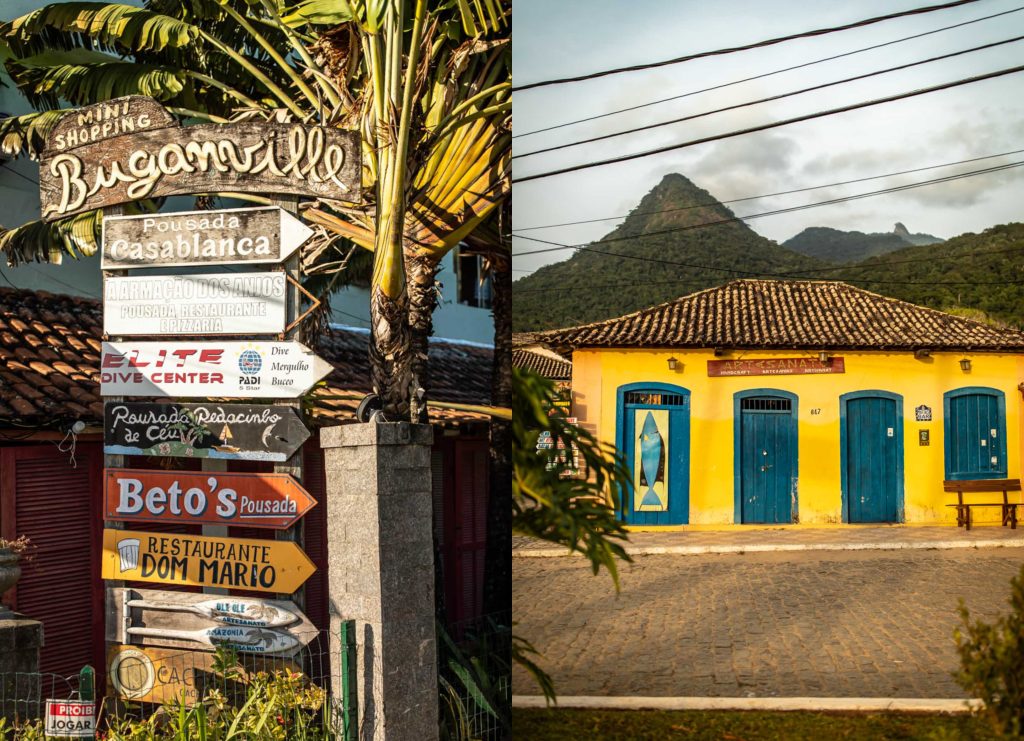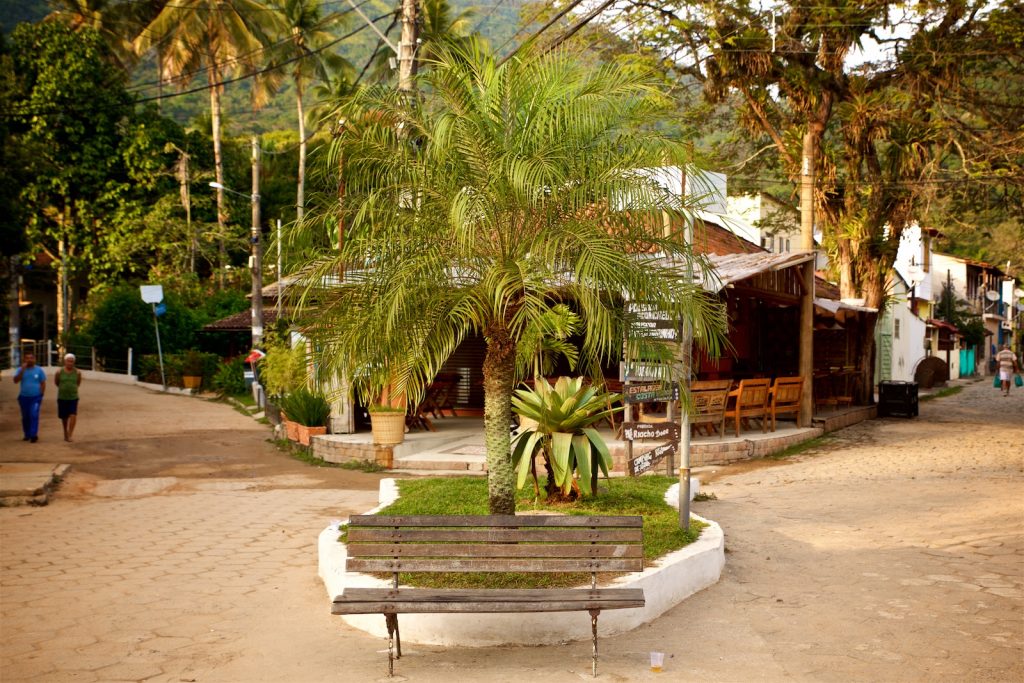 An island with a dark past
We found it hard to imagine that Ilha Grande was once an island you didn't want to visit. Nevertheless, it has been the reality right up until the end of the 90s, when a line of its dark past was finally broken.
From the end of the 16th century and a few centuries onwards, the Brazilian jungle island was a hiding place for pirates who were in search of the many tons of gold that were shipped from the mainland. Later it became a place where illegally smuggled slaves were kept. Also, it was used as a quarantine station, where people with cholera and leper were isolated. And until 1994, the island housed a prison for almost 100 years, where some of the country's most dangerous criminals were kept.
But it is precisely Ilha Grande's dark prehistory that has saved the island's unique flora and fauna. Just like the Vietnamese island of Con Dao, which we visited during the Christmas holidays. Nature has been allowed to take care of itself for hundreds of years, and today Ilha Grande is a paradise for nature enthusiasts, adventurous hikers, and beachgoers. In short – people like us.
However, our swimwear didn't come in handy at all. We simply did not jump in the water because it was unreasonably cold. We visited the island in Brazil's wintertime. At that time of year, the water is exclusively for seasoned winter bathers. In short – not us. Instead, we embarked on other adventures.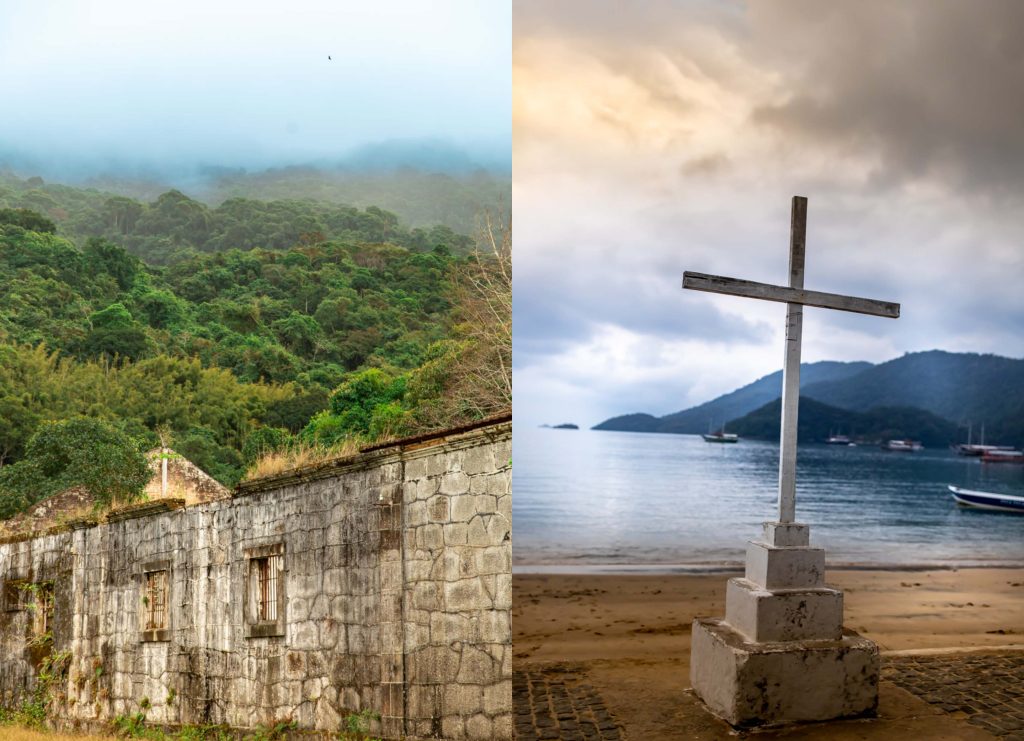 Trekking in the jungle
Ilha Grande is an island that calls out to your inner Indiana Jones. The greatest experience awaits in the shape of jungle exploration via the island's 16 marked hiking trails. They wind through unspoiled nature, over mountain-top viewpoints, past waterfalls, hundred-year-old ruins wrapped in the rainforest, and on to the most beautiful, deserted sandy beaches.
We loved hiking in the jungle, where twisted roots have created natural steps and the lianas give you a helping hand when climbing steep slopes. Aiii yes, the buttocks whined, and the sweat seeped on the more challenging climbs, but you quickly forget that when the surroundings are lush festive fireworks of green accompanied by viewpoints that give you the feeling of being king of Ilha Grande.
We walked through forests of bamboo poles as thick as table legs, under leaves the size of pillows, and towering giant houseplants all over. Here and there it was fiddling in the branches when little marmosets came down to look at the two-legged pale monkeys, and often we could hear the howler monkeys calling. It's a mystery to me how this rather cute-looking monkey manages to sound like …
A prehistoric monster, growling at a death metal concert
If we had not previously seen the peaceful guy with our own eyes in Costa Rica, we would probably have run out of the jungle at the sound of the monstrous roar. Instead, we were terribly sorry that we didn't get to see the howler monkeys at all, as Ilha Grande is one of the few islands in the world where you can experience them in the wild. If you read about other people's experiences on the island, it seems that we are among the few who did not see howler monkeys. Conclusion: I guess we need to practice a little more going on a monkey safari.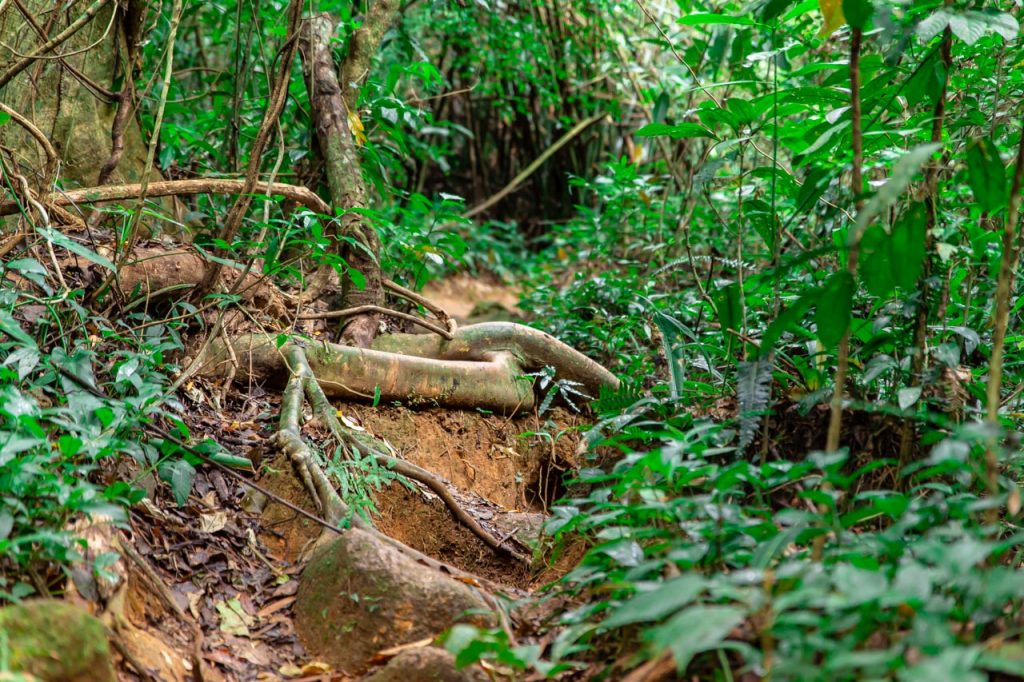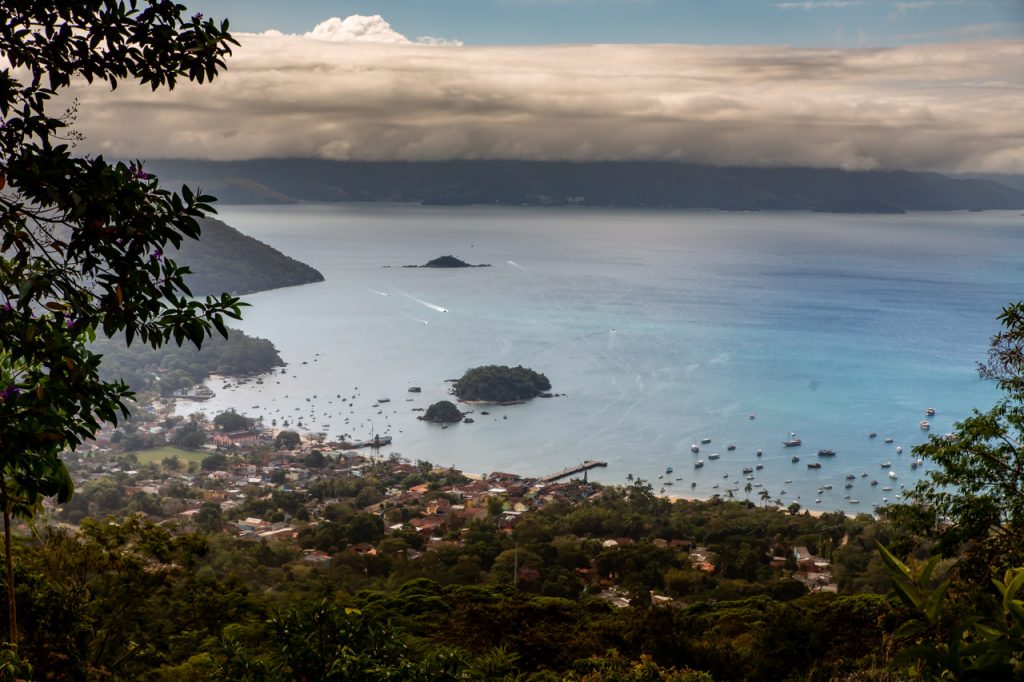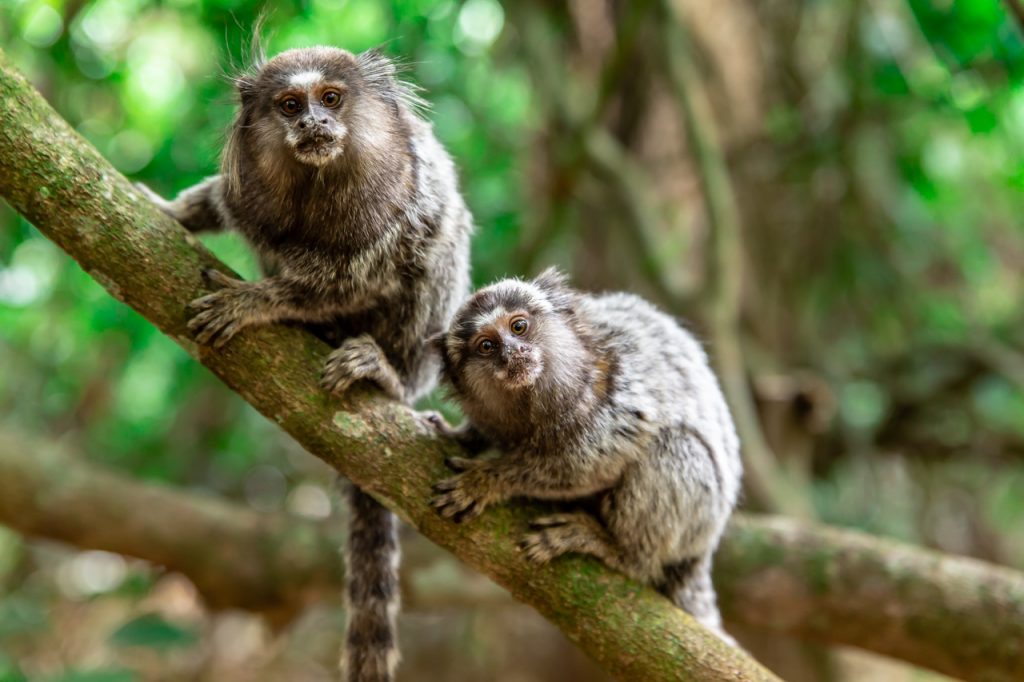 The most beautiful beach in the world
The trails we chose all started from the square in front of the town church. The paths went through the jungle, crawled over the high rises of the mountains, along rugged rocky coasts, and led out to one picture-postcard beach after another. No matter if we saw the beaches up from the viewpoints or from the edge of the coast, we always went a little in a trance over their natural beauty.
But one beach made a particular impression. Not only is it known for being Ilha Grande's favourite, but also named among the world's 10 most beautiful beaches: Lopes Mendes is surrounded by rugged cliffs, rolling mountains, and wild rainforest. The sand is white, soft, and creaks as if you are walking in freshly fallen snow. And the beach is just under 2 kilometers long, so it's easy to find your very own peaceful spot.
It is impossible not to be impressed by the nature of the small, big island. Ilha Grande is a captivating experience. A place that is very difficult to leave behind…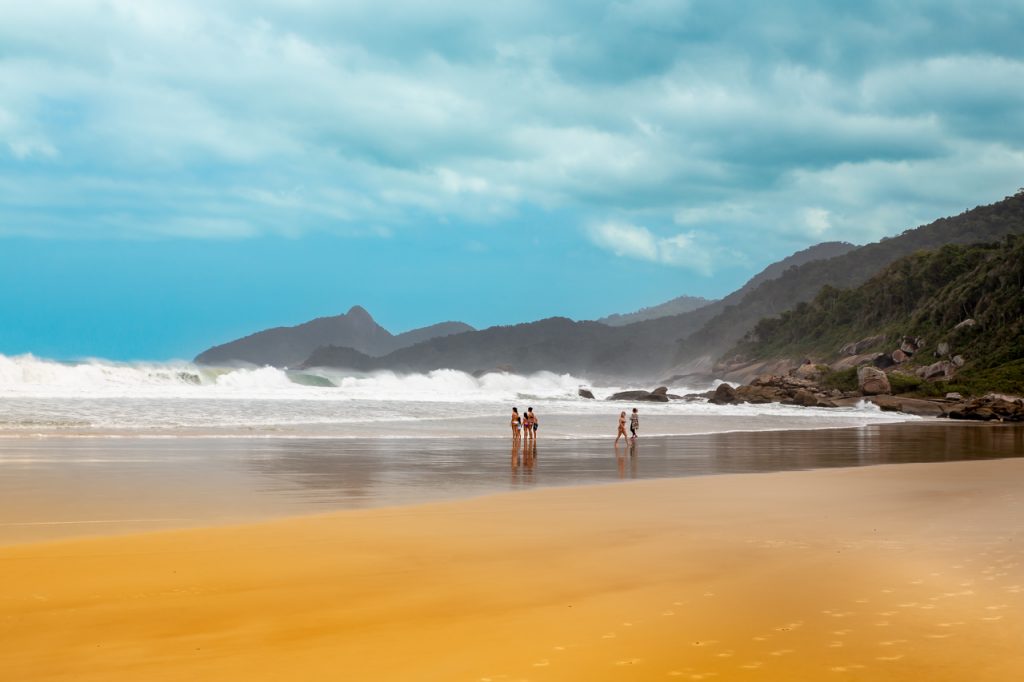 OUR TRAVEL TIPS FOR ILHA GRANDE
Transportation
We are far from the only ones who have thrown their love on the jungle island. That is why there are several tour operators who have daily connections from both Rio de Janeiro and Paraty. By bus and boat, the trip from Rio takes approx. 3 hours and from Paraty approx. 4 hours.
Everyone we spoke to recommended the tour operator Easy Transfer, which is among the cheapest and safest. On their website, you can also book and choose your own route between the area's three most popular destinations: Rio de Janeiro, Paraty and Ilha Grande.
If the trip is between Paraty and Ilha Grande, you can skip the bus ride and jump on a speedboat that sails directly. It takes an hour and a half. It seems to be a slightly undulating and wet pleasure, so make sure you have sea sickness pills with you and pack your bag in plastic bags.
Room with a view
The majority of the island's visitors live in the town of Abraão, but there are also more isolated accommodations around the deserted coves. We chose to live in the city, which we thought was the perfect starting point. From here it was easy to go on adventures during the day and then explore the small eateries and shops in the evening.
We stayed at Pousada Manaca, which is located on the beach in a 5 minutes walking distance of the city center. The place is highly recommended, especially if you book the rooms with a sea view. If you want to get away from the city, we discovered Sagu Mini Resort and Asalem on a walk along the bay. Both places are for you who still want to live near the city but prefer a little more luxurious and tropical surroundings than the classic 2-star pousadas in the city. If you are looking for unique accommodation, we have been recommended this small eco-houseboat, located in the bay by the town.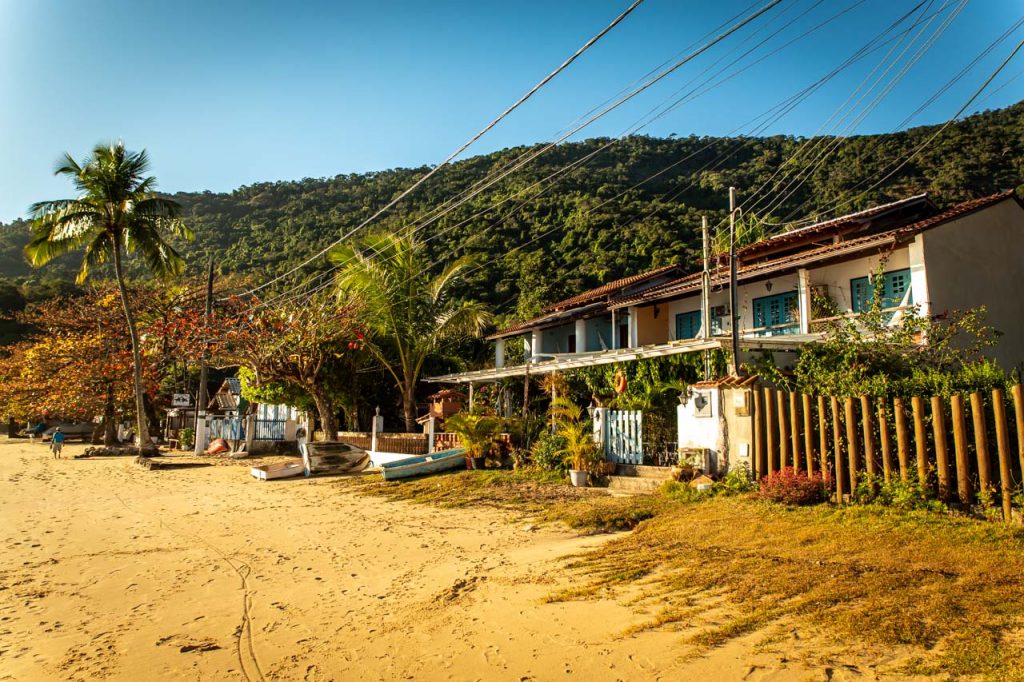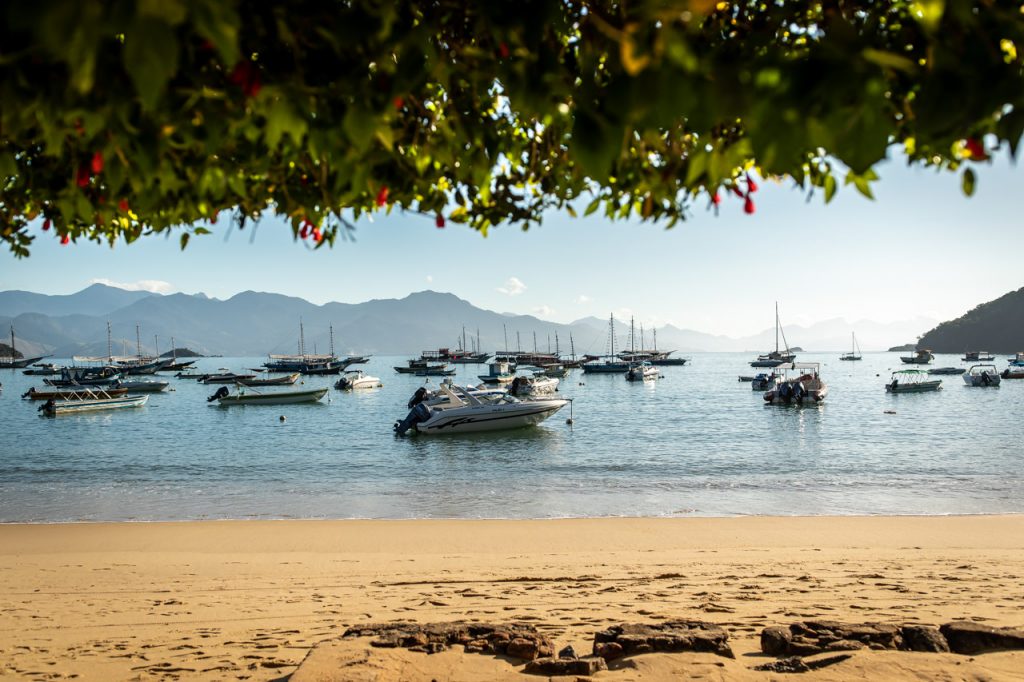 Where to eat and drink
On a small island like Ilha Grande, the selection of dining experiences is limited but large enough that you will never go to bed hungry. The restaurants are simple and most serve either fresh fish, tourist-friendly classics, or typical Brazilian dishes with lots of rice and beans. But we found a few places that stood out.
If you fancy stuffed ravioli, you should stop by the island's best-reviewed restaurant Las Sorrentinas. If you're hungry as a bear, you should put your fork into the most tender steaks at Dom Mario. And on the beach, you will find most fish restaurants, where Lua e Mar is known to be the island's best. If you come straight from Rio and miss more hip surroundings, the small Ateliê Cafeteria is a cozy hangout with a delicious menu and coffee made on an espresso machine.
If you fancy Brazil's national drink, the caipirinha, you should of course enjoy it by the water's edge at the island's atmospheric beach bar, where we – admittedly! – spent most of our time. It's called Cafe do Mar and is a 5-minute walk from town. Here you can dig your toes into the cool sand while listening to the lapping of the waves and walking on poles over the pastel sunset.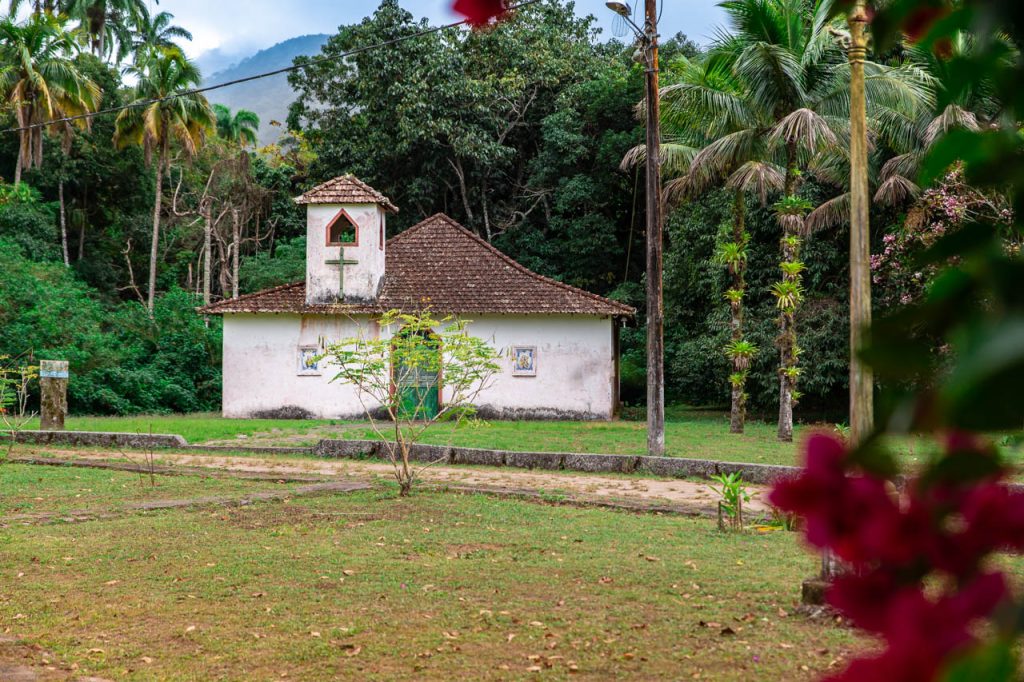 When to go
We visited Ilha Grande in August, which is Brazil's winter and can be compared to a Danish summer. Normally, August is a dry period, but we had quite mixed weather. Everything from baking hot sun and blue skies to pouring rain and heavy gray weather. The temperature fluctuated between 12 and 35 degrees, and the ocean temperature was only for winter bathers. On the other hand, there were very few tourists, and the accommodation was cheap.
If you prefer tropical nights, lots of sun, and warm days in swimwear, you should travel in high season instead. In that case, just remember to book a pousada well in advance, as they fill up quickly.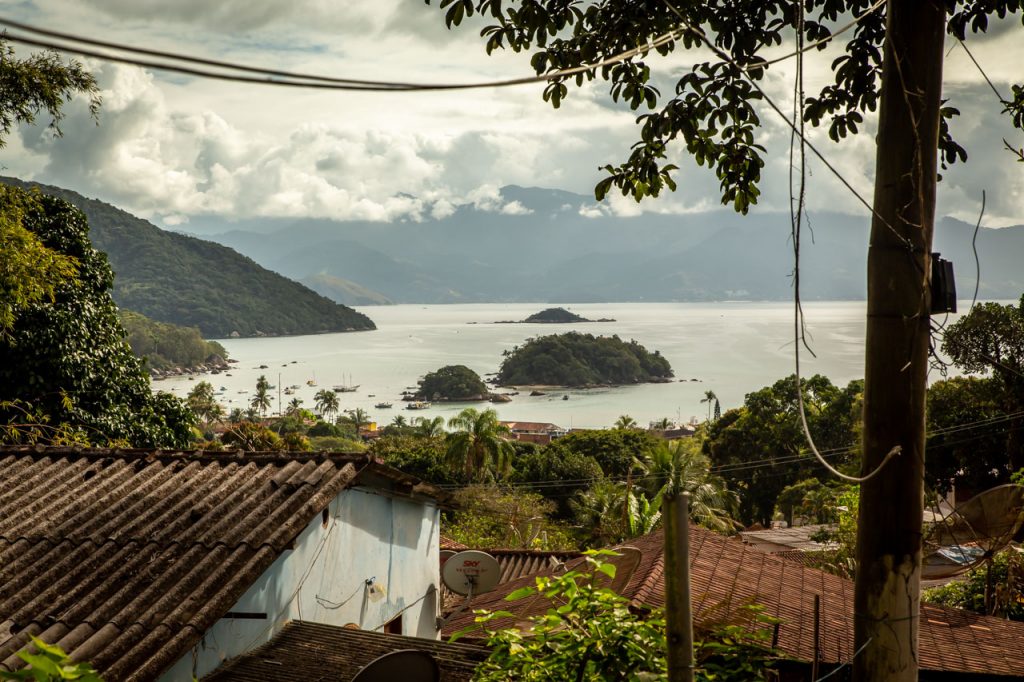 Jungle trekking: With or without a guide?
The hiking trails are well marked and easy to follow. You can therefore easily set off on your own jungle adventure. Just remember that it gets dark faster in the jungle, so make sure you head back in good time and perhaps bring a flashlight. You don't need professional equipment, just a pair of good trainers and practical clothes, as well as a backpack with min. 1 liter of water, swimwear, and a light towel.
In the bottom you can see an overview of the 16 jungle trails, which you can also find on a large board in the town square (between the church and the beach). If you are going on a longer hike or would like to experience one of the trails further afield, you can arrange the trip with a local boatman who can sail you back and forth to an agreed place.
It is popular, for example, to hike the trip to Lopes Mendes or Dois Rois yourself, and then take a boat back. At Lopes Mendes there is almost always a boatman to be found, but on the other walking routes, it is a good idea to arrange the trip in advance.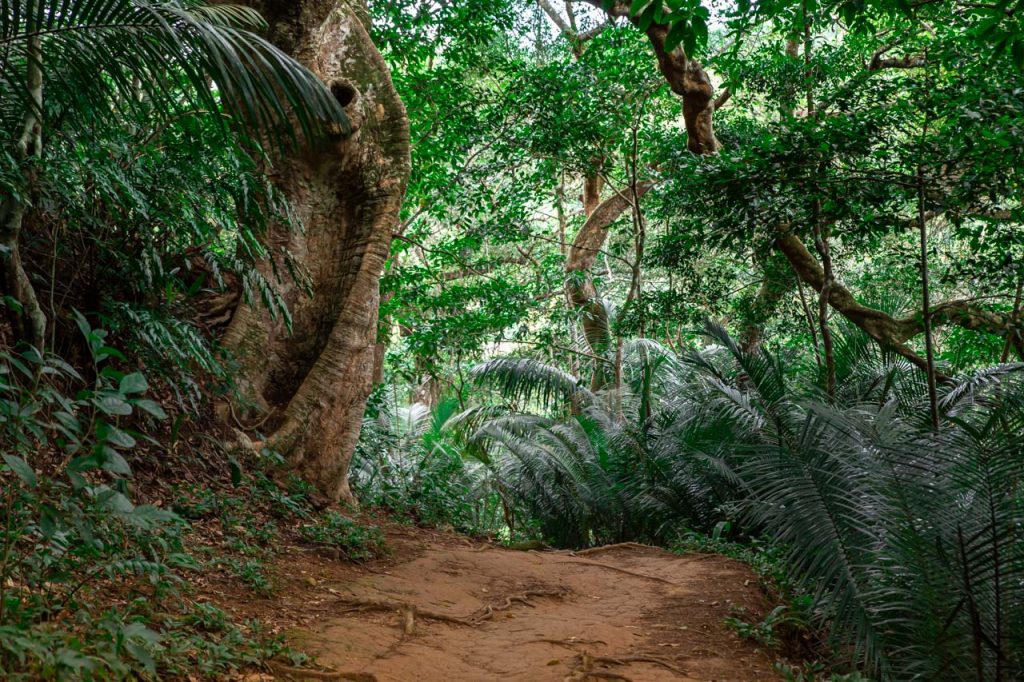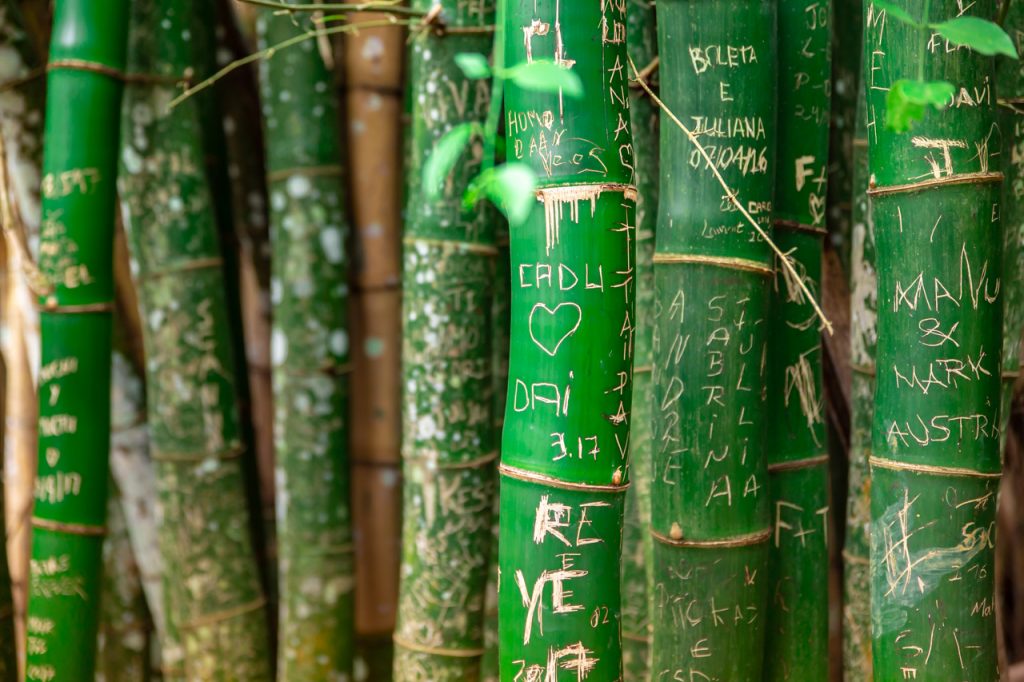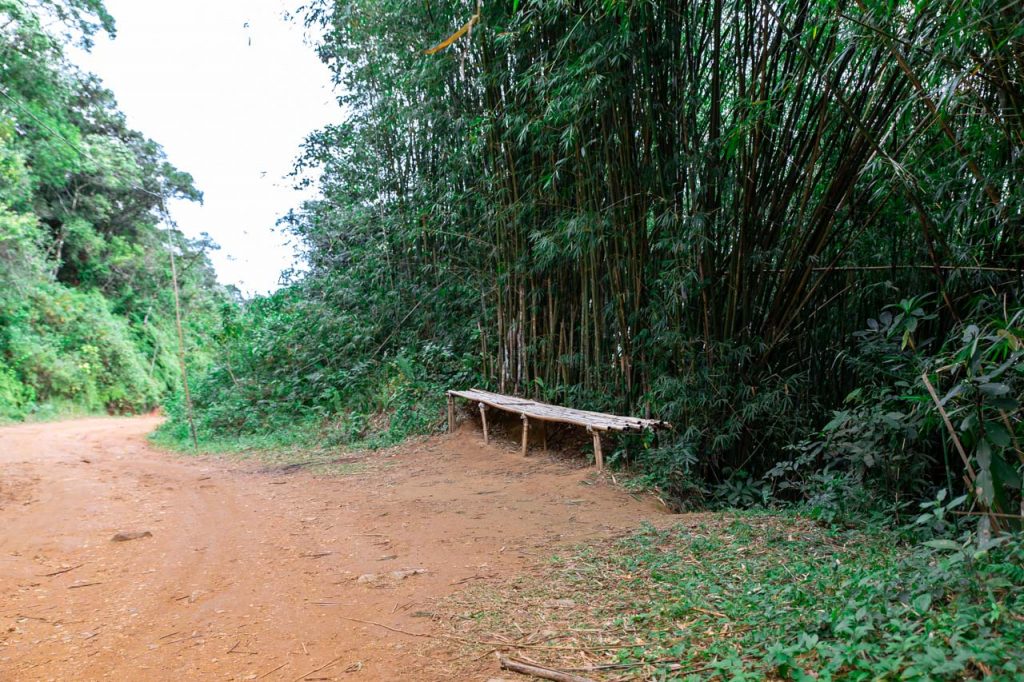 If you prefer to have a local guide with you, there are several organizers in the city. If you are used to hiking, however, you can easily do it alone. The only trip that requires a guide is the island's most popular but also most challenging trip to the top of "Pico do Papagaio". Here you hike off in the dark at 2am to arrive at the top at sunrise.
We managed to hike just over 50km in three days (T1, T10, T11 and T14) and we can assure that you don't need to be a super athlete by any means to pull off the same feat. We even met an elderly couple over 70 who were on some of the same hiking adventures as us. So, there are no excuses to get a little sweat on your forehead and get out on the island's many jungle trails.
Remember cash
There are no ATMs or banks on Ilha Grande (2017), so remember to bring enough cash. Some accommodations and restaurants accept visa cards. But should you run out of cash, you can alternatively take a boat to the mainland and withdraw money there.