Ever since Martin proposed to Mette family and friends have been enquiring about the supposedly upcoming wedding. But what do you do when dreams of a trip down the aisle doesn't really exist? You run away to Las Vegas and say "I do" and jump into an open sports car bound for a honeymoon road trip on the American West Coast.
---
"Ruuuun," I cry out to my boyfriend, Martin, when finally spotting a display board at JFK airport showing our connecting flight to Las Vegas. The board is saying boarding now.
I start running like a rabbit caught in the headlights. I both have frayed flight nerves and a belly full of fluttering butterflies. We are getting married in 48 hours, and the only thing that has given me cold feet, was the icy cold air conditioning in the plane from Copenhagen to New York. In the last few years I have not only dreamed about saying 'yes' to my boyfriend, but also to cruise on the legendary highways of America. We are NOT missing that flight!
WANT TO RUN AWAY?
When you have been dating for eight years and engaged in a quarter of that time, you often encounter the question: "When will you get married?" which just as often is followed by well-meaning advices on how to do it. Church, veils and beautiful hymns. Town Hall, vintage dress and live band all night. Or a surprise party!
Fortunately the enthusiastic designs of our surroundings seemed less important when it came down to our wedding plans. The amount of stamps in our passports positively proves this. Every time we had a bag of money, we asked ourselves: "wedding party or travel adventure?" Guess what we chose …
After three big round trips in Asia the desire to become husband and wife was still very much alive. So, when we started planning a fourth trip, a phrase – that was really meant as a joke – kept showing up: "Why not run away and get married in Las Vegas?!" Suddenly it made sense. No worries about scheduling or the fact that neither Martin nor I rejoice to be in the center of attention. It would just be the two of us. On the trip of our dreams.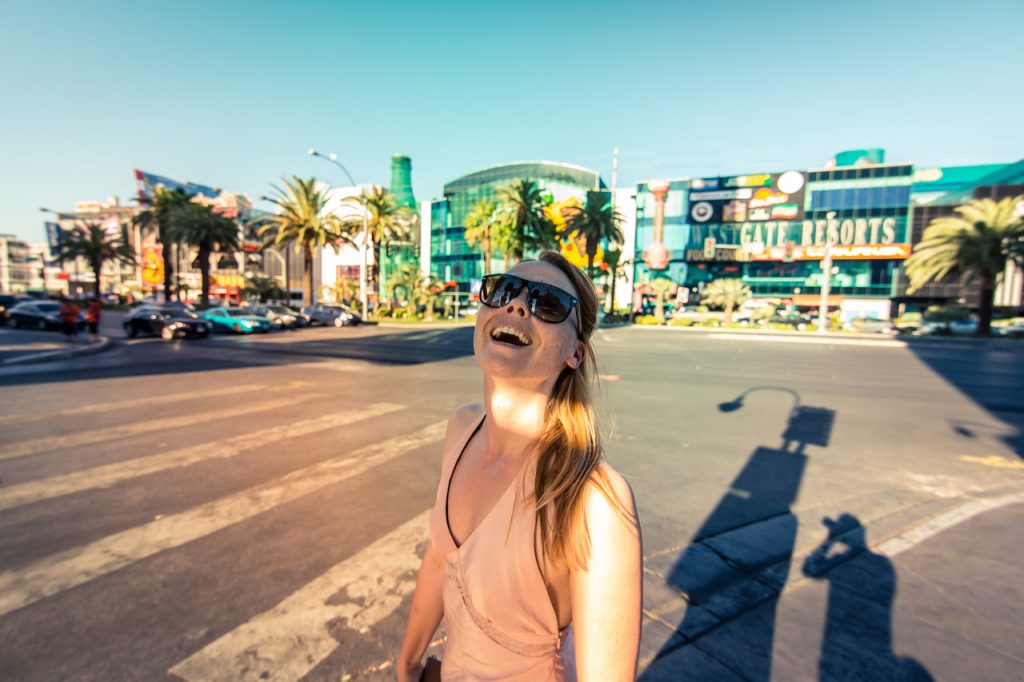 LAS VEGAS – THE CITY OF SIN
Back at the hectic airport of JFK we are still chasing the closing gates, and with a bit of luck and a couple of dissatisfied airport guest we make it just in time to board the plane. Out of breath I drop into the seat, and Martin gives my hand a loving squeeze. The butterflies in my stomach somersaulted. Soon there will be a wedding ring on his finger, on my finger. We are heading to Las Vegas.
The city of sin.
On average each visitor of Vegas loose 85$ at the tables and slot machines. In my view, this must prove the saying that you will have more luck in love than in games when visiting the casino town of Nevada. And both the state law of the desert as well as Vegas' overwhelming range of chapels supports this. Getting married in Las Vegas is as easy as finding Elvis within 5 minutes.
"What happens in Vegas, stays in Vegas," an elderly gentleman announces at the arrival hall. He sends us a friendly smile. I giggle at the thought and start wondering if it says "runaway couple" on our foreheads? Although we have kept our wedding plans as a secret, we also have a plan for how we will reveal the news and invite family and friends to a wedding party when we get back home.
MARRIED IN YELLOW
Finally the big day arrives. The sun is already shining warm from a cloudless sky when I wake up alone in the hotel room. Soon it moves at the door and in comes Martin with the largest smile and two Starbucks cups in hand. Behind him a waiter is pushing a serving table into the room with two large silver platters.
A runaway wedding in Vegas calls on you to put together your own rules and freely pick from the pile of wedding traditions. And as I sit there – in a mountain of pillows and duvets eating breakfast – I cannot imagine anything more right than to spend my wedding morning together with the man I love.
In the closet my wedding dress is hanging as prove of the fact: We are doing this in our own way. I'm getting married in a bright yellow rockabilly dress, wearing green Marc Jacobs stilettos and a hair decoration with big butter yellow flowers and black facial veil.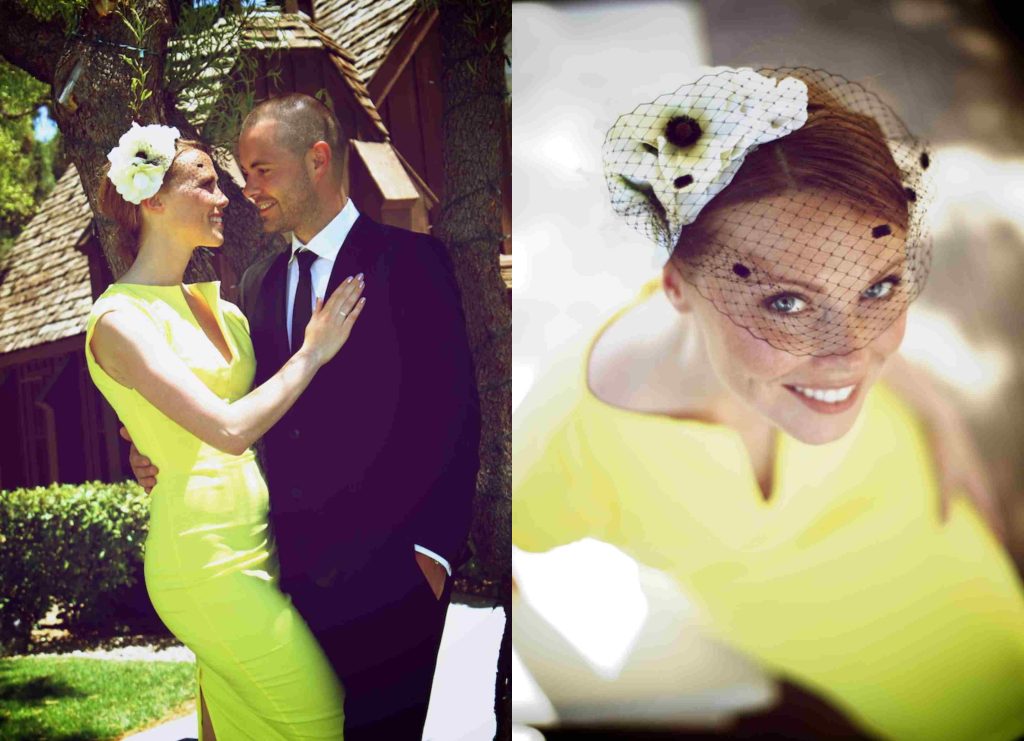 DIY BRIDE
One hour later I find myself in front of the bathroom mirror. Tears are drawing the mascara into long black lines on my cheeks. Full of frustration I am pulling my hairspray-dry hair. I'm miserable about the dress and the makeup is botched. That is how I would imagine a worse-case scenario would look like on my wedding morning. Luckily my echo in the mirror tells a completely different story.
Before we went to Vegas, I booked a day with Christina Wedel – a Danish stylist and makeup artist. She's a real life answer to the enchanted animal friends of Cinderella. I was namely: 1.) nervous about not finding the dress on my own, and 2.) fear of ending up like a candied cherry with candy floss hair, if I threw myself into the arms of an makeup artist in Las Vegas. And these are two things that a girl cannot gamble with on her wedding day.
Along with Christina Wedel I tried a multitude of beautiful vintage dresses, classic cocktail dresses and traditional wedding dresses – until I found the dress that felt perfect for a Vegas wedding. And after a trip to Sephora I was equipped with a newly purchased makeup kit for the perfect bride look and a series of snapshots on my iPhone that showed how Christina did my makeup in a step-by-step manual.
At the Vegas hotel bathroom a broad smile is filling the mirror. I do not even have to ask. Martin's eyes say it all. I am the most beautiful bride in this fair country.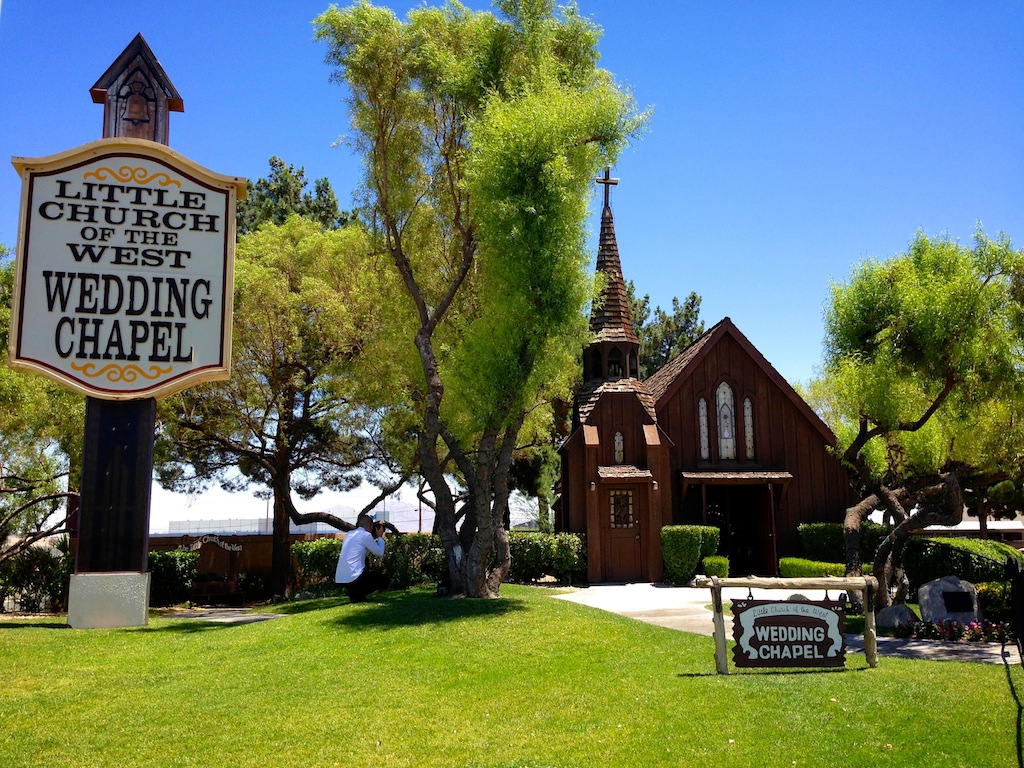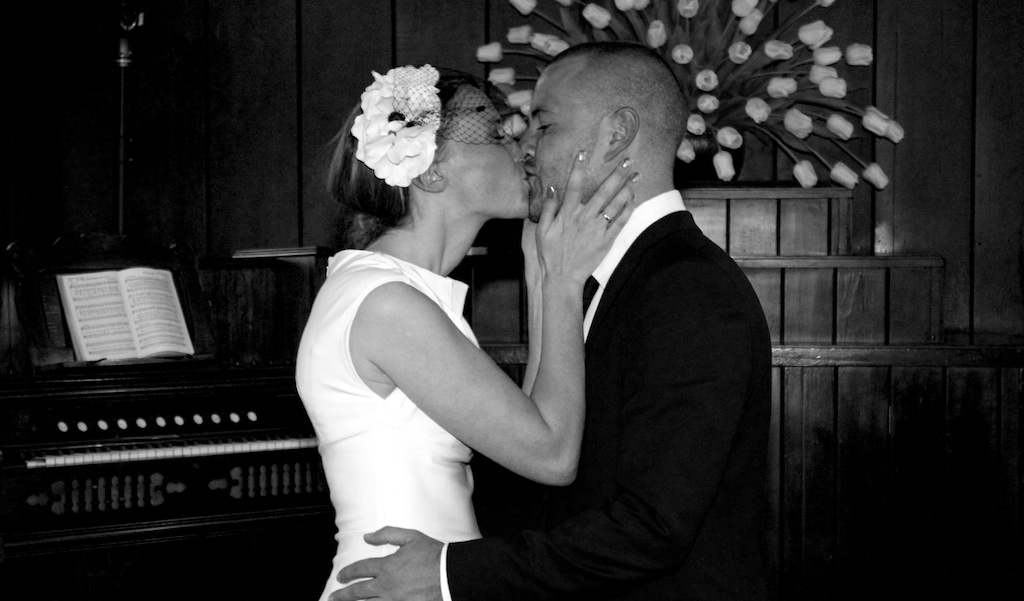 I DO!
"Congratulations," the taxi driver shouts while enthusiastically saluting us as he drives away after having brought us to the front of The Little Church of the West. This is the first time we lay eyes on the chapel. We booked the wedding ceremony online a couple of weeks ago.
We open a garden gate and walk towards the entrance of the charming little wooden chapel, built of planks in 1942 from the largest trees in the world, redwoods. It is the oldest chapel in Vegas and the only one listed in the US Register as a Historic Place. Inside the hushed room soft summer light enters through the small colored and stained glass windows and down to ten humble wooden benches standing on each side of the aisle that leads up to a flower decorated altar. Here, among many others, Billy Bob & Angelina Jolie, and Richard Gere & Cindy Crawford, said the same two words that we are about to say in a few minutes.
"I do," I reply, when the priest asks me: "Do you take this man two be your lawfully wedded husband?". My lips jiggles, heat rising in my cheeks, and I have to let go of Martins hand to wipe a trail of tears. "You are the love of my life," Martin whispers in my ear as he puts the ring on my finger. His hand shakes, but his eyes light up. The priest smiles warmly as he congratulates us. And suddenly I cannot help but laugh. During the 10-minute wedding I have been feeling like a vacuum-packed feeling of bubbling happiness. Whouuuuf! Finally, I let go and let it all flow out … Getting married is the best rush ever!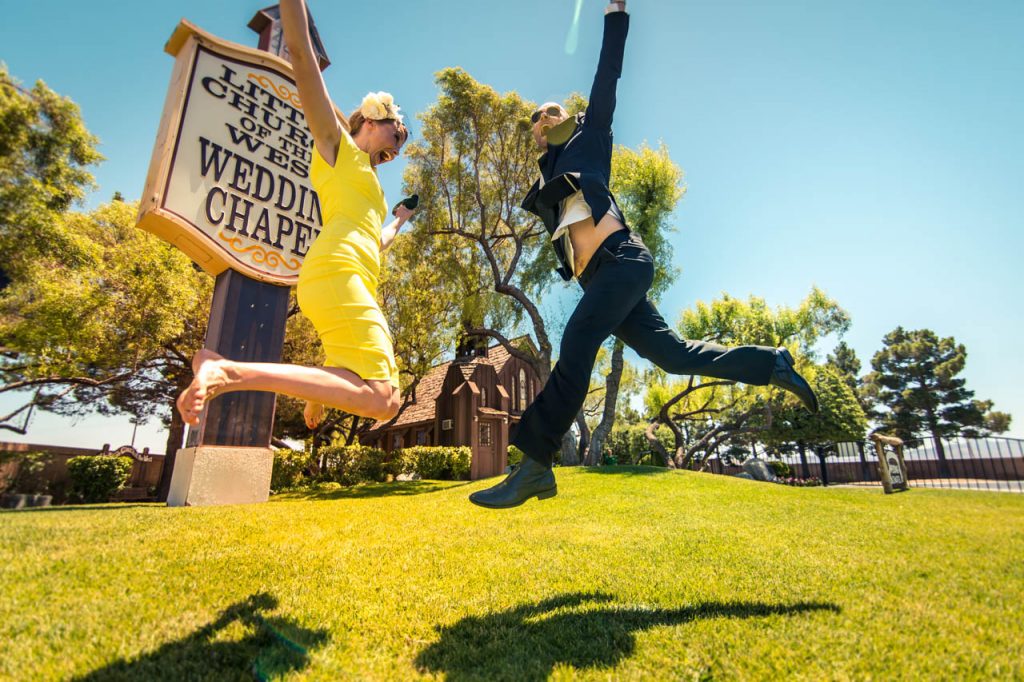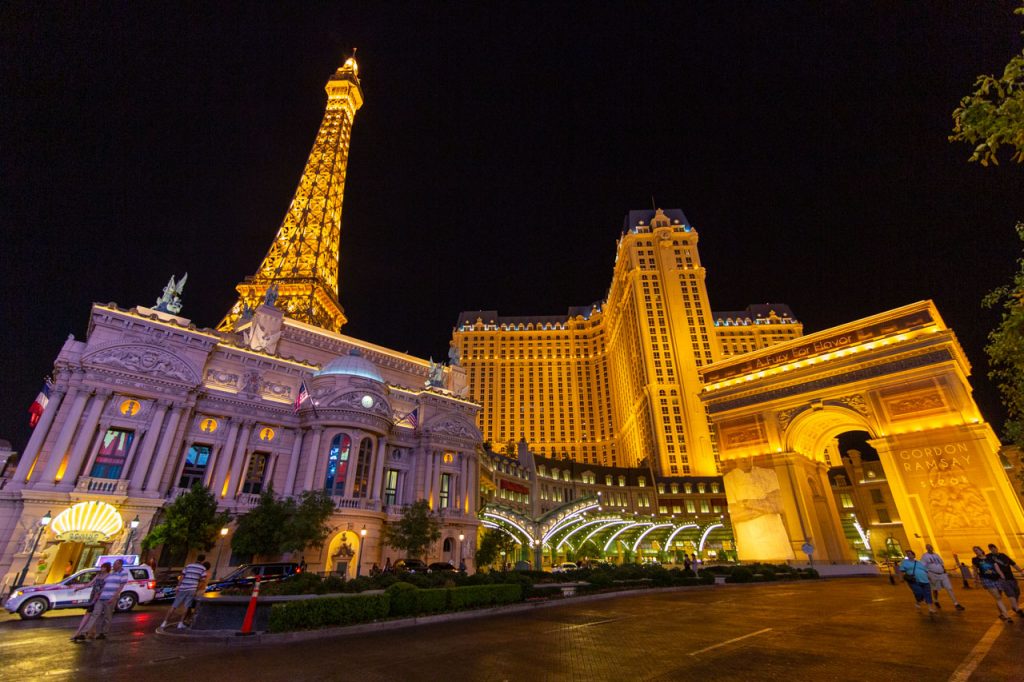 HAPPINESS IS TO TRAVEL TOGETHER
In front of me is an ice-cold drink. On my left side Martin sits, my brand new and one hour old husband, and on the right side Dan and Joanne sits. A senior couple from Niagara Falls whom we have only just met at the casino bar at our hotel. I take a sip of my drink – a Harvey Wallbanger that Joanne has given us. She and Dan had exactly the same drink when they where married 38 years ago. In Las Vegas.
Dan offers Martin a cigar and says with a big smile: "Can I give you an advice on how to get a happy marriage?" And continues: "Make your wife happy." Then he looks at me and says: "Make your man happy". Joanne laughs and sends her husband a loving smile.
We hit Jackpot!
Now we also have the recipe for a long and happy marriage. It sounds pretty simple. And we already have the best ingredients within reach. In a few hours we board the romantic gourmet restaurant, the Eiffel Tower, directly overlooking the Bellagio's famous fountains and entire flashing neon inferno of Vegas. And tomorrow awaits an open sports car, ready for a three-week honeymoon road trip on the iconic highways of America. From Las Vegas to Seattle, along the edge of the Pacific Ocean, through the breathtaking nature parks, green vindale and sprawling cities.
To travel is to live … To be married is a journey with the one you love. And right now I cannot wait to get going on the first adventure!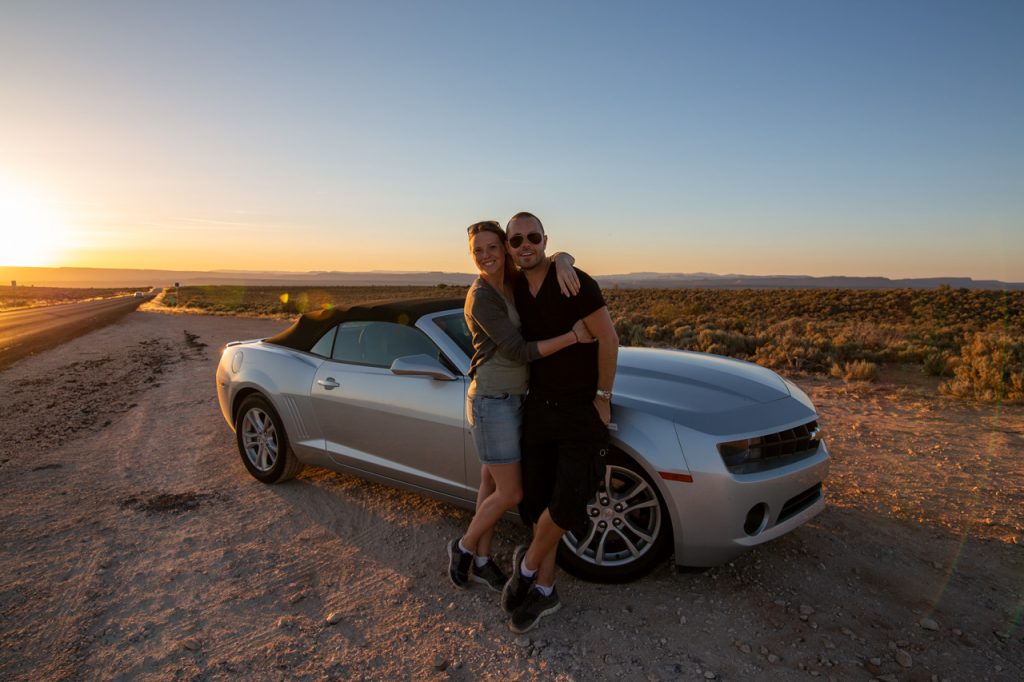 Want to get married in Las Vegas? Read our guide to what you need to know.