The traffic in Saigon is everything but boring. Here are our three tips on how to get from A to B. Without being swindled or crashed into.
---
Prior to arrival the reputation of the Vietnamese traffic had printed many grim visuals into our minds. No traffic rules. Thousands of honking and sputtering motorcycles pumping through the streets like blood in a calcified artery. Also we imagined a city-center filled with tuk-tuk's or some replica of this Asian-classic. But alas, no tuk-tuk in sight.
There are three ways of getting from one place to another in Saigon city center. Well, actually four, but the last one we would not recommend to anyone other than the locals. It's on the backseat of a motorcycle and you inevitably come very close to the driver, as well as the other petrol-powered ninjas in traffic. So unless you crave an adrenalin rush or an authentic traffic experience in Vietnam, we would recommend that you stick to these three options of transport.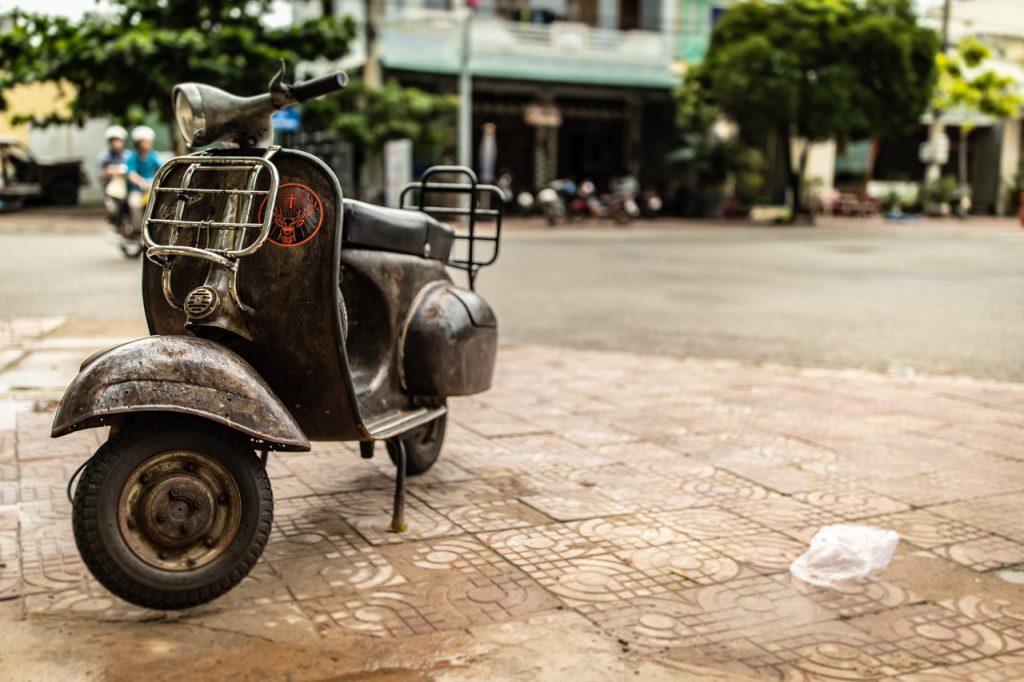 1. Sandals & Sneakers
With its wide sidewalks and manageable distances it comes natural to take on Saigon as infantry. Walking was clearly our favorite way to get around and experience the city. So, get your best sandals or sneakers on and get ready for marching up and down the many existing streets.
Yes, the sound and sight of the many motorcycles seem overwhelming when you just arrived. Merely the thought of having to pass one of the many swamped streets can seem like utter madness … But do not despair. We got a great tip from a good friend currently residing in Vietnam. Despite the fact that he knows the number of annual traffic accidents (you do not wanna know) he explained the idea behind his strategy like this: "The Vietnamese only look forward. Not to the side or over their shoulder. They drive like a horse with side-blinders. And therein lies the trick."
You can actually cross traffic (almost) anywhere – and survive!
First, you must think like a Vietnamese and imagine the flow of motorbikes like a river when crossing a road. Do as follows: Stand on the side of the road, look at the oncoming traffic and imagine that you are a newfangled Moses. Now go out into the traffic with purposeful steps.
Yes, you read right. Go into traffic at a perfectly normal pace while looking straight ahead (perhaps with a discreet eye on the oncoming). And for every step you take you will experience how the motorbikes spreads as water running around you. Gracefully, the drivers set their course according to yours.
In the beginning it felt a bit crazy. But quite fast we got slightly addicted to act out the Moses-trick. Perhaps we were momentarily insane? Crossing traffic in Saigon produces an intoxicating feeling when the motorcycles glide around you. It 's like being a branch from the bottom of a strong river with water flowing on all sides.
Remember: You have to rely on every step! If you hesitate so will the motorcyclist. If you suddenly change you pace and trajectory the motorcyclist will try to compensate. And this is where things go wrong. "Stay on your track, soldier – and listen to your gut."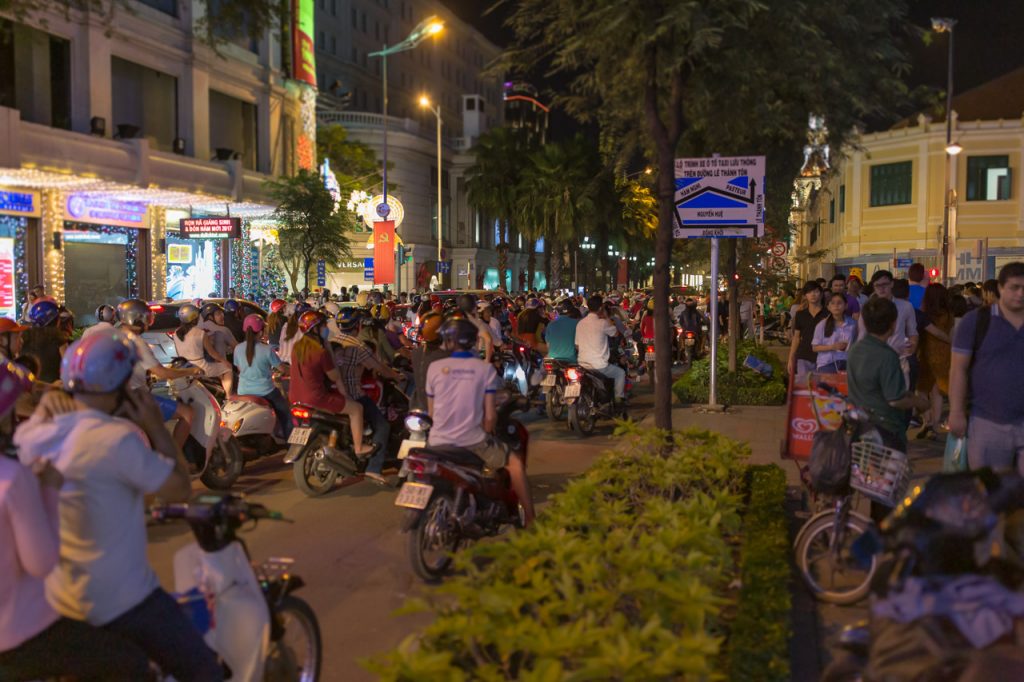 2. Bicycle carriage
Only 20-30 years ago the streets in Vietnam was completely different. Back then, the Vietnamese did not have motorcycles (oh, joy!) Instead, the primary method of transport was a bicycle. Actually, they had to have both registration papers and a license plate for the bicycle. Saigon was a city of bikes. It must have been an amazing sight.
Today the bicycle is an unfortunate rarity – except next to the main tourist attractions. Here you will meet locals trying to sell you a tour in their tricycles and traditional bicycle trailer. Also known as a cyclo. A one-hour tour in pedal-tempo costs about 50.000 to 100.000 VND.
The cyclo is for those looking for a different and slower way to cruise around while getting the words and eyes on the city from a local Saigoneer. The modern alternative to the cyclo tour would be a Vespa Adventure. This guided tour on a classic Italian scooter is reviewed extremely well by many travelers.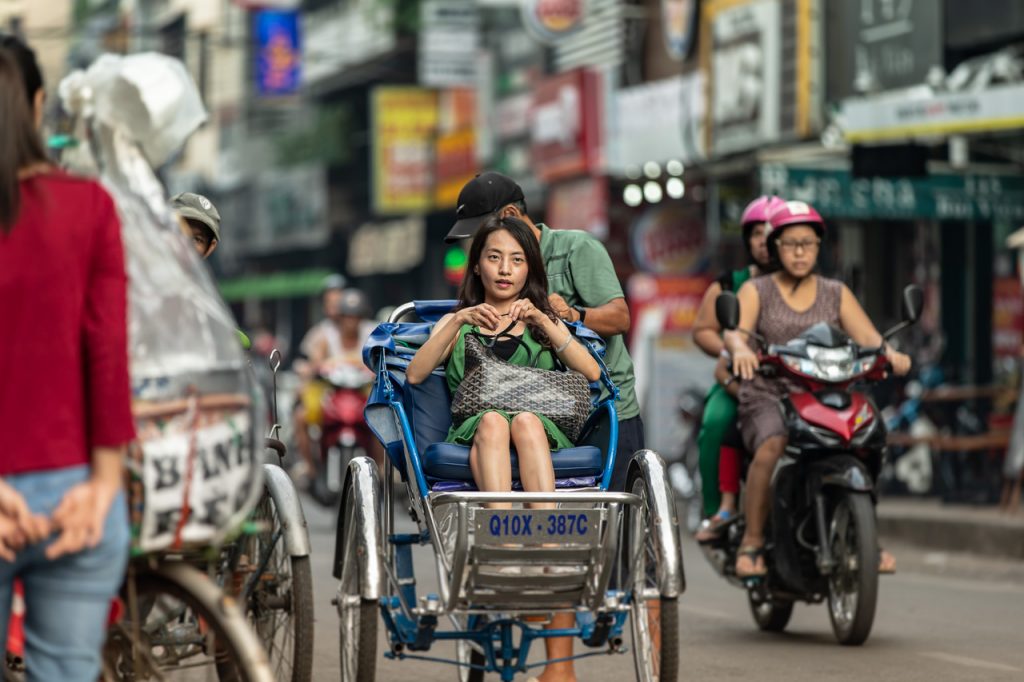 3. Taxi and Vietnamese Uber
When we first landed in Ho Chi Minh City we jumped straight into a taxi. It's our most preferred means of transport in Asian cities. Especially for the long rides as the air is often hot, dirty and thick of traffic fumes. Therefore, it's far from pleasant to sit in an tuk-tuk when driving long distances in heavy traffic. A couple of things are worth mentioning regarding the different taxi companies in Vietnam.
Taxi Companies
Some companies are more reputable than others. In Vietnam you can rely on Taxi Mai Linh running in green cars, and Vinasun Taxi running in white cars. All have meters and if you grab a taxi from more central locations (such as the airport) there is a person from the company registering your trip. Also, when you drive from the airport you must pay 10.000 VND in an airport fee. The driver adds it on top of the price. So, if you wonder why you have to pay more than the number shows on the meter – that's that.
Price
Always ask or check that the driver is running his meter. In more rural areas they might not have a taximeter. In this case agree on a price with the driver beforehand. Driving with Mai Linh and Vinasun the standard price for each kilometer is 6.000 VND. We only had good experiences with these two companies.
Uber in Vietnam
Are you also a fan of Uber? Then you'll love Grab Taxi in Vietnam. The service works in exactly the same way and it's often cheaper than a regular taxi. We took a Grab Taxi a few times and it worked flawlessly.
Detour or shortcut?
When you arrive at a new destination it can be very difficult knowing whether a taxi driver is taking the shortest route. Or just cruising you around earning extra money. We have tried to be cheated a few times, but mostly our experience is that the driver will try to find the fastest route in relation to traffic. Other times, the driver might not find or even know the place where you are going.
No matter what – we always use the app Maps.Me which acts as a GPS on your smartphone. You don't have to be online to use it. Tab the route from A to B in the map and much like Google Maps it will show you the directions. This way you can monitor whether the taxi driver is on the right track. Especially in Vietnam this proofed to be a very useful tool, as their English is very limited to non-existing.
Have you been to Saigon?
Please share your experience with us. It's always exciting to hear from fellow travellers.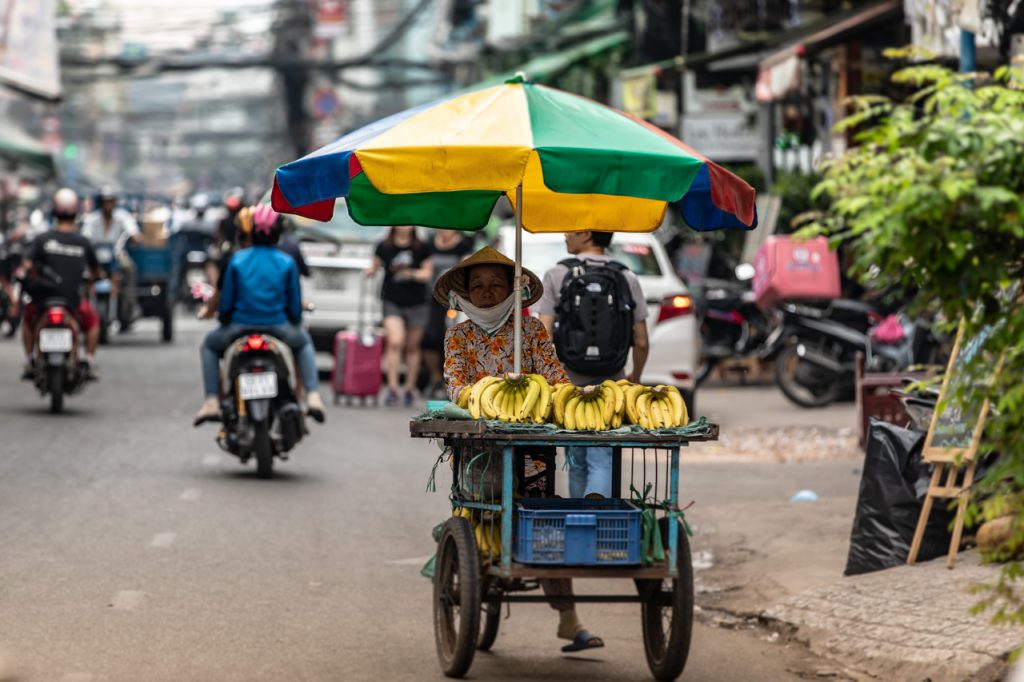 Useful links